Water towers are large elevated water storage containers constructed for the purpose of holding a water supply at a height sufficient to pressurize a water distribution system. Across the wasteland, they can usually be found in the vicinity of pre-War settlements.
Although they have suffered 200 years of disrepair, many water towers still contain water and can be used to replenish health at the cost of a moderate amount of radiation.
Locations
编辑
The locations of water towers are spread out over the entire wasteland. Locations are listed below.
Fallout编辑
Fallout 3编辑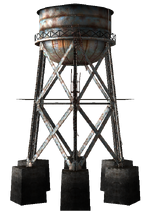 Drinkable
编辑
Non drinkable
编辑
Fallout New Vegas编辑
Gallery
编辑