| | |
| --- | --- |
| | 辐射1与2角色计划 |
Harold is a special and important character in the Fallout story, who originated from Vault 29, which he left in 2090, and lived in the Hub's Oldtown around 2161, in Los around 2208, in Gecko around 2241, and in the Oasis around 2277, and thus met the Vault Dweller, the Chosen One and the Lone Wanderer. He is one of the few characters to appear in all 3 major Fallout installments. He is horribly mutated and looks more or less like a regular ghoul, though he's actually just a human who was affected by FEV exposure (in a military base).
少年哈罗德
编辑
哈罗德的家——29号避难所的成员是一个连接着超级电脑的人类大脑Diana和被她(它)抚养大的孩子们, Diana被那里的居民奉为神明. 在避难所运转期间, 如果有人被测出有不满情绪就会被他们的神选中, 要求他离开避难所, 并给剩余的居民提供外界的信息. 当然, 如果那个人再也回不来或再也不回来了, 神会隔些时间继续放出下一个.
2090年, 哈罗德被选中, 他被打晕, 然后又被机器人带到了托儿所、Diana的身边. Diana让他自己选择留下来还是去探索外面的世界. 但如果他选择了去探险, Diana就会"改造"一下他, 让他永远记不起Diana和托儿所.
哈罗德当时选择了留下, 但他最终逃走了. 在他日后的旅行中他始终没有提过托儿所的事, 因为他认为这是他的职责, 他希望给未来的世界保留一颗完整的"种子".
离开避难所后, 哈罗德做了个成功的商人, 他的足迹遍布废土. 在他刚在哈勃城混出点名堂的时候, 他很苦恼发现变种生物袭击商队的次数越来越频繁, 可他不得不面对这些.
潜入Mariposa
编辑
哈罗德和一群冒险者一起寻找商队遇袭事件的原因, 这里面有个叫Richard Grey的, 他是一个哈勃城的医生, 是个比超级变种人还难缠的家伙. 他们跟踪了一些变种人并最终发现了他们的老巢——一个老军事基地.
他们决定潜入, 但他们很快就为他们的冒失决定付出了惨痛代价, 大部分队员死在了变种人巡逻小队和自动防御系统的枪下. 小命仅存的几个人(当然包括哈罗德和Richard)安全地潜入了基地的内部, 他们发现了一个盛满奇怪的粘稠绿色液体(F.E.V)的大缸. Richard不小心被一个机械手臂抓住扔到了大缸里, 哈罗德当时认为自己的朋友必死无疑, 而他自己随后也被打晕, 当他醒来时他已经孤身一人被扔到废土, 自己的身体也已经开始发生一些"变化". 随后一只路过的商队发现了他并把他带回了哈勃城, 并以一个僵尸的身份继续生活着.
属于僵尸的温馨小镇
编辑
一代主角 最初是在哈勃城的老城区遇到的哈罗德. 那是哈勃城的贫民区, 也是僵尸唯一可以居住的地方. 哈罗德在这里靠乞讨为生, 主角可以从他那里买到很多有用的信息, Mariposa军事基地、Richard Grey还有哈勃城附近的死亡爪和远行商队的老大Butch Harris等.
哈罗德还证明了变种生物也可以是其他生命的源泉, 2162年到2242年间, 一颗小树开始在哈罗德头上的一侧长出(哈罗德叫他Bob, 尽管有时候bob向哈罗德表示他其实叫Herbert). 但可以确定的是这棵树绝对是一个新物种、独一无二的, 就像哈罗德一样.
废土上的旅者
编辑
哈勃城被超级变种人大军荡平后, 哈罗德开始在废土上流浪, 他去过很多地方. 游戏中有记载的是他曾经到过Carbon镇和一个叫Los的僵尸城. 他在Carbon有过一次性经历, 是和那里的妓女Ruby, 但很不幸他的身体散架了, 他的一只手、一个脚趾和一个眼球都离他而去. 而哈罗德的旅途最终止步在蜥蜴城.
蜥蜴城的领袖
编辑
许多年后, 一代主角的孙辈获选者在蜥蜴城再次遇到了哈罗德. 蜥蜴城是个坐落在地下掩体市附近的僵尸小镇. 一代剧情中哈勃城和Necropolis被超级变种人大军荡平, 这两个地方的大部分僵尸都迁移到了遥远的北方并定居在了一个核战前的Poseidon Oil公司建立的核电站的周围. 正常人可能根本无法抵抗这里长期过量的辐射, 但僵尸们却恰恰找到了不受打扰的办法. 当哈罗德刚到蜥蜴城的时候, 核电站在一些无能的僵尸手里已经运转在了崩溃的边缘. 哈罗德立刻接手了核电站并对其进行了优化, 但先前的小白已经让反应堆运行在了某种不正常的状态. 恰好这时获选者来到了蜥蜴城, 哈罗德请求他/她帮忙修好反应堆, 要完成这个任务主角必须向地下掩体市求助, 没有其他办法.
你还会从其他地方听到很多人提到哈罗德. 他头上的是树注定要越长越大, 甚至有谣言说树上已经开始结果子了. 他的种子也非常有活力, 已经在废土的很多角落扎根发芽.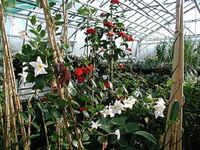 2250年左右, 哈罗德病了, 非常严重. 最初是bob得了某种致命的怪病, 让人不解的是是很快他也感染上了这种病. 不过哈罗德坚信自己不会死, 那种疼痛对他而言不算什么.
于是, 哈罗德开始了自己的求医之旅. 不过显然这次旅行远没有以前的那么轻松. 除了病痛, 地面上日益增多的人类也让哈罗德的旅程辛苦了许多, 因为没人愿意有个奇怪的僵尸在自己身边经过. 不过哈罗德最终还是靠自己的毅力一步步走了下去, 直到一天他误打误撞来到了一个叫Twin Mothers的部落, 当然他根本不知道这个部落的前身是他的家——29号避难所.
他很意外这个部落对他的礼遇有佳, 于是他向部落首领解释了他旅行求医的目的, 并很快被告知他们会为他请教一下他们部落的神明. 几天后一名部落萨满给了哈罗德喝了一瓶药, 虽然听起来很可笑, 但这药确实很有效. 哈罗德的头痛烟消云散, 他的朋友bob也恢复了昔日的活力.
哈罗德非常感激并向部落表示愿意为部落做能力之内的任何事, 但对方很友善的拒绝了, 对方只是不停的说着:"神明保佑". 于是哈罗德表示想要参拜一下神明. 于是他被领到了部落的神庙并内被允许听神说法. 几百年岁月的流逝, 哈罗德已经忘掉了很多从前的记忆, 当神的影像从屏幕中出现的时候, 他没有做出任何多余的表情, 不过他十分震惊神明告诉了他到哪儿才找到自己.
随后哈罗德费劲波折才来到了托儿所并在那里待了很长时间, 这段时间里他唯一做的事就是在平静的花园里静养. 不过最终, 他还是离开了那里并继续向东方走去.
如果范布伦计划的主角在这里告诉Diana关于FEV和Boulder地区新型瘟疫的信息, 她就会从一种果实里提取出治愈新型瘟疫的药物, 这个果实当然也只有从我们的朋友bob身上才能摘到.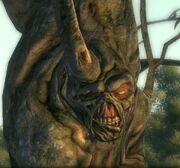 Harold eventually found himself overwhelmed by Bob, and became rooted to the ground during his travels in the Capital Wasteland region. Here he was discovered by several people who began to worship him as a god, and a small and exclusive cult known as the Treeminders began to form in secrecy. Bob began to blossom and many plants grew in this area, which became green with life, a stark contrast to the outer wasteland. During this period, Harold developed an alarmingly powerful mutation which enabled him to "see" the area around Oasis, through the very trees that came from Herbert/Bob's seeds.
He would go on to use this ability to bring in wanderers, all the while hoping one of them would put an end to his troubles- unfortunately, the Treeminders strange ways and insistence on using an intoxicating, potentially poisonous "sap" (as a "purification" ceremony) drove off most of them, many in worse mental shape than they were prior. His persistence would pay off when the Lone Wanderer came into view- on his orders, the Treeminders allowed the wanderer safe passage into Oasis.
Harold revealed his true identity to the Wanderer, and begged for mercy; after being stuck in the same position for decades he was eager for death. The other dwellers of "Oasis" either ignored or, in their religious fanaticism, interpreted Harold's wishes as a moral and spiritual test, much to Harold's chagrin- thus his only recourse was to ask the Lone Wanderer to take his life. However, two members of the Treeminders (namely, the leader and his wife) are found arguing about Harold. The husband wishes for Harold's gift of plant life to be kept safe and confined to Oasis, while his wife wishes for Harold's gift to be shared and spread throughout the wasteland.
They each ask the Lone Wanderer to accomplish their own wishes, and the Lone Wanderer must decide if he will carry out Harold's wish of death, the husband's wish of keeping Harold to just the Oasis, or the wife's wish and spreading his glory to the wasteland. A fourth, more negative option of setting him on fire also exists- this will draw hostility from all the Treeminders. Through granting Harold's wish, the Lone Wanderer's skin will be as hard as Harold's. If granting the optional wishes, Harold will be spoken to through a variety of dialogue, one of them being that he has been given a gift and must stay alive to save the lives of others. Harold, finding a new reason to live, replies that he was selfish to want to kill himself, and then asks Herbert/Bob if he agrees.
Nature of Harold
编辑
To the untrained eye, Harold appears to be an ordinary ghoul. This is not so, however. Ghouls are the result of massive radiation damage to a human body: Harold is a product of the Forced Evolutionary Virus. Unlike most people who are exposed to FEV, he did not become a super mutant, but is the result of a unique combination of radiation damage from constant low-level exposure, indirect exposure to FEV (It is unclear how Harold was infected with FEV as he blacked out for a while) and a fair amount of random chance. He's not a ghoul, and he's certainly not a super mutant. To quote Tim Cain, "Harold is special."
Furthermore, Tim Cain has this to say on the subject: "As for contact [with FEV], any contact at all will infect the subject, but the amount of contact determines the result. For example, I imagine Harold had some contact with the virus, but he was not fully immersed in it, so he became a different mutant than the Master's subjects. Full immersion, of course, is the preferred method of infection, as it provides the virus a large surface area for infection."
Another similar FEV-created, ghoul-like mutant is Talius.
It is interesting to note Harold's unusual behavior in treating Bob as if the plant were actually sentient. Although at no point does the plant indicate that it can convey feelings, Harold certainly is not stupid, and perhaps only crazy in the humorous sense- yet he still insists on hearing out the plant's opinions on certain matters that he might otherwise take seriously. Given Harold's newfound ability to "see" through the trees that are descended from Bob through the use of extreme concentration, it may not be much of a stretch to suggest that both are deeply linked in some unknown way, almost certainly a result from FEV exposure.
Despite his appearance, Harold is a kind-hearted soul with a comical personality. He has made many friends throughout his travels, potentially including the Vault Dweller, the Chosen One, and the Lone Wanderer. He is also good with kids, as evidenced by his friendship with Sapling Yew in Oasis, whom he is particularly fond of.
Appearances in games
编辑
Harold appeared in Fallout 1, Fallout 2, Fallout 3 and Fallout: Brotherhood of Steel - another Harold appears in Fallout Tactics, but is considered to be merely a reference to this Harold, and not the same character. He was voiced in the first two games by Charlie Adler and Alan Oppenheimer in Fallout: Brotherhood of Steel. He was to appear in Van Buren, the canceled Fallout 3 project by Black Isle. He is voiced by Stephen Russell in Fallout 3. Harold is the only character to appear in most of the Fallout games.
Quotes
编辑
Vault Dweller: How did you survive?
Harold: Didn't. Got killed. HaHa I love that joke
I'm looking pretty good for being dead.
Chosen One: Is that a tree growing outta your head?
Harold: Jealous? His name's Herbert. I talk to him when I get lonely. Heh heh just kiddin', his name's 'Bob'!
Lone Wanderer: I'd better be going
Harold: Don't go all crazy on me and start wearing branches.
Lone Wanderer: Is there anything down there I should look out for?
Harold: Sometimes I feel things tickling me, but I think that's just Bob getting back at me for all the times I called him Herbert.
Gallery
编辑
Videos
编辑