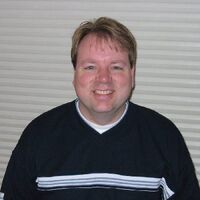 Feargus Urquhart, born April 19, 1970, is a computer games designer. Urquhart was involved with the production of both Fallout and Fallout 2, and had been working on the Van Buren project up until its cancellation.
The Fallout Years
In the mid-1990s, Urquhart joined forces with Tim Cain and others to produce the opening act of what would be the Fallout franchise, "Fallout: A Post-Nuclear Role Playing Game." Following Fallout's 1997 release, team-structure negotiations between Interplay and Cain collapsed, leading to the departure of several principle designers of the original Fallout. In 1998, Urquhart was given the reins to Interplay's newly-created development division for role-playing games, Black Isle Studios.
Fallout 2 was released later that year, but due to a rushed production schedule, numerous bugs and programming mistakes were discovered by the general public. Although much of these mistakes were the result of an abnormally-compressed production schedule, blame was laid mostly at Urquhart's feet. However, Urquhart and the rest of the Black Isle Studios staff worked diligently to patch many of the mistakes that made it into the release.
The End of Interplay, the Beginning of Obsidian
In 2003, Interplay fell into serious financial difficulties. In December, the Black Isle Studios division was closed down, and its staff laid off - Urquhart included. With the help of former Fallout colleagues Chris Avellone, Chris Jones, Darren Monahan, and Chris Parker, Urquhart founded Obsidian Entertainment in Santa Ana, California.
Today, Obsidian employs 110 people in a two-and-a-half team setup. Obsidian has also entered into partnership with Sega for the production of at least two games.
Gameography
Fallout (1997)
Fallout 2 (1998)
Baldur's Gate (1998)
Planescape: Torment (1999)
Icewind Dale (2000)
Fallout 3 "Van Buren" (Cancelled)
External Links and References