Obi-Wan Finale - The Loop
打开音效
Items

Bobbleheads

Notes

Keys

Weapon mods

Misc items

Robot mods
General information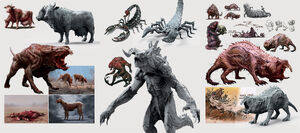 Creatures are animals, humans, and their mutated counterparts encountered in the Commonwealth and surrounding areas.
Legendary creatures
Most creature types have a chance to spawn as a legendary variant, as well as tiered named variants leading up to the legendary creature. A legendary creature will almost always drop a weapon or a piece of armor with unique modifiers (displayed on the Pip Boy with a star). For more information on these modifications, see Legendary effects.
In combat, legendary creatures are very powerful as they are stronger than non-legendary creatures of the same type (see below for specific differences), and they are often among the highest-leveled variants a player is capable of running into at their particular level. For example, a level 30 player seems more likely to encounter a legendary super mutant brute (approx. level 22) than a legendary super mutant (approx. level 10), but the lower-level encounter is still possible.
If a legendary enemy is not killed within a single shot, volley, or VATS session (depending on the weapon in use), once they lose half their health they will "mutate," regaining all health and possibly growing stronger.
Spawn chance table
The normal base chance of a creature spawning as Legendary increases with player level (managed by the LegendaryChanceQuest):
| Player Level | Normal Legendary Chance % |
| --- | --- |
| > 0 | 0 |
| > 5 | 10 |
| > 20 | 12 |
| > 30 | 15 |
| > 40 | 18 |
| > 50 | 20 |
The chance of a creature spawning as Legendary increases with a harder game difficulty setting. The default difficulty is Normal.
| Difficulty | Multiplier |
| --- | --- |
| Very Easy | 0.25 |
| Easy | 0.5 |
| Normal | 1 |
| Hard | 1.25 |
| Very Hard | 1.5 |
| Survival | 1.5 |
Mammals
Humanoid
Non-humanoid
Brahmiluff

Pack brahmiluff

Brahmiluff shorthorn

Brahmiluff longhorn
Brahmin

Pack brahmin

Notable:

Clarabell

Idiot

Ol' Girl

Spot
Dog

Attack dog

Pack dog

Notable:

Duke

Junkyard dog

Kate

Kyle

Teddy
Mongrel

Notable:

Alissa

Ruby

Shug

Wounded dog

Rudolph
Mutant hound

Glowing mutant hound

Notable:
Rad-rat

Rad-rat pup

Mangy rad-rat pup

Rad-rat

Infected rad-rat pup

Mangy rad-rat

Infected rad-rat

Plagued rad-rat
Wolf

Vicious wolf

Feral wolf

Grey wolf

Albino wolf

Mutant wolf

Rabid wolf

Glowing wolf

Notable:
Reptiles
Arthropods
Ant

Small forager ant

Small soldier ant

Small glowing ant

Forager ant

Soldier ant

Glowing ant

Overgrown forager ant

Overgrown soldier ant

Overgrown glowing ant

Flying ant swarm

Flying soldier ant swarm

Flying glowing ant swarm
Cave cricket

Cave cricket hunter

Cave cricket piercer

Glowing cave cricket

Cave cricket black
Fog crawler

Ghostly fog crawler

Glowing fog crawler

Skulking fog crawler

Pale fog crawler

Enraged fog crawler

Diseased fog crawler

Notable:
Hermit crab

Hermit crab hatchling

Giant hermit crab

Alpha hermit crab

Glowing hermit crab

Savage hermit crab

Albino hermit crab
Mirelurk

Mirelurk hatchling

Mirelurk spawn

Softshell mirelurk

Mirelurk razorclaw

Mirelurk killclaw

Glowing mirelurk

Nukalurk

Bloodrage mirelurk

Mirelurk queen

Mirelurk hunter

Glowing mirelurk hunter

Albino mirelurk hunter

Nukalurk hunter

Mirelurk king

Mirelurk deep king

Glowing mirelurk king

Nukalurk king

Notable:
Annelids
Bloodworm

Bloodworm larva

Venomous bloodworm larva

Glowing bloodworm larva

Venomous bloodworm

Bloodworm queen

Glowing bloodworm
Aliens
Birds
Osteichthyes
Angler

Lantern angler

Glowing angler

Albino angler

Venomous angler
Amphibians
Gulper

Gulper newt

Young gulper

Glowing gulper

Gulper devourer
Notes
西海岸
(辐射, 辐射2, 辐射:新维加斯)
外星人

 ·

Bighorner (Bighorner bull, Bighorner calf)

 ·

鸟类

 ·

巨大蒼蠅 (

Legendary bloatfly

)

 ·

双头牛

 ·

大黄蜂 (Young cazador, Legendary cazador)

 ·

多脚兽 (Evolved centaur)

 ·

郊狼 (Coyote alpha male, Coyote den mother, Coyote pup)

 ·

死亡爪 (Baby deathclaw, Young deathclaw, Blind deathclaw, Deathclaw alpha, Mother deathclaw, Intelligent deathclaw, Legendary deathclaw)

 ·

狗 (

Cyberdog

,

Legion Mongrel

,

Vicious dog

)

 ·

Fire ant (Fire ant worker, Fire ant soldier, Ant queen)

 ·

Floater

 ·

Fly

 ·

Gecko (Hunter gecko, Fire gecko, Golden gecko, Little gecko)

 ·

Ghost people (Ghost harvester, Ghost seeker, Ghost trapper)

 ·

屍鬼 (Feral ghoul roamer, Feral ghoul reaver, 发光种, Feral trooper ghoul)

 ·

巨型蚂蚁 (Giant worker ant, Giant soldier ant, Giant ant queen)

 ·

Giant catfish

 ·

巨鼠 (Mole rat, 猪鼠)

 ·

人类 (侏儒

 ·

無腦人)

 ·

湖沼蟹

 ·

螳螂 (

Giant mantis

,

Giant mantis nymph

,

Giant mantis female

)

 ·

Marked man

 ·

夜枭 (Young night stalker, Den mother, Legendary night stalker)

 ·

辐射蟑螂

 ·

辐射蝎 (雕像木蝎, Bark scorpion hunter, Small radscorpion, Giant radscorpion, Radscorpion queen)

 ·

渡鸦

 ·

地底人

 ·

孢子携带者 (Spore carrier savage, Spore carrier brute, Spore carrier runt)

 ·

孢子植物

 ·

超级变种人(玛丽博萨) (Super mutant master, 夜行者)

 ·

瓦那明球

 ·

穴居者 (穴居者女王)

 ·

狼

 ·

妖怪

东海岸
(辐射3, 辐射4, 辐射76, 辐射战略版2)
憎恶

 ·

外星人

 ·

Alien squid

 ·

Alien worm

 ·

Angler

 ·

Beaver

 ·

Bee swarm

 ·

鸟类

 ·

巨大蒼蠅

 ·

Bloodbug

 ·

Bloodworm

 ·

双头牛

 ·

Brahmiluff

 ·

House cat

 ·

Cave cricket

 ·

多脚兽

 ·

鸡

 ·

Crow

 ·

死亡爪

 ·

狗 (

Mongrel

)

 ·

Fire ant

 ·

Firefly

 ·

Flatwoods monster

 ·

Fly

 ·

Fog crawler

 ·

狐狸

 ·

Frog

 ·

Gatorclaw

 ·

Gazelle

 ·

屍鬼 (狂屍鬼, Feral ghoul reaver, Feral ghoul roamer, 发光种, Swamp ghoul)

 ·

Appalachian Floater

 ·

Ghoulrilla

 ·

巨型蚂蚁 (巨型蚂蚁女王)

 ·

Giant catfish

 ·

Gorilla

 ·

Grafton monster

 ·

Gulper

 ·

Hermit crab

 ·

Honey beast

 ·

人类

 ·

Lamprey floater

 ·

Manowar tendril floater

 ·

巨獭

 ·

泥沼蟹 (Mirelurk hunter, Mirelurk king,

Nukalurk

, Swamplurk, Swamplurk queen)

 ·

Mole rat

 ·

鼬鼠礦工

 ·

Mothman

 ·

Mutant crocodile

 ·

Mutant hound

 ·

Mutant wanamingo

 ·

Needle tooth floater

 ·

Opossum

 ·

辐射鸡

 ·

Radgull

 ·

Rad rabbit

 ·

Rad-rat

 ·

Radtoad

 ·

辐射蟑螂

 ·

辐射蝎 (白化辐射蝎, Giant radscorpion)

 ·

Radstag

 ·

輻屍人

 ·

Scorchbeast

 ·

Sea creature

 ·

Snallygaster

 ·

Squirrel

 ·

Stingwing

 ·

Tick

 ·

Super mutant (Vault 87) (Super mutant behemoth, Super mutant brute, Super mutant master, Super mutant overlord)

 ·

超级变种人(学院)

 ·

Super mutant (Huntersville)

 ·

泥沼族

 ·

Trog

 ·

温迪戈

 ·

野狼

 ·

妖怪
中西部
(辐射战略版, 范布倫)

Badger

 ·

Boom bug

 ·

House cat

 ·

双头牛

 ·

狗

 ·

Electro-beetle

 ·

Endless walker

 ·

Gehenna

 ·

屍鬼 (

Born ghoul

, 狂屍鬼, 发光种)

 ·

Giant albino ant (Giant albino ant queen)

 ·

Giant leech

 ·

巨鼠

 ·

Giant wasp

 ·

Hairy deathclaw (

Baby hairy deathclaw

)

 ·

人类

 ·

Komodo dragon

 ·

Molech

 ·

Mountain lion

 ·

Mutant cannibal

 ·

Raccoon

 ·

辐射蟑螂

 ·

辐射蝎

 ·

Radtoad

 ·

Trog

 ·

Super mutant (Mariposa)

 ·

Wolf

德克萨斯州
(辐射:BoS, 辐射:BoS2)

双头牛

 ·

郊狼

 ·

狗

 ·

Experimental deathclaw (Baby experimental deathclaw)

 ·

屍鬼 (发光种)

 ·

Giant rat (Mole rat)

 ·

人类

 ·

Radbug

 ·

Radscorpion (glowing radscorpion, spitting radscorpion, large giant radscorpion)

 ·

Small rat

 ·

Giant rat

 ·

超级变种人(玛丽博萨)
Project V13

尸鬼

 ·

人类

 ·

Mutant mantis shrimp

 ·

Super mutant (Project V13)

辐射:避难所

死亡爪

 ·

狂尸鬼

 ·

屍鬼

 ·

人类

 ·

鼹鼠

 ·

猫

 ·

狗

 ·

Parrot

 ·

辐射蟑螂

 ·

辐射蝎

 ·

超级变种人