本页未详细描述内容。详情请参阅相关文章。
关于 keys 在其他 异尘余生 游戏, 请看 "Key".
关于 Fallout: New Vegas 内容概述, 请参照 "辐射:新维加斯导航页".
General information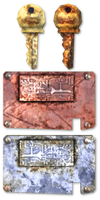 Similar to Fallout 3, keys in Fallout: New Vegas open specific doors or containers, some of which are inaccessible otherwise. Most keys can be found in the possession of non-player characters and can be pickpocketed while a few can only be retrieved if their owner has been killed.
Legend
Base game
A - F
G - M
Name (G.E.C.K. ID)
Opens
Found / in possession of
Related quest
Base ID
Gomorrah office key


(VMS21OfficeKey)

How Little We Know
8|0|left}}
Gomorrah utility room key


(VMS21GunroomKey)

How Little We Know
8|0|left}}
Great Khans supply cache key


(VBSSupplyCacheKey)

Climb Ev'ry Mountain
8|0|left}}
Gun Runner gate key


(GunRunnerGateKey)

8|0|left}}
Harland's key


(HarlandKey)

8|0|left}}
Head Scribe's Keycard


(HVSelfDestructKeyCard02)

Self-destruct authorization terminal in Hidden Valley bunker with the combination of the two other keycards.

The House Always Wins, For the Republic, Part 2, Render Unto Caesar, Wild Card: Side Bets
8|0|left}}
Hidden Valley bunker key


(HVBunkerKey)

Various paladins throughout the Mojave Wasteland

8|0|left}}
Hidden Valley depot key


(HVTorresDepotKey)

8|0|left}}
High Roller's suite key


(VTopsPlayersSuiteKey)

Given by casino table manager after enough winnings

Big Winner, The Tops
8|0|left}}
Hoover Dam key


(VHDKimballVisitKey)

You'll Know It When It Happens, Arizona Killer
8|0|left}}
Hoover Dam saferoom key


(VHDSaferoomKey)

8|0|left}}
Investigator's room key


(VMS18InvestigatorKey)

Beyond the Beef
8|0|left}}
Jail key


(REPCONJailKey)

Come Fly With Me
8|0|left}}
Jeannie May's safe key


(VNovacJeannieMayKey)

One for My Baby
8|0|left}}
Jenny Millet's security keycard


(REPCONHQKeycard01)

Access Powers
8|0|left}}
Key


(VZKeyCleanBloodborne)

8|0|left}}
Key


(VZKeyDirtyBeerBootleggers)

On the shelf next to cellar door

Strategic Nuclear Moose
8|0|left}}
Key


(VZKeyDirtyBeerBootleggers2)

Strategic Nuclear Moose
8|0|left}}
Key


(VZKeyDirtyCentralSewerProsp)

Cajoling a Cudgel
8|0|left}}
Key


(VZKeyDirtyGSHome2SafeKey)

Under some pre-War money on the bottom shelf of a bookcase in the same home.

8|0|left}}
Key


(VZKeyDirtyJeansSky)

8|0|left}}
Legion safehouse key


(SafehouseLegionKey)

Caesar's Favor, Caesar's Hire
8|0|left}}
Lucky 38 VIP keycard


(vHouseVIPKeycard)

8|0|left}}
Luke's Find


(VOVSewerBlindLukeKey)

Cajoling a Cudgel
8|0|left}}
Martina's room passcard


(VMartinaRoomKey)

The Finger of Suspicion
8|0|left}}
N - S
T - Z
Dead Money
Name (G.E.C.K. ID)
Opens
Found / in possession of
Related quest
Base ID
Backstage key


(NVDLC01VeraPartiturKey)

Right door (when facing the stage) to backstage area in The Tampico

xx

{{#pad:00ffd7|6|0|left}}
Cashier's key


(NVDLC01CashiersKey)

In the cashier's cage in the casino, inside the filing cabinet

xx

{{#pad:00ae31|6|0|left}}
Clinic basement key


(NVDLC01ClinicKey)

xx

{{#pad:005233|6|0|left}}
Dean's Safe Key


(NVDLC01TheaterDeanKey)

Dean's safe in his dressing room

Given in dialogue with Dean

xx

{{#pad:00ef0f|6|0|left}}
Ennis's key


(NVDLC01Gala02Key)

On a desk just east of Christine's location during the gala event

xx

{{#pad:00ec9b|6|0|left}}
Entertainer pass key


(NVDLC01EntertainerKey)

xx

{{#pad:006623|6|0|left}}
Foreman's key


(NVDLC01ForemansKey)

xx

{{#pad:00f3b7|6|0|left}}
Salida del Sol courtyard key


(NVDLC01ETCourtyardKey)

Found in the courtyard right next to the skeleton in the east corner

xx

{{#pad:00fe8f|6|0|left}}
Salida del Sol house key


(NVDLC01ETNorthKey)

xx

{{#pad:00f2df|6|0|left}}
Sierra Madre emergency maintenance key


(NVDLC01KitchenManagerKey)

xx

{{#pad:010b46|6|0|left}}
Sierra Madre office key


(NVDLC01CasOff)

Doors from Sierra Madre's entrance to casino area

In the hallway behind the dining room counter on the 2nd floor of the casino. It's in a security guard bag next to a skeleton.

xx

{{#pad:00a5a1|6|0|left}}
Suites maintenance key


(NVDLC01SuitesKey)

In the storage room on a table next to the emergency network terminal

xx

{{#pad:006622|6|0|left}}
Vera's backstage key


(NVDLC01TheaterVeraKey)

On the table in Dean's room in the Tampico

xx

{{#pad:004f04|6|0|left}}
Vera's key


(NVDLC01SuitesVeraKey)

xx

{{#pad:006c17|6|0|left}}
Vera's master key


(NVDLC01TheaterVera02Key)

South backstage door in the Tampico
Balcony door to gain access to the holotape projector

xx

{{#pad:00e8a5|6|0|left}}
Honest Hearts
Old World Blues
Lonesome Road