"
The fall standardized tests are coming. Sign up for Saturday practice sessions, starting next month with Sister Josephine.
"

—PA system
D.B. Technical High School is a former Catholic High School within Boston in the Commonwealth in 2287. It is located east of Diamond City and south of the Combat Zone.
建筑的主要区域有三层,大厅和房间内都有大量的掠夺者。同时,建筑内也有包括瓶盖地雷和机枪炮塔在内的少量陷阱。
穿过主区域来到地下层后,将会有一些值得注意的战利品。
掠夺者的领导者是博斯可,他的终端机笔记显示,在被一个掠夺者的攻击犬咬伤后他感染了狂犬病。同时记录显示他开始患上恐水症,并因为一点微不足道的过失暴怒不止,还为此杀掉了自己的船员。博斯可佩戴着吉祥物的头套。
在游泳池东边的房间里,有一扇通往发电机房的门。这里可以通往一个小型地铁站,而站内有许多掠夺者。当玩家"处理"好这里后,接下来的地点将会有五到六只吸血虫。根据玩家等级的不同,出现的吸血虫可能从幼虫到红寡妇吸血虫分布。
在地下室有一扇金属门通往 Medical Center metro.
一楼有一间反锁的房间(一扇门上了门闩,另一扇门被锁链反锁),这间房间可以通过二楼地板上的塌陷进入,该塌陷地点在建筑物的南面。想要进入此房间,玩家也可以在地面层进入建筑时,在右手边反锁的房门旁墙上的一个开口射击闩上的门背后的门闩。房间内有一个进阶保险箱,包含有少量战利品。
值得注意的物品
编辑
Related quests
编辑
Kidnapping - A group of raiders can take up residence in this location after they have kidnapped a settler. The Sole Survivor is required to come here and free the settler.
Notes
编辑
There is a respawning machinegun turret behind the school.
The beast that Bosco's terminal mentions ("I see it, hiding in the dark. Catch its one cold eye, watching. It just stares, lying. Waiting") is just the school's bear mascot head. At some point, after killing several of his men while suffering from rabies delusions, Bosco dons the mask.
Bosco and all the raiders will respawn after some time; however, he doesn't respawn with another mascot head, making it unable to be re-obtained.
Preston Garvey will make a comment supporting the Bears.
There are three wooden blocks in the basement, that are arranged to spell out "FUN."
There are three wooden blocks on the top floor, that are positioned to spell "DIE"
Appearances
编辑
D.B. Technical High School appears only in Fallout 4.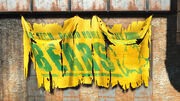 現實的D.B.科技高中全稱Don Bosco Technical High School,為一所於1998年關閉的波士頓高中,是遊戲主設計師Emil Pagliarulo的母校。[1] the raider boss at the school is named Bosco and on the rear wall of the school there is a banner with the words "D.B. Tech - proud home of the bears!" Don Bosco Technical High School's real mascot and school colors are reflected on the banner,但裡面的熊圖案則是來自上古卷軸5的風暴斗篷旗幟圖,只是臉上的漩渦被拿掉而已。

Killing Bosco doesn't yield XP, despite the fact that he is a leveled opponent (player level x 1.2).[已核实]
Gallery
编辑
References
编辑