"
The fiercest flying insect in the Commonwealth, the Stingwing strikes relentlessly with its poisoned stinger.
"
— Fallout 4 loading screens
Stingwings are flying creatures mutated from scorpionflies that live in the Commonwealth in 2287.
Background
Stingwings were created by radiation at some point between the start of the Great War and 2287. They are known to build large clusters of nests on the ground and walls, with nests themselves oozing a bright yellow sap akin to honey from their entrances. When these nests are approached, multiple stingwings will emerge to fiercely defend them from potential threats.
Characteristics
Stingwings appear to be a large, mutated form of scorpionfly, with extended mouthparts and a scorpion-like tail, ending in a bulbous and deadly sting. They can often be found in swarms, and their erratic flying coupled with a venomous sting makes them formidable opponents.
Biology
Due to radiation, stingwings have developed a venomous sting not found on their modern, unmutated counterparts. Also, unlike the modern-day Mecoptera order of insects, stingwings appear to exhibit no sexual dimorphism, as only male scorpion-flies wield the appendage which grants them their name.
Gameplay attributes
Fragile but agile, the stingwing can be taken down in relatively few shots even at mid-level. It is, however, extremely fast, hits fairly hard, and fond of a "dive-bombing" tactic where it circles the player character and rushes in to hit once before returning to circling. They are often encountered in groups of up to five and can be a harsh problem due to their speed and erratic movements, which can combine to make them very hard to hit without V.A.T.S. Another tactic the stingwing tends to use is to rush at the player character in single file.
Variants
Stingwing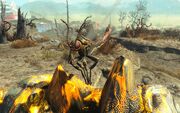 The most common form of stingwing found throughout the Commonwealth. They are usually found in groups, although a few can be found alone.
名称 (Form ID)
数据
行为
能力
物品
Stingwing


0005FBB3

Stingwing meat

Stingwing barb
Stingwing darter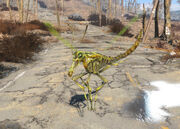 A tougher, faster version of a stingwing. At least one stingwing darter can usually be found in a group at mid levels.
名称 (Form ID)
数据
行为
能力
物品
Stingwing darter


001423BB

Stingwing meat

Stingwing barb
Stingwing skimmer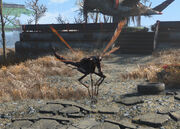 A tougher version of a regular stingwing. Usually encountered in a group at higher levels.
名称 (Form ID)
数据
行为
能力
物品
Stingwing skimmer


001423BC

Stingwing meat

Stingwing barb
Glowing stingwing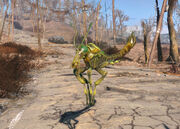 A version of the stingwing whose body glows due to an abundance of absorbed radiation. They are most commonly encountered at higher levels.
名称 (Form ID)
数据
行为
能力
物品
Glowing stingwing


001423BD

Stingwing meat

Irradiated blood
Stingwing chaser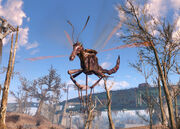 Chasers can be considered as the toughest of the stingwing variants. They are fast, hit hard, and are especially dangerous when encountered in groups, as they will attack together. Once the Sole Survivor reaches higher levels, they will spawn in various areas.
名称 (Form ID)
数据
行为
能力
物品
Stingwing chaser


001423BE

Stingwing meat

Irradiated blood
Appearances
Stingwings appear in Fallout 4.
Behind the scenes
The stingwing is based on the Mecoptera, or scorpionfly, which has no ability to sting. The large, threatening tail simply houses the males' genitals. This insect is, in reality, completely harmless.
Gallery
西海岸
(辐射, 辐射2, 辐射:新维加斯)
外星人

 ·

Bighorner (Bighorner bull, Bighorner calf)

 ·

鸟类

 ·

巨大蒼蠅 (

Legendary bloatfly

)

 ·

双头牛

 ·

大黄蜂 (Young cazador, Legendary cazador)

 ·

多脚兽 (Evolved centaur)

 ·

郊狼 (Coyote alpha male, Coyote den mother, Coyote pup)

 ·

死亡爪 (Baby deathclaw, Young deathclaw, Blind deathclaw, Deathclaw alpha, Mother deathclaw, Intelligent deathclaw, Legendary deathclaw)

 ·

狗 (

Cyberdog

,

Legion Mongrel

,

Vicious dog

)

 ·

Fire ant (Fire ant worker, Fire ant soldier, Ant queen)

 ·

Floater

 ·

Fly

 ·

Gecko (Hunter gecko, Fire gecko, Golden gecko, Little gecko)

 ·

Ghost people (Ghost harvester, Ghost seeker, Ghost trapper)

 ·

屍鬼 (Feral ghoul roamer, Feral ghoul reaver, 发光种, Feral trooper ghoul)

 ·

巨型蚂蚁 (Giant worker ant, Giant soldier ant, Giant ant queen)

 ·

Giant catfish

 ·

巨鼠 (Mole rat, 猪鼠)

 ·

人类 (侏儒

 ·

無腦人)

 ·

湖沼蟹

 ·

螳螂 (

Giant mantis

,

Giant mantis nymph

,

Giant mantis female

)

 ·

Marked man

 ·

夜枭 (Young night stalker, Den mother, Legendary night stalker)

 ·

辐射蟑螂

 ·

辐射蝎 (雕像木蝎, Bark scorpion hunter, Small radscorpion, Giant radscorpion, Radscorpion queen)

 ·

渡鸦

 ·

地底人

 ·

孢子携带者 (Spore carrier savage, Spore carrier brute, Spore carrier runt)

 ·

孢子植物

 ·

超级变种人(玛丽博萨) (Super mutant master, 夜行者)

 ·

瓦那明球

 ·

穴居者 (穴居者女王)

 ·

狼

 ·

妖怪

东海岸
(辐射3, 辐射4, 辐射76, 辐射战略版2)
憎恶

 ·

外星人

 ·

Alien squid

 ·

Alien worm

 ·

Angler

 ·

Beaver

 ·

Bee swarm

 ·

鸟类

 ·

巨大蒼蠅

 ·

Bloodbug

 ·

Bloodworm

 ·

双头牛

 ·

Brahmiluff

 ·

House cat

 ·

Cave cricket

 ·

多脚兽

 ·

鸡

 ·

Crow

 ·

死亡爪

 ·

狗 (

Mongrel

)

 ·

Fire ant

 ·

Firefly

 ·

Flatwoods monster

 ·

Fly

 ·

Fog crawler

 ·

狐狸

 ·

Frog

 ·

Gatorclaw

 ·

Gazelle

 ·

屍鬼 (狂屍鬼, Feral ghoul reaver, Feral ghoul roamer, 发光种, Swamp ghoul)

 ·

Appalachian Floater

 ·

Ghoulrilla

 ·

巨型蚂蚁 (巨型蚂蚁女王)

 ·

Giant catfish

 ·

Gorilla

 ·

Grafton monster

 ·

Gulper

 ·

Hermit crab

 ·

Honey beast

 ·

人类

 ·

Lamprey floater

 ·

Manowar tendril floater

 ·

巨獭

 ·

泥沼蟹 (Mirelurk hunter, Mirelurk king,

Nukalurk

, Swamplurk, Swamplurk queen)

 ·

Mole rat

 ·

鼬鼠礦工

 ·

Mothman

 ·

Mutant crocodile

 ·

Mutant hound

 ·

Mutant wanamingo

 ·

Needle tooth floater

 ·

Opossum

 ·

辐射鸡

 ·

Radgull

 ·

Rad rabbit

 ·

Rad-rat

 ·

Radtoad

 ·

辐射蟑螂

 ·

辐射蝎 (白化辐射蝎, Giant radscorpion)

 ·

Radstag

 ·

輻屍人

 ·

Scorchbeast

 ·

Sea creature

 ·

Snallygaster

 ·

Squirrel

 ·

Stingwing

 ·

Tick

 ·

Super mutant (Vault 87) (Super mutant behemoth, Super mutant brute, Super mutant master, Super mutant overlord)

 ·

超级变种人(学院)

 ·

Super mutant (Huntersville)

 ·

泥沼族

 ·

Trog

 ·

温迪戈

 ·

野狼

 ·

妖怪
中西部
(辐射战略版, 范布倫)

Badger

 ·

Boom bug

 ·

House cat

 ·

双头牛

 ·

狗

 ·

Electro-beetle

 ·

Endless walker

 ·

Gehenna

 ·

屍鬼 (

Born ghoul

, 狂屍鬼, 发光种)

 ·

Giant albino ant (Giant albino ant queen)

 ·

Giant leech

 ·

巨鼠

 ·

Giant wasp

 ·

Hairy deathclaw (

Baby hairy deathclaw

)

 ·

人类

 ·

Komodo dragon

 ·

Molech

 ·

Mountain lion

 ·

Mutant cannibal

 ·

Raccoon

 ·

辐射蟑螂

 ·

辐射蝎

 ·

Radtoad

 ·

Trog

 ·

Super mutant (Mariposa)

 ·

Wolf

德克萨斯州
(辐射:BoS, 辐射:BoS2)

双头牛

 ·

郊狼

 ·

狗

 ·

Experimental deathclaw (Baby experimental deathclaw)

 ·

屍鬼 (发光种)

 ·

Giant rat (Mole rat)

 ·

人类

 ·

Radbug

 ·

Radscorpion (glowing radscorpion, spitting radscorpion, large giant radscorpion)

 ·

Small rat

 ·

Giant rat

 ·

超级变种人(玛丽博萨)
Project V13

尸鬼

 ·

人类

 ·

Mutant mantis shrimp

 ·

Super mutant (Project V13)

辐射:避难所

死亡爪

 ·

狂尸鬼

 ·

屍鬼

 ·

人类

 ·

鼹鼠

 ·

猫

 ·

狗

 ·

Parrot

 ·

辐射蟑螂

 ·

辐射蝎

 ·

超级变种人