"
Scavengers report hulking individuals moving around Hidden Valley after dusk, but have been unable to identify them due to low visibility.
"
隱秘山谷位於NCR懲戒所的東北方,斯洛恩的東南方。這裡被小山丘和巨石環繞,四周安裝了一圈鐵絲網。山谷里有許多的變異木蠍。這裡是鋼鐵兄弟會所剩無幾的基地之一,雖然之前兄弟會曾一度佔領了太陽神一號。
隐秘山谷是一座 complex of隶属于美国空军的基地 remaining from before the Great War near the heart of the valley。在大战爆发之前这里就已经被美军抛弃, the area around the bunkers is littered with junk. Signs on the roads and peaks leading into the valley mark the boundaries of the complex. Stretches of drooping pre-War wire fences also note the area as being USAF restricted. Prospectors who have returned from Hidden Valley have reported four bunkers, each with an 通话系统,但一直以来它们始终沉默着不对任何话语做出回应。 Furthermore, prospectors have reported an eerie feeling upon entering the complex. Others 声称曾经看见身穿盔甲的士兵从每晚必至的沙暴中走出的流言。[1]
隱秘山谷地堡電腦里的記錄:
沿著斯隆恩附近的路可以抵達隱秘山谷。山谷鐵絲網的西北和東南都有口子能進來。還有幾條小路也通這裡。其中一條經過毒蠍峽谷,顧名思義,裡邊蠍子超多,大多是變異木蠍,偶爾有巨型輻射蠍。.A hollowed-out rock with a heart and anti-bomb symbol painted on it will be directly in front of the player character when fast-traveling to Hidden Valley.
鐵絲網裡面一共有四個避難所的入口。其中三個只有一個空空如也的大門廳和一個鎖著的門。不過,鎖著的門後面倒是有點小戰利品。
東掩體
門廳里有3具骷髏和一張床墊,床墊上有瓶酒。後面的門有鎖(25),裡面有100發5mm圓頭彈,24發5.56mm圓頭彈。
北掩體
門廳後門上鎖(50),裡面有2個迷你核彈,1個治療針,一點5.56mm彈藥
南掩體
這裡要小心,樓梯間盡頭出有集束手雷,懸掛在空中。門廳里有一張床墊,一個口袋,一份日誌,貌似有人在這裡蝸居。後門上鎖(75)。門後有不少東西。3個彈藥箱,一錫盤下面有一顆迷你核彈,進門右手有2個廢金屬和1個蒸汽壓力表,左手是1個破片手雷和一些5.56mm彈藥。
If the Courier entered the west bunker (below) without Veronica as a companion, they will be assigned a task to remove an NCR ranger from this bunker. After dealing with the ranger OR making contact using Veronica OR answering the summons for ED-E, a trip-wire triggering the grenade bouquets will appear in the entry room door, along with more entry room grenade bouquets (one to the left is disarmable). The entrance hall grenade bouquets previously mentioned will also respawn if disarmed earlier.
西掩體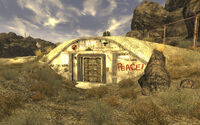 這才是真正意義上的
隱秘山谷地堡
,也是
鋼鐵兄弟會
的基地。這個掩體的特徵是頭頂有一截樹樁。沒有口令是進不去的。口令來自於掛掉的兄弟會小隊攜帶的全息磁帶上。這樣的小隊一共有3波。一波在
奈利斯空軍基地
門口的火力封鎖線上,另一波的2隻在
火箭公司總部
3樓,還有一波在
黑山
小路的大坑裡。
當你搞到了口令,門口的計算機就會有相應選項了。你也可以硬撬鎖進去(100)。或者有維羅妮卡的幫助就再好不過了。在進行「萬用牌牌-無足輕重」這個任務的時候,也可以進去。
更多細節詳閱條目:隱秘山谷地堡
Related quests
编辑
<section begin="quests" />
Marked quests
编辑
Unmarked quests
编辑
如果沒有激活任務「Still in the Dark」南掩體空無一人。激活後,火堆旁邊會冒出一個NCR遊騎兵。
如果穿著NCR制服進了兄弟會基地,那就準備打吧。即使維羅妮卡在也不好使。
如果使用口令進入兄弟會基地,會立刻激活「Still in the Dark」中的NCR遊騎兵部分,同時武器和裝備被拔個精光,直到完成該任務才歸還。你還是提前存個盤把。
如果是靠著撬鎖技術進來,裡面的人倒是不會打你。不過,出去的時候就麻煩了,你的小弟們都出不來了。要麼你再撬鎖進來接他們,要麼完成「Still in the Dark」再來找他們。
如果你啟動了自毀程序,那麼「托缽僧」偽裝系統將停止工作,而且掩體周圍的換氣扇會冒出滾滾濃煙。
In the south bunker there are grenade bouquets hanging from both the ceiling at the bottom of the staircase, and in the center of the main room. If entering the bunker after receiving the related task as part of Still in the Dark, the traps will be gone.
The interior of the Brotherhood's bunker bears a striking resemblance to Raven Rock from Fallout 3.
Four Brotherhood of Steel paladins will regularly go out on patrol between 1am and 3am, guarding the area near the bunker until just before dawn. If they are encountered leaving the inner bunker you will be forced to start the Still in the Dark quest, unless the player has Veronica in their party. If the player talks with them at this point, they will speak as if the player is already a member of the Brotherhood. If the player dismisses Veronica at this point, the paladins will turn hostile.
There is a hollowed-out rock in the middle of Hidden Valley.
Most of the time it will be hard to fast travel when inside Hidden Valley because of the bark scorpions in the area.
隱秘山谷僅出現在輻射:新維加斯
Behind the scenes
编辑
[已核实]
在遊覽完畢從掩體里出來的時候,你眼前會刷出2-5隻變異木蠍。
採石場跑出來的死爪,沒準還有超狠的阿爾法死爪,而且是突然蹦出來。[已核实]
從斯隆恩到山谷的小路上,可能會碰到從
[已核实]
If fast-traveling to Hidden Valley and arriveing just before sunrise, the ground may turn black and the distant surrounding areas will turn into a hazed green. The ground will eventually change back into color, although the screen will turn completely black afterwards, and the game will need to be restarted. A way to avoid this is leaving Hidden Valley before the screen changes. This is most likely a glitch from the sandstorm that flows throughout the area at night.
This may also occur if the wait function is used while in Hidden Valley.[已核实]

[已核实]
掩體里可能刷出一個馬克一型機器守衛,專門堵路。
Moe and the other various centaurs in the crater near Black Mountain.[已核实]
Sometimes an evolved centaur will spawn right next to the player character upon fast travel to Hidden Valley. This can begin to happen after killing
[已核实]
It is possible to get infinite ammunition from the supply footlocker. By using the ammunition to craft something in level two and then returning, the footlocker will be resupplied. Simply exiting and re-entering the bunker will also respawn more ammunition.
[已核实]
It is possible to go through the ruins blocking the entrance to the bunker. It is impossible to leave once inside, however.
[已核实]
Victor can spawn in the bunker when waiting by the ammunition case.
Sunny Smiles may transport to the valley.[已核实]
During the tutorial quest,
cateye, or with the Friend of the Night perk, the night vision effect will suddenly fail and the screen will become much darker. This can happen at a distances well over 100 yards away and can be surprising when coming from directions where the valley itself cannot be seen. This may be an effect of the camouflage system, and can be fixed by simply walking in another direction.[已核实]
When approaching the valley at night when
[已核实]
When killed, the bark scorpions may glitch through the ground and disappear sometime later.
Turbo, sometimes they can be successfully disarmed (adding the three grenades into the inventory), yet the trap will still trigger, dropping three more exploding grenades.[已核实]
When disarming the grenade bouquets in the south bunker while using
References
编辑