Template:Navbox overviews FO3 Template:Navbox overviews FO4 Template:Navbox overviews FO76
避難所小子
搖頭娃娃
是
避難所科技
的促銷贈品。在
首都廢土
、
聯邦
和
阿帕拉契
各可以找到20個搖頭娃娃。拿取搖頭娃娃不會造成任何道德值的變化或者遭遇報復。
Fallout 3编辑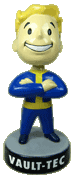 在首都廢土可以找到20個搖頭娃娃。一旦得到了搖頭娃娃,你可以將它們存放在你在兆噸鎮的房屋或你的十便士大樓套房中的搖頭娃娃收集者展台上面。Typically, bobbleheads acquired through console commands cannot be put on the bobblehead stand, and do not count towards any of the bobblehead-related achievements. However, bobbleheads created via player.placeatme console command could be picked with a related achievement and could be put on a bobblehead stand. Bobbleheads from TestQAItems cannot be put on a bobblehead stand.
每一個避難所小子搖頭娃娃可以使玩家的7種S.P.E.C.I.A.L.屬性之中的一種永久增加1點,或使13種技能之中的一種永久增加10點。搖頭娃娃將不會使屬性點數超過最大值10點,也不會使技能點數超過最大值100點。當你對角色進行規劃時不要忘記這一點,否則它們提供的獎勵就可能浪費掉。建議在離開避難所之前不要把任何一種屬性點數加到10點,否則此後取得的相關搖頭娃娃所提供的獎勵就會浪費掉。
Two of the Fallout 3 achievements and trophies involve collecting Vault Boy bobbleheads. The first achievement or trophy is named Yes, I Play with Dolls and is awarded for collecting 10 of them, players then earn the second achievement/trophy called Vault-Tec C.E.O. for finding all 20 of them.
Bobbleheads, as indicated below with an asterisk (*), can become unobtainable. Please refer to the respective articles for detailed information. Individual pages include a video for location.
S.P.E.C.I.A.L.
编辑
| 名稱 | 位置 | Base ID |
| --- | --- | --- |
| 搖頭娃娃—交易 | 常青寨 - 集市 - 在一個黑暗的洞穴隱蔽處,微笑傑克右邊的房間的角落裡。跳過工作台,娃娃在最右邊的架子上。 | 000388f3 |
| 搖頭娃娃—大型槍械 | 康斯坦丁要塞 - CO Quarters(小的單層平房)的地下室中。位於一個沒上鎖的保險柜里,這保險柜中還有一些瓶蓋和ICBM的發射密碼。 | 00038906 |
| 搖頭娃娃—能量武器 * | 渡鴉岩 - 在秋上校卧室右邊的桌子上。當你穿過從2B區通向2C區的大門,看到2個英克雷士兵從右邊的門裡出來的時候,進入左邊的門。記得要在你離開英克雷基地之前拿到,因為在這之後你就回不來了。 | 0003892f |
| 搖頭娃娃—爆破 | WKML廣播站 - 封閉蓄水池,廣播站後面的下水道(由探孔進入)。娃娃在石頭縫裡(見下面的圖片)。 | 00038930 |
| 搖頭娃娃—開鎖 | 貝塞斯達廢墟 - 貝塞斯達辦公室東,跟一個亮著的燈一起放在一張桌子上。 | 00038931 |
| 搖頭娃娃—醫療 * | 101號避難所 - 老爸的醫生辦公桌上。可以在你去接受G.O.A.T.的時候拿到,也可以在從避難所逃走的過程中拿到,或者在你短暫的返回101號避難所(可選)的時候拿到。如果你決定在這個時候去拿,娃娃會在你與阿瑪妲聊天的診所裡面。 | 00038950 |
| 搖頭娃娃—近戰武器 | Dunwich Building: Go through the Dunwich Building, go through the Forsaken Dunwich Ruins and go to the virulent underchambers (where one can also destroy the Krivbeknih, at the Ug-Qualtoth.) Upon exiting the virulent underchambers to the Dunwich Building, it will be in the center of a room, right next to the exit to Dunwich Building mixed in with some cans and bottles (metallic room). | 00038951 |
| 搖頭娃娃—修理 * | 斷橋鎮 - 伊萬·金的房子里(需要開鎖技能50,不會降低道德)。進門之後往左看,就在白色的桌子上。 | 00038952 |
| 搖頭娃娃—科學 | 106號避難所 - 生活區,最東邊的房間里的一個架子上。當你從避難所入口進入到生活區(最上層),穿過最遠端的門向東走,經過一段走廊即到。 | 00038953 |
| 搖頭娃娃—小型槍械 | 國民衛隊警備處 - 國民衛隊武器庫,地下部分密閉儲藏室的一個架子上。通向武器庫的門必須要在通過警備處訓練所和辦公室之後到達警備處的3樓,找到開關才能夠打開。 | 00038954 |
| 搖頭娃娃—潛行 | 妖怪隧道 - 妖怪巢穴,大池塘北邊的一個金屬箱上面。 | 00038955 |
| 搖頭娃娃—口才 | Paradise Falls: Eulogy's Pad, on the table right next to the terminal. | 00038956 |
| Bobblehead - Unarmed | Rockopolis: An unmarked location due west of Smith Casey's Garage and due north of Girdershade. The entrance (a large boulder) is below a party banner that is lit up at night. The bobblehead is next to Argyle's body. | 00038958 |
Point Lookout编辑
In the Point Lookout add-on, several "fake" Bobbleheads appear (called Schmault-Tec Bubbleheads) during a hallucination sequence as part of the main questline (after you get sprayed with the Punga Fume). These bobbleheads cannot be added to inventory but give the player sarcastic messages. For instance, when finding the Luck Bobblehead, it says, "Dead mother, life in a post-nuclear Wasteland and not a friend in it. Yeah, you aren't exactly blessed," When finding the Charisma Bobblehead, you see birthday balloons, and a skeleton on a table; then when you look at the skeleton it says "Mom."
Fallout 4编辑
As in Fallout 3, each bobblehead increases a corresponding S.P.E.C.I.A.L. stat permanently by one, and can be stored on a Bobblehead stand crafted at any settlement, or on the one in a room in Vault 81. Bobbleheads that previously increased a skill now grant a permanent unique perk. Refer to the respective articles for more detailed information.
Taking a S.P.E.C.I.A.L. bobblehead while the player character's stat is at 10 allows that stat to increase to 11. As the Bobblehead counts as a stat gain, if one was below 10 before picking it up, they can't level that stat to above ten via normal methods.
S.P.E.C.I.A.L.
编辑
Utility
编辑
Weapons
编辑
Fallout 76编辑
| | |
| --- | --- |
| | 即將到來 |
| | |
| --- | --- |
| | 待撰章節 |
As in Fallout 4, combat-related bobbleheads permanently add damage multipliers to the player character. Unique to Fallout 76, however, are usable bobbleheads that provide temporary effects lasting one real-world hour.
如果你取得了動物之友特技,那麼輻射3中妖怪隧道中的搖頭娃娃—潛行將可以安全地取得。
輻射3中強壯、能量武器和醫療的搖頭娃娃都是有可能無法取得的,也就是說你只能利用特定的機會取走它們。如果你選擇炸掉兆噸鎮,你需要在此之前取走搖頭娃娃—強壯。你只有一次進入Raven Rock第二層的機會,所以你需要在離開這一區域之前拿到搖頭娃娃—能量武器。另外,儘管你有數次可以取走搖頭娃娃—醫療的機會,但如果你完成了"Trouble on the Home Front"任務並且離開了避難所,你將永遠不能再取得它了。
搖頭娃娃—開鎖是唯一一個並不會「搖頭」的搖頭娃娃。據猜測這是由於它的前主人把其中的彈簧拆下來用於開鎖了。
The bobbleheads were also used as a Fallout 3 promotional item by Bethesda Softworks and are included in the Collector's Edition of the game. They are identical to the ones in-game, but have arms crossed in front.
See: Fallout 3 promotional items.
YouTube Videos
编辑