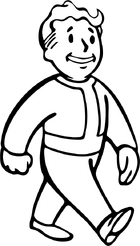 避難所小子(Vault Boy)是《异尘余生》世界中Vault-Tec公司的吉祥物,出現在避難所的所有宣傳和教科手冊裡。同時還被畫成過漫畫,因大戰沒被出版。
在《辐射》(Fallout)游戏中,Vault Boy用来提供玩家角色以后可用的几乎所有属性(特权,特质,技能等)和物品的标志性表示,是一个人的行为和生存的通用表示,并且出现在《辐射3》,《辐射:新维加斯》和《辐射4》的成就和奖杯中,以及《辐射》系列本身的吉祥物。
在外观上,他是一个年轻的男性卡通人物,有着金色卷发,穿着跳马连身裤。
他最常表现出宽容的笑容,但也表现出其他面部表情。
His female counterpart is Vault Girl.
值得一提的是,玩家时常把避难所小子与罗伯科工业制造的电子设备 哔哔小子(英文:Pip-Boy)搞混,此处予以更正。
Vault Boy should not be confused with Pip-Boy, which is the name of the personal information processor used as a game interface in Fallout, Fallout 2, Fallout 3, Fallout: New Vegas, Fallout Tactics and Fallout 4.
避难所小子是羅科工業集團制造的腕帶電腦的吉祥物。異塵餘生1和2代中的2000型有出現(身穿黃色制服的紅發小子)。在由避難所科技自己生產的3000型就沒有了。
While the name of the Vault-Tec mascot (round ears, blond hair, blue and yellow vault jumpsuit) is not present in the original games themselves, he was called Vault Man in the Fallout instruction manual. However, for some reason this name was forgotten - it was never used in any of the following Fallout content including games nor by any developers, only Vault Boy was used and became his real name.
According to Fallout developers Leonard Boyarsky[1] (creator of the character) and Tim Cain,[2] he was always referred to as Vault Boy or Fallout Boy, not Pip-Boy. The misconception stems from the fact that the developers of Fallout Tactics (Micro Forté) confused the two and called the Vault Boy - "Pip-Boy" (which even ended up being used also by Chris Avellone when he wrote the Fallout Bible).
The makers of Fallout 3 returned to the real name "Vault Boy" in the game itself, although confusingly enough he is still called "Pip-Boy" in the trademark legal documents.
Appearances
[
编辑
|
编辑源代码
]
The Vault Boy appears as a representation of almost all stats in all games and equipment in Fallout 3 and Fallout: New Vegas. It also represented in Vault Boy bobbleheads appearing in Fallout 3, snow globes containing a Vault Boy appearing in Fallout: New Vegas, and a Vault Boy puppet appears in One Man, and a Crate of Puppets.
He also appears in a Vault-Tec commercial on TV in the Fallout intro, in the "Leaving The Vault" Vault-Tec's video in Fallout 2, as an actual person in a special encounter in Fallout Tactics, and in Shop-Tec interface in brown hair version in Fallout: Brotherhood of Steel.
Vault Boy is, on some images, accompanied by another Vault Boy who looks exactly the same but with black or brown hair, or with alternative vault boyish things like creatures or items. On others he is accompanied by Vault Girl. A black version of Vault Boy appears briefly in the "Leaving The Vault" video in Fallout 2, with his hair fashioned in a crew cut.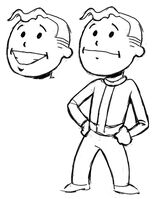 External links
[
编辑
|
编辑源代码
]
References
[
编辑
|
编辑源代码
]