"
General Atomics International has the finest industrial robots in the world. Buy two or more GAI robots and save! Special deal on 'Mr. Handy' models!
"
—

Advertising applet
General Atomics International (GAI) was a pre-War company specializing in industrial robotics, energy, weapons, and software up until the Great War.
Overview
全球最著名的工业机器人制造商之一。[3]通用原子是首批将现代机器人引入市场的公司之一,从2037年的巧手先生开始,作为通用的工程和保全单位,它被广泛应用于美国和墨西哥市场(尤其是2042年墨西哥城地震后)。it was a rugged, reliable design, which received just one 主要硬件更新 in 2039, to eliminate a bug causing interference in the operation of the multiple arms.[4]
Although the model was vastly successful, it was still a design rooted in the technology of the 2030s, with a compact computer brain that was incapable of learning or executing complex tasks without extensive programming. 到了2070年代,it was an automaton surrounded by more advanced designs utilizing cutting edge neural networks.为了保持市场份额,通用原子与罗伯科工业合作,将其人才与通用原子在机器人领域的经验结合起来 。[5][6]The resulting model was a sleek, elegant design capable of self-programming and initiative, more than making up for halving the number of arms to just three. Despite its sophistication, it was also cost-effective, making it the perfect domestic servant robot.[7][8] The success of the joint venture resulted in2072年, the U.S. Army tapping 通用原子国际公司与罗科工业创造自由至尊[9] and spearhead the creation of Robobrains at Robotics Technology Facility RB-2851 in Boston, Massachusetts.[10]
除了机器人,通用原子国际公司还制造了供不同用途的核反应爐,例如providing 避难所的备用电源,[11] 用波/粒子分流器提供激光武器能源,[12]甚至还试验了 with autonomous, automated robot networks supposed to maintain a facility independently. 然而,他們的自主管理系统证明是一场灾难,[13]许多的死亡事件导致通用原子购物广场关闭[14][15],直到韌體更新可以安裝到受影响的机器人上為止。伤亡人员included the human supervisor who was legally required to be present on site,但公司并未此而破产;[16]這可以归结为他们透過贿赂等手段對幸存者封口(called "immediate financial settlement" in corpospeak).[14]
Products
Robots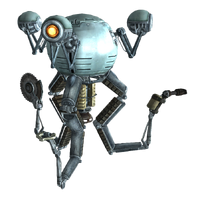 Mister Handy was produced by General Atomics International as a house-keeping and defensive robot, able to help out around the house and defend itself and possibly others with its buzzsaw and flamethrower. Mister Handy is speech-capable, communicating in a polite English accent.
Mister Gutsy
Mister Gutsy is a modified Type-II Mister Handy designed for military use by the U.S. Army. Mister Gutsy comes with a plasma weapon, flamethrower, and significantly better armor than Mister Handy.
Robobrain
The robobrain was created by GAI as a military robot for the US. It uses a real organic brain as its processor. Military models are capable of using integrated laser weapons, sonic projection rays, and have human-enough manipulator claws to wield submachine guns and rifles. The robobrain, by the time of the Great War, still experimental with the only test runs seen by the general populace and never seeing full-fledged release.
Miss Nanny
Miss Nanny is an alternative to the Mister Handy model, programmed to speak French, and English in a French accent.[17]
Mister Orderly
Mister Orderly, unlike the Mister Handy or Mister Gutsy, is dedicated to medical procedures and experimental surgery. It is not hard to distinguish it from a Mister Handy as it has a white paint job on the body and has white and blue arms, each bearing a red border. However, it has the same British butler voice of the Mister Handy series of robots.
They were not placed on the market or used by the U.S. Army, but were only delivered exclusively for the Big MT company in Big Mountain, specifically for their experimentation. Like the late models of the Mister Handy line, they are capable of quite eloquent speech with a stereotypical English accent. They have three pincers of a blue color instead of the saw blade and the blowtorch of the Type-I Mister Handy
Other products
Other
Wave/particle diverter

, a critical component of laser weapons.

AER9 laser rifle

Nuclear reactors: Produced primarily for Vault-Tec Corporation for use at the Vaults.[18]
BS7 transistor radio[19]
Washing machine
Dryer
Software
In-Home Servant Interface 3.1

Director Management System

Askforhelp Helper System[20]
Sentinel power armor
Made in cooperation with West Tek, the Sentinel Control System was developed by General Atomics International, meant to provide support to military support to Army units by using pre-existing power armor pieces.
Appearances
General Atomics International is mentioned in the Fallout manual, Fallout 76, Fallout 3, Fallout 4 and its add-on Automatron and Creation Club, but the company's products appear in all Fallout games.
Behind the scenes
The name is a reference to the real-world corporations General Atomics Technologies Corporation and General Electric, a nuclear physics and a home appliance specialized company.
Gallery
References
Accommodation, Apartments & Hotels

Casa Madrid Apartments

 ·

Cranberry Heights

 ·

Dini's Hotel

 ·

Junction Motel

 ·

Le Canard Apartments

 ·

Roadside Pines motel

 ·

Shady Pines Trailer Park

 ·

Statesman Hotel

 ·

Summer Springs Boarding House

 ·

Tiki Tonga Apartments

 ·

Waves Crest Orphanage

 ·

Wright's Inn

Banking & Finance

Bridgeway Trust

 ·

Burnside Bank & Loan

 ·

Cambridge S&L

 ·

Commonwealth Bank

 ·

Commonwealth Savings and Loan

 ·

Concord Savings and Loan

 ·

Isla Negra Holdings

 ·

Lexington Bank

 ·

New Appalachia Bank

 ·

People's Bank of Point Lookout

 ·

University Credit Union

 ·

Weatherby Savings & Loan
Beauty, Cosmetics & Health

Aldersea Day Spa

 ·

Berkeley Springs Spa

 ·

Besnik's Barbershop

 ·

Jessica's Beauty Salon

 ·

Lasergrafter

Biotech & Medicine

Arktos Pharma Company

 ·

Chase R&D

 ·

CHROMAX Genetics

 ·

Dyer Chemical

 ·

Greenetech Genetics

 ·

Greenway Hydroponics

 ·

HalluciGen Incorporated

 ·

Kanawha Psychiatric

 ·

Lee Rapid Pharmaceuticals

 ·

Livermore/Broansoun Laboratories

 ·

Med-Tek Laboratories

 ·

Nova Biogistics

 ·

West Tek
Computer & Software

Allied Technologies

 ·

Apricot

 ·

Banckom

 ·

Brainpower

 ·

Computechtron

 ·

Cyberbrain

 ·

Diamond Inc.

 ·

Falcon Northwest

 ·

Macrosoft

 ·

National Electric

 ·

Pag

(

PagMem LLC

,

PagSoft LLC

)

 ·

Planned Diversion Programming

 ·

RobCo Enterprise Solutions

 ·

Skeks Corporation

 ·

SoftLock Solutions, Inc.

 ·

Think Machine

 ·

Virtual Strategic Solutions

Energy & Robotics

Acme

 ·

Bot-Stop

 ·

Bysshe Company

 ·

Calpower

 ·

Cerulean Robotics

 ·

Duncan & Duncan Robotics

 ·

GDA Fusion

 ·

General Atomics International

 ·

Greene Custom Defense Systems

 ·

Ironclad Service

 ·

LaZer-Sec Systems

 ·

LightLife

 ·

Mass Fusion

 ·

Nuka-Advantax

 ·

Pep Gas

 ·

Petró-Chico

 ·

Poseidon Energy

 ·

Poseidon Gasoline

 ·

Poseidon Oil

 ·

PPE

 ·

Prometheus Coal

 ·

RobCo Industries

 ·

Rok-Solid Brand

 ·

Schoelt

 ·

Solitare

 ·

Steam Whistle

 ·

Sure Power

 ·

Universal Electric, Inc.

 ·

Universal Pyrotechnics, Inc.

 ·

Versicorps

 ·

Zapp's Neon Signs
Entertainment & Video games

American Comics Code

 ·

Big Daddy Billiards

 ·

Big Ranch Nevada State Lotto

 ·

BKM Recording Company

 ·

Broadway Cinema

 ·

Bumbalo's

 ·

Cat's Paw

 ·

Clayton's Drive-in

 ·

Don't Be Bored Games Company

 ·

Dynamite Animation Company

 ·

Fantastique Cinema

 ·

Gomorrah

 ·

Hubris Publishing

(Hubris Comics,

Hubris Software

, Hubris Comics Game Studio)

 ·

Imperial Records

 ·

Juke 'n Jive

 ·

Lucky 38

 ·

Manticore

 ·

Marx Toy Company

 ·

OEI Motion Pictures

 ·

Planned Diversion Programming

 ·

Radiation King

 ·

Red Racer

 ·

Sanders Brothers

 ·

Shaw & Associates

 ·

Silver Rush

 ·

Special Win

 ·

Starlight Theaters

 ·

The Tops

 ·

Ticker Tape Lounge

 ·

Vault-Tec Game Studios

 ·

Warren Theater

 ·

West Virginia Lottery Company

 ·

Wilson Atomatoys
Food & Drinks

Bawls Guarana Corporation

 ·

Big Pops

 ·

BlamCo

 ·

Button Gwinnett Brewery

 ·

Chateau Montrose

 ·

Coffee King

 ·

Colontoni's Pizzeria

 ·

Dandy Boy

 ·

Diggity's!

 ·

Doghouse

 ·

Falmouth Winery

 ·

Fancy Lads

 ·

Fizzy's Fountain Drinks

 ·

Grape-Pearl Soda

 ·

Greasy Prospector

 ·

Joe's Spuckies

 ·

Little Cobb Creamery

 ·

Little Italy

 ·

Lobster Grill

 ·

MacDougal-Bernard Company

 ·

Mama Dolce's

 ·

Nuka-Cola Corporation

 ·

Oak Holler

 ·

Old Possum

 ·

Olde Royale

 ·

Packed Full Of Joe

 ·

Parsons Creamery

 ·

Pickaxe

 ·

Platinum Inebriater

 ·

Rooster's

 ·

Saddle Up

 ·

Sardinia Sun Fine Wines

 ·

Sharon's Downhome Country Lemon

 ·

Slocum's Joe

 ·

Spring Valley

 ·

Sunset Sarsaparilla Company

 ·

Supa Yum!

 ·

Surkov

 ·

T.V.G.

 ·

Uisce Beatha

 ·

Vim! Pop Incorporated

 ·

YumYum

Heavy Industry
Atomic Mining Services

 ·

Dent & Sons Construction

 ·

Dunwich Borers LLC

 ·

Garrahan Mining Company

 ·

Gilman Lumber Mill

 ·

Grafton Steel

 ·

Holland Chase Concrete Company

 ·

Hornwright Industrial

 ·

Interior Slabs

 ·

Irish Pride Industries

 ·

M&M Construction

 ·

Mass Gravel & Sand

 ·

Ornate Obelisks

 ·

Pillar Pushers

 ·

Quincy Quarries

 ·

Sunnyfield Construction

 ·

Vault-Tec Corporation

 ·

WV Lumber Co.
Manufacturing

Abraxodyne Chemical

 ·

Armor-Go

 ·

Blades

 ·

Carlisle

 ·

Clipper Ship

 ·

Codac

 ·

DeepFreeze Kitchen Storage Corporation

 ·

Eckhart Unlimited

 ·

Finesse

 ·

H&H Tools Company

 ·

HairStylez

 ·

Larami

 ·

Lil' Devil

 ·

Mary May

 ·

ProSnap

 ·

Protoglo

 ·

Ripper

 ·

Rocketdyne

 ·

Schlocket Industries

 ·

Smart's

 ·

Snap-Off

 ·

Stenley

 ·

Sunco

 ·

Supradent

 ·

Tables 'n Tops

 ·

Takoma Industrial

 ·

Timlist

 ·

Top Drawer Livin'

 ·

Wakemaster

 ·

Walktronic

 ·

WonderGlue

 ·

Washo

 ·

Yard-Boy

News Media
Boston Bugle

 ·

Capitol Post

 ·

Charleston Herald

 ·

El Periódico de las Aburridas

 ·

Galaxy News Network (Galaxy News Radio)

 ·

The Old Post

 ·

Watoga Times
Weapons, Ammunition, and Armor

A&X Silencers

 ·

ArmCo

 ·

BeatCo

 ·

Beretta

 ·

Big Chief

 ·

Bringham

 ·

Calico Light Weapons Systems

 ·

Cambridge Polymer Labs, LLC

 ·

Circle G

 ·

Colt Firearms

 ·

Cordex

 ·

Donaustahl GmbH

 ·

Enforcer

 ·

Federal Cartridge

 ·

FN Herstal

 ·

Franchi

 ·

Glastinghouse, Inc.

 ·

Glock

 ·

Grandad's

 ·

Hauer Premium

 ·

HalluciGen, Inc.

 ·

Heckler & Koch

 ·

Hermes Communications

 ·

Implied Hypnotics

 ·

Independent Arms Group

 ·

L.O.B. Enterprises

 ·

Long Branch Arsenal

 ·

M&A Guns Manufacturers

 ·

Manhattan Projects Inc.

 ·

Masterson

 ·

Mauser

 ·

Rheinmetall AG

 ·

Royal Small Arms Factory

 ·

Pancor

 ·

Purebore

 ·

Ranch Defender

 ·

Rockwell

 ·

Romington

 ·

SharpWit, Inc.

 ·

SIG-Sauer

 ·

Silver Star

 ·

Red Eagle Firearms

 ·

Red Ryder

 ·

Smith & Wesson

 ·

Southern Cartridge

 ·

Stent Security Solutions

 ·

Union Cartridge

 ·

Wattz Electronics

 ·

Whoop Ass

 ·

Winchester

 ·

West Tek

 ·

Yuma Flats Energy Consortium

Other

B&K Cleaners

 ·

Bernardo's

 ·

Big Al's Tattoo Parlor

 ·

Big MT

 ·

Boston Communications

 ·

Burnett and Associates

 ·

Clark, Clark, Clark & Associates

 ·

Cole & Parker Holdings Ltd.

 ·

D. Miller & Sons

 ·

Dawnshire Pottery, Inc.

 ·

Egret Tours

 ·

Fantastic Tours

 ·

Gramercy & Ulster

 ·

Grey & Gould

 ·

Happy Liberty Imports

 ·

Hermes Communications, Incorporated

 ·

Jay's Moving

 ·

LGJG

 ·

LoveLine

 ·

Madden's Boxing Gym

 ·

Priblos' Curios

 ·

Pulowski Preservation Services

 ·

R&G Processing Services

 ·

Rockwell Clearing House

 ·

Ticknor and Fields

 ·

Van Lowe Taxidermy

 ·

Westside Cleaners Storage

 ·

Wilson Brother's Auto Repair