辐射4

開發商
Bethesda Game Studios
出版商
Bethesda Softworks
發售日期
November 10, 2015
December 17, 2015 (JP)
類型
Role-playing game
遊戲引擎
Creation Engine
遊戲模式
Single player
平台
Microsoft Windows
PlayStation 4
Xbox One
媒體
Blu-ray, DVD, digital download
系統需求
Minimum requirements: Windows 7/8/10 (64-bit OS required)
Intel Core i5-2300 2.8 GHz/AMD Phenom II X4 945 3.0 GHz or equivalent
8 GB RAM
30 GB free HDD space
NVIDIA GTX 550 Ti 2GB/AMD Radeon HD 7870 2GB or equivalent[1]
Console: 28-35 GB free HDD space[1]


Fallout 4 Pre-order boxes, as shown in the trailer
《辐射4》(英文:Fallout 4;台湾译名:異塵餘生4)是贝塞斯达游戏工作室开发的一款后启示录时代角色扮演游戏,由贝塞斯达软件发行。[2]该作是辐射系列的第五部正式作品,同时也是贝塞斯达游戏工作室在该系列易手后开发的第二款游戏。《辐射4》于2015年11月10日在微软Windows平台、Xbox One平台,索尼Playstation 4平台上发行,日本地区则延期至2015年12月17日发行。[3]
情节简介
玩家的角色被称为仅存者(Sole Survivor,默认名称为男主角"奈特"或女主角"诺拉"),原本为2077年核战爆发前在波士顿居住,拥有一个美满的家庭。在美国受到核攻击时,玩家带伴侣和儿子进入第111号避难所,然后避难所的工作人员将他们一家三口封印在冬眠舱中。210年后,仅存者因为有人终止冬眠程序而苏醒,但在舱中见到有两个神秘人物打开了封印其的伴侣和儿子的冬眠舱,他们抢去仅存者儿子之外,还开枪射杀了仅存者的伴偶,更重启了冬眠程序。然而之后避难所中因为电力系统出现故障,玩家终于从冬眠仓中解放出来。之后玩家发现自己是避难所唯一的幸存者。为了找到儿子和为配偶之死报仇,玩家走出了第111号避难所。
玩家回到自己的家,却发现整个庇护山丘都成了废墟,除了管家机器人嘎抓还在。在Codsworth的帮助下,玩家前往康科德寻求帮助,并在红火箭遇到狗肉(贯穿系列的狗)。在Concord解救义勇军Preston Garvey一行人之后,又帮他们在庇护山丘安顿了下来。在得到去钻石城的建议之后玩家继续踏上了旅途。
然后仅存者在钻石城遇到了记者Piper,并向机器人侦探尼克求助,锁定了凶手为康拉德·克罗格。之后玩家追踪到克罗格并了解到儿子被学院的人带走了。克罗格拒绝透露更多仅存者杀死了克罗格,提取了他的脑组织,并在一位神经科学家的帮助下提取出克罗格的记忆。追踪克罗格过程中,玩家还目睹了兄弟会的飞船进入波士顿区,并在之后了解到兄弟会进入波士顿区的原因是探测到了波士顿区的高科技能量波动,这对试图在废土创建秩序的兄弟会无疑是威胁。后证实高科技的能量波动来自学院。
看过克罗格记忆之后,玩家的下一个目标是前往发光海寻找学院叛逃科学家维吉尔的帮助,以获得进入学院的方法。根据维吉尔的指示,玩家干掉了一个学院的杀手并获取了传输芯片,并通过解码芯片内容搭建了传输装置,成功进入了学院,发现了自己的儿子肖恩竟然是学院的领头人,而制作合成人的目的则是为了用科技的力量复兴人类文明。
玩家的旅途中还会碰到称为铁路的隐秘组织,主张有自我意识的合成人应享有人权并为之行动。
Setting and story
During Bethesda's E3 conference, it was revealed that the player will be the Sole Survivor of Vault 111, who emerges approximately 210 years after the Great War. Prior to this, the player is shown to have lived during the pre-War era with their spouse and child.
The setting was confirmed to take place in Boston, Massachusetts, from the trailer released on June 3, 2015. The trailer shows the Paul Revere Monument, the USS Constitution, as well as the Massachusetts State House with its unique Golden Dome. Scollay Square, Bunker Hill memorial, and Fenway Park are also visible in the trailer. Areas within Fenway Park include (from left to right) Swatters Custom Baseball Store, Diamond City Surplus, Power Noodles, and Chem-I-Care. Fenway Park is renamed Diamond City, as seen in the surplus store name, and the white diamond symbol seen on the outside of the building and on the Diamond City Surplus store. The events of Fallout 4 occur in 2287; a decade after Fallout 3, and six years after Fallout: New Vegas.
Vault 111 is in the North-West corner of the map as it was seen in the trailer. Furthermore, the Sole Survivor wearing the Vault 111 jumpsuit is carrying a laser musket, can be seen meeting Dogmeat and starting on a road leading away from the camera, a motif seen in various previous installments.
Vault 111 is also near Sanctuary Hills, the estate where the Sole Survivor is from. According to the game trailer, it seems to be the first place most players may encounter (provided they don't go the other way). The player's robot, Codsworth, still resides there. Going by the E3 reveal, one of the player-built settlement sites is in Sanctuary Hills, the player's original neighborhood before the war.
The setting will also include mountains and the out-lands of Boston's city limits.
The game will feature just over 111,000 lines of dialogue, more than all of the dialogue in Fallout 3 and The Elder Scrolls V: Skyrim combined.[4]
Gameplay
The gameplay is largely similar to that of Fallout 3 and Fallout: New Vegas, with the ability to switch from first to third person view. Additional features are a split-piece armor system, base-building, a dynamic dialogue system, in depth crafting system which implements every lootable object in the game, and much more. Enemies such as mole rats, raiders, super mutants, deathclaws, and ghouls will also return to the series.
The player character, the Sole Survivor, obtains a Pip-Boy which allows the player to access a menu with statistics, maps, data, and items. Players can also find game cartridges, which can be played on the Pip-Boy. Another returning gameplay feature is the Vault-Tec Assisted Targeting System (V.A.T.S.), which plays an important part in combat. While using V.A.T.S., real-time combat is slowed down, and action is played out from varying camera angles in a computer graphics version of "bullet time". Various actions cost action points, limiting the actions of each combatant during a turn, and the player can target specific body areas for attacks to inflict specific injuries; head shots can be used for quick kills or blinding, legs can be targeted to slow enemies' movements, and opponents can be disarmed by shooting at their weapons.
A new feature to the series is the ability to build settlements and buildings. Players can select and scrap objects and structures for resources and building supplies, and use them to build their own structures ranging from fully-decoratable houses, towers, bars, labs, and more. The player can also construct more than one settlement across the Commonweatlh, and can send brahmin caravans between their towns. Towns can be powered with working electricity, using a dynamic power line system, as well as equipped water pumps and crops/gardens to keep a steady income of food and drink. Merchants and non-player characters can inhabit player towns and help keep the settlements running as a community. Players can build various defenses around their settlements, such as turrets, guard towers, and traps, to defend the settlements, as they can be raided and attacked.
Another new feature to Fallout that was confirmed by Bethesda Studios on Twitter[5] is that there is no level cap, allowing players to experience a little more freedom when it comes to exploring and combat. Another confirmed feature that allows even more explorational freedom is that, also confirmed by Bethesda's Twitter, is that even if the game 'ends' you may continue playing, a feature returning from Broken Steel, which allows players to experience the aftermath of their decisions. In addition, a new weapon system will allow a wide variety of customization.
开发
Initially, in 2004, Bethesda Softworks licensed from Interplay Entertainment the rights to create and publish three Fallout games (Fallout 3, Fallout: New Vegas and Fallout 4). Later, in 2007, Bethesda purchased the entire franchise, and Interplay licensed back from Bethesda the rights to a Fallout MMORPG. The legal dispute is now over, with Bethesda Softworks and its in-house development studio retaining the rights to all of the Fallout franchise, including an MMO.
In 2008, Bethesda's Pete Hines said: "The whole reason we went out and acquired the license and that we now own Fallout is that we clearly intended to make more than one." He also added: "This is not something we're going to do once and then go away and never do it again. When that will be or how long that will be God only knows, but we acquired it specifically because we wanted to own it and develop it and work on it like we do with The Elder Scrolls."[6]
Development began right after Fallout 3 's release, in 2009. The game had minor development due to Skyrim being developed at the same time. After Skyrim was released in 2011, Fallout 4 became the primary project for Bethesda.
发行日期
In August 2010, Todd Howard revealed in an interview with Eurogamer that Bethesda was working on two projects; one had been in development for two years (beginning after Fallout 3 was released), and the other was still in pre-production.[7] It is now known that the title farther along in development was The Elder Scrolls V: Skyrim. Fallout 4 is now known to be the second title.
On January 9, 2013, the voice actor behind Three Dog (Erik Todd Dellums) was given permission by Bethesda to hint towards his appearance soon. On his Twitter account, he stated, "To all my #Fallout3 and #ThreeDog fans: There may be more of the Dog coming! Fingers crossed!"[8] However, in July of the same year, Dellums tweeted that the game he is working on is not being produced by Bethesda Softworks, therefore it was not the anticipated new Fallout title.[9]
On April 15, 2013, Bethesda Game Studios announced on Bethlog that they had completed all new content for Skyrim and were moving the studio's attention to an as of yet unknown title that had previously been in pre-production since 2010. Although Bethesda Softworks did announce The Evil Within during the same week, this is being developed by another studio and will have no direct impact on whatever project Bethesda Game Studios is currently working on.
On February 18 2014 Todd Howard was interviewed on Rock, Paper, Shotgun and said that a new game announcement would be very far away. "We don't [have a timeframe for our next game announcement]," he said, "but I think it's gonna be a while." He is forever positive and says "PC is resurgent," enthused Howard. "Skyrim did better than we've ever done on PC by a large, large number. And that's where the mods are. That feeds the game for a long time. And it's exciting that the new consoles are very PC-like. That opens up avenues for us going forward to do things that we've wanted to do in the past. There are kind of random ideas we're working on right now, and it's like, "Wow, I think there's potential here to do some really cool stuff."[10]
On June 2, 2015 a countdown timer[11] was set on Bethesda's Fallout website expiring on June 3 at 10:00 AM EDT.
On June 3, 2015, seconds before 10:00 AM EDT, the Fallout 4 trailer was released on YouTube. The Fallout website, seconds after 10:00 AM EDT also debuted in full Fallout 4 style including a working teaser phone number, previously used during the Fallout 3 release.[12]
Bethesda's first ever E3 showcase took place on June 14, 2015 at 7PM PST. The E3 showcase was streamed on YouTube and Twitch. Bethesda revealed gameplay footage including combat, a refined VATS system, a new crafting system, concept art, and a release date, which was confirmed to be November 10, 2015. A major new feature shown during the press conference was the ability to craft and deconstruct settlements and/or certain buildings. The player can select certain in game objects and structures and "scrap" them. The materials gained from this are then used to build however the player sees fit. This gives the ability to build areas where merchants and NPCs can inhabit.
Fallout 4 was successfully released on November 10, 2015, having been shipped 12 million copies to meet day one demand.[13]
预告
Products
Pip-Boy Edition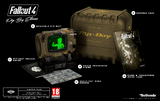 The Pip-Boy edition of Fallout 4 features: a wearable Pip-Boy that can, according to a Forbes article, hold the iPhone 6, iPhone 5/5s, iPhone 4/4s, Samsung Galaxy S4, the Samsung Galaxy S5 and many other smartphones using foam inserts.[14] a Pip-Boy pocket guide, a Vault-Tec perk poster, a RobCo Industries stand (for your Pip-Boy), a capsule case, and the game in a collectible metal case.
Fallout 4 Nuke Pack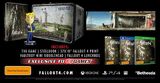 The Fallout 4 Nuke Pack features: a Fallout 4 lunchbox, a 37x10" Fallout 4 Print, a Vault Boy mini bobblehead, and the game in a collectible metal case. The Nuke Pack is sold exclusively in Australia and New Zealand, distributed by EB Games.[15]
Fallout 4 Mighty Bundle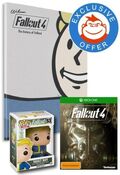 The Fallout 4 Mighty Bundle features: an 100 page hardcover Fallout 4 Franchise Book "...detailing in words and hi-res imagery the history of Fallout over the years", a Fallout Vault Boy Pop! Vinyl figure, and a copy of the game.[16]
自定义模组
Fallout 4 is the first Fallout game to have native mod support for consoles. During the E3 2015, at the Xbox Conference, Todd Howard went on stage to tell the audience that Xbox One will offer mod support following the release of the G.E.C.K for PC in 2016. Sony's PlayStation 4 will support mods sometime in the future.
Downloadable content

Bethesda has confirmed[17] there is DLC coming starting early 2016, as well as smaller updates along the same lines as Skyrim has seen. Bethesda will also be selling a Season Pass for all add-ons, at a price of $30 USD.
Gallery
Pre-release concept art
Pre-release screenshots
Gameplay videos
See also
References