Jurassic World: Dominion Dominates Fandom Wikis - The Loop
打开音效
關於a map of the Capital Wasteland,參見

Fallout 3 map

。
Items

Ammunition

Consumables

Crafting

Holodisks & notes

House improvements

Skill books

Other items

Radio stations
General information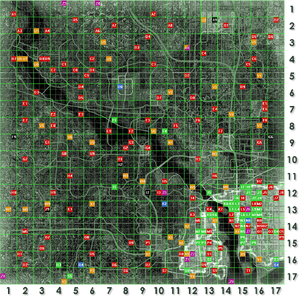 Without any of the available add-ons installed, there are 163 marked locations in Fallout 3, provided that the Lawbringer perk and the Contract Killer perk have been selected. Without these, there are 161 as the Regulator HQ and the scrapyard office are not available. The Vault 101 map marker is not counted in the Pip-Boy 3000 "locations discovered" statistic, resulting in a maximum displayed value of 162 discovered locations.
Operation: Anchorage, The Pitt, Broken Steel, Point Lookout, and Mothership Zeta add a total of 10 additional marked locations to the Capital Wasteland map and 52 more on separate world maps, coming to a grand total of 225 marked locations. Of this total, only 221 are counted towards the "locations discovered" statistic in the stats section of the Pip-Boy 3000.
Settlements
Unmarked locations (not marked on the Pip-Boy) are in italic type.
Andale

Garden shed

Old Man Harris' house

The Smith's house

The Wilson's house

Arefu

Abandoned residence

Evan King's house

Ewer residence

Schenzy residence

West residence

Big Town

Clubhouse

Common house

Red's clinic

Town hall

Canterbury Commons

Porter's Café

Uncle Roe's house

The Citadel
Evergreen Mills

Evergreen Mills bazaar

Northern shack

Southern shack

Guard shack

Evergreen Mills foundry

Fairfax ruins

Girdershade

Ronald Laren's home

Sierra Petrovita's home

Grayditch

Abandoned home

Brandice's house

Dot's Diner

Recently built shack

Wilks' house

Little Lamplight

Lamplight restrooms

Little Lamplight office building

Souvenir shop

Spelunkers

Megaton

Billy Creel's house

Brass Lantern

Common house

Jericho's house

Lucas Simms' house

Lucy West's house

Megaton armory

Megaton clinic

Men's restroom

Mister Burke's house

Nathan and Manya's house

Water processing plant

Women's restroom

Paradise Falls

Eulogy's pad

Child slave house

Slaver barracks

Slave house

Cutter's clinic

Toilets

Reilly's Rangers compound

Republic of Dave

Republic of Dave capitol building

Republic of Dave men's quarters

Republic of Dave women's quarters

Rivet City

Rivet City bow

Common room

Bridge tower

Rivet City market

Rivet City clinic

Rivet City science lab

Tenpenny Tower

Café Beau Monde

Gustavo's armory

Vault 112/Tranquility Lane

Abandoned house

Dithers residence

Henderson residence

Neusbaum residence

Rockwell residence

Simpson residence

Warrington station

Wasteland gypsy village
Capital Wasteland
Unmarked locations (not marked on the Pip-Boy) are in italic type.
Abandoned camp

Abandoned car fort

Abandoned tent

Agatha's house

AntAgonizer's lair

Bethesda ruins

Broadcast tower KB5

Broadcast tower KT8

Broadcast tower LP8

Calverton

Car dealership

Charnel house

Chaste Acres Dairy Farm

Cliffside cavern

Concrete treehouse

Cratered hamlet

Drainage chamber

Dukov's place

Exploding scientist truck

Fairfax ruins

Five Axles rest stop

Flooded metro raider camp

Bannister crater

Freeway raider encampment

Germantown

Germantown police HQ

Ghoul outpost

Greener Pastures disposal site

Grisly diner

Hank's Electrical Supply

Hollowed-out rock

Jackknifed freeway truck

Jalbert Brothers waste disposal

Jocko's Pop & Gas stop

Jury Street Metro station

MDPL-05 power station

MDPL-13 power station

MDPL-16 power station

MDPL-21 power station

MDPL mass relay station

Meresti trainyard

Meresti raider's dock

Military checkpoints

Monorail train wreckage

Mole rat race track

Musty caverns

Nuka-Cola plant

Overlook raider shack

Patriotic picnic area

Pylon shack

Radio tower

Raid shack

Raider canal

Raider farmhouse

Raider shop

Raider wharf

Raider wreckage fortifications

Red Racer factory

Relay tower KX-B8-11

The Roach King's throne

Robot repair center

Rockland car tunnel

SatCom Array NW-07c

Scavenger's bridge

Scavenger's dock

Scavenger shack

Sewer waystation

Shelter

Sniper shack

Springvale school

Super-Duper Mart

Super mutant bonfire

VAPL-58 power station

VAPL-66 power station

VAPL-84 power station

Warrington trainyard

Wasteland gypsy village

Wheaton armory

Yao guai tunnels

Wastelander tent and sniper vista

Wilks' house

Willy's grocer
Washington, D.C.
Unmarked locations (not marked on the Pip-Boy) are in italic type.
Metro
Unmarked locations (not marked on the Pip-Boy) are in italic type.
Anacostia Crossing station

Arlington utility

Arlington/Wasteland Metro

Bethesda underworks

Collapsed car tunnel

DCTA tunnel 014-B Potomac

Dry sewer

Dupont Circle station

Fairfax Metro station

Farragut West station

Flooded metro

Foggy Bottom station

Franklin Metro utility

Freedom Street station

Hazmat disposal site L5

Irradiated metro

Jury St. station

Jury St. tunnels

Marigold station

Meresti Metro station

Meresti service tunnel

Metro access & generator

Museum station

Presidential metro

Sunken sewer

Tenleytown/Friendship station

Warrington station

Warrington tunnels
Vaults
Broken Steel
Adams Air Force Base can only be accessed if the add-on Broken Steel has been downloaded.
Capital Wasteland

Hank's Electrical Supply

Old Olney S. Wilson Building

Old Olney underground

Rockland car tunnel
The Pitt
The Pitt can only be accessed if the add-on The Pitt has been downloaded.
Unmarked locations (not marked on the Pip-Boy) are in italic type.
Train tunnel

Bridge

Downtown

Midea's quarters

Vertigo Bar and Grill

The Mill
Pitt steelyard

Supply plant

Wernher's hideout

Train yard

The Pitt underground

Uptown

Abandoned apartments

Haven
Point Lookout
Point Lookout can only be accessed if the add-on Point Lookout has been downloaded.
Unmarked locations (not marked on the Pip-Boy) are in italic type.
Ark & Dove cathedral

Ark & Dove resting grounds

Beachview campsite

Blackhall Manor

Calvert Mansion

Chinese Intelligence bunker

Coastal grotto

Covered bridge

Disaster relief outpost

Dove Delta

Excavated muck holes

Flooded sinkhole

Grower's shack

Haley's Hardware

Herzog Mine

Kenny's cave

Lil' Tyke Playhouse

Marguerite's shack

Ofie Clan Plot

Pilgrim's Landing

Homestead Motel

House of Wares

Naval recruiting center

People's Bank of Point Lookout

Point Lookout Pier

Warehouse

Point Lookout Lighthouse

Ritual site

Ruzka's lair

Sacred bog

Wrecked Seatub

Smuggler camp

Smuggler's shack

Submerged T-Rex

Trash heap

Trapper's shack

Truck wreckage

USS Ozymandias
Mothership Zeta
Mothership Zeta can only be accessed if the add-on Mothership Zeta has been downloaded.
Bridge

Cargo hold

Death Ray control

Death Ray hub

Decompression chamber

Engine room

Engineering core

Experimentation lab

Hangar

Holding cells

Living quarters

Maintenance level

Observation deck

Research lab

Robot assembly

Space walk

Steamworks

Waste disposal

Weapons lab
Mentioned-only locations
References