"Followers' Credo"
"
There's a big Poseidon oil rig left out on the water. That's the final base of the Enclave, and unless I miss my bet, that's where

your friends

are, too.
"
— A. Ron Meyers
海神能源钻井平台(英克雷官方记录中提到的英克雷司令部)是战前的深海钻井平台,它坐落于世界上最后一片海底油田之上in the Pacific Ocean。据悉其距离加州海岸有175英里,具体的方位是北纬37°17′,西经124°23′24″[1]。
背景
2073年1月,中美为了这块全世界最後的海底油田交手并由美国取得最后胜利后所修建的海上石油钻井平台。The oil deposit was originally thought to be unreachable, due to it being located thousands of feet below the seabed. During the nuclear storm of the Great War, the Enclave's most important members and essential personnel were evacuated to this location.
By March 2077, with the world heading directly for nuclear confrontation, the President of the United States and other members of the Enclave retreated to various fortified areas around the globe. The Poseidon Oil derrick in the Pacific Ocean was chosen as a secret base from which the USA could continue to exist and wage war on China,[2] with the eventual goal of retaking the continental United States. Some members of the Enclave retreated to remote locations in other parts of the world, but when the bombs hit, they lost all contact with the main group. As the world burned and United States disintegrated, its President and the Enclave, remnants of the pre-War American shadow government,[3][4][5] established themselves as its continuation, claiming authority over the United States mainland.
就在大战前,白泉國會地堡向钻井平台主基地发送了X-01动力装甲以及垂直飛行機的设计图纸。[6]
2242年,获选者驾驶选择一号油轮冲入海神石油钻井平台 to save his tribe and the previous inhabitants of Vault 13,阻止了总统使用改制FEV毒剂投入水源杀死所有废土变种人。最后通过操作反应堆(aided by Marcus and others recruited to his cause)[7] 导致其融堆,[8]Enclave survivors never learned the truth behind the rig's destruction.[9][10]
概觀
这并不是一个单纯的钻井平台,而是一个经过伪装的,强大的军事工业基地,整个钻井平台由核反应堆供能,拥有一流的医疗设施,并且完全自给自足。Not only was it their main base,[11] it was connected to other Enclave, military, and corporate facilities via PoseidoNet (curiously, it seems the oil rig's PoseidoNet software was a trial version, ending in 2079).[12]在核大战爆发前夕,战前的美国政府秘密地撤退到了这个平台之上,以此来确保在核大战后美国政府能够幸存下来并继续进行战争。在美国政府秘密撤退的同时,钻井平台也在不断地从美国那里接收各种宝贵的技术资料,据白泉地下堡垒中找到的终端机记录所述,X-01原型动力盔甲和飞鸟直升机的图纸资料正是在这一时期被送抵钻井平台。据悉
在钻井平台上使用的最多的终端机型号是DataPlex 2000,[13]操作系统则是Fenestra 98[14],Apricot[15]和避难所科技[16]三种操作系统并存。(Fenestra即拉丁语的Windows,梗的就是微软)
反应堆
钻井平台的反应堆由避难所科技建造,使用铀燃料,因为多处理器可以在超级电脑的监管下在三处理器主板上同步运作的缘故,which carefully regulated coolant temperature, intake of sea water for cooling, expending hot water and waste from it, as well as 控制中子轰击核燃料棒的速度。整个反应堆的运行是完全在自动化的情况下进行的:海水被从500深的水下抽取上来用于冷却蒸汽轮机和堆芯,而核废水和各种有毒有害物质则通过排污管道从钻井平台的南边距离一英里的位置排除——基本上这种排污方式就是不管南加利福尼亚和墨西哥沿岸的死活。整个反应堆容错率很差劲,即使只是在运行过程中出现轻微的误差,整个反应堆都有可能在两小时之内转化成一颗当量10万吨的核爆炸, due to an uncontrolled bombardment of the uranium isotopes。在反应堆关闭的情况下,钻井平台不足以维持许多耗能严重的设备——譬如能量屏障——的运作,平台内部的许多水密舱门也会关闭以防止出现漏水现象。[17] 除此之外,手动拔出反应堆的控制棒也会导致相同而且不可逆的后果,因为在那之后再度插入控制棒会直接导致反应堆过热爆炸。[18]
防卫设施
作为一处军用设施,钻井平台的防护系统相当地完善,对外钻井平台上布置有多门火炮可以应对海上的的威胁(i.e. everything without a Poseidon IFF transponder)。[19]对内则有身穿先进动力盔甲的士兵、战斗机器人和5.56毫米口径的机枪塔重重防卫。 Quite probably, the oil rig was the single most well protected location in the entirety of post-nuclear America.
工业与科学设施
钻井平台上配备的设备均为战前最先进的型号,像红外光谱仪或是可以直接合成各种化合物的装置在必要的时候都可以大量地配发。[20]
居民
By 2242, 在英克雷决定向大陆扩张之后,平台上的常住人口降至60至80人,[21]但若是将临时驻扎与此的人员也计算在内的话,钻井平台上的人口数量约有一百[22]到一千人左右。[23] 英克雷钻井平台上居住着美国最优秀的的思想者与人民……至少,理论上是这样。而实际上,在多年的宣传之后,英克雷的成员普遍存在着排外情绪,他们的士兵尤其地激进。
由于缺乏自然阳光的缘故,他们中的绝大多数人都显得十分苍白,但总体而言身体健康。[24]所有这些人员之间被严格地划分成不同的等级,而且从穿着打扮上就可以直观地看出区别:普通公民身着和避难所居民身穿的服装一样的蓝黄相间的连体服,并且不允许携带武器;科研成员则身着白色大褂,并且携带有防卫性质的武器(通常是一把Wattz 1000激光手枪);而军人(包括特工)则使用T-51b动力盔甲和M72高斯步枪(较低级的士兵)或者先进动力盔甲与各种重型武器。Finally, 总统和副总统手无寸铁並穿著pre-War suits,但是他们却持有这个钻井平台中最为重要的东西——总统通行证,这使得他们拥有对平台所有系统的完全控制权。 安全演习是钻井平台日常生活的一部分,[25]甚至在晚间的娱乐时间里各种以安全教育为目的影片也经常被拿出来播放。[26]
布局
The massive structure of the oil rig probably had many facilities for industrial manufacturing, research and development, Vertibird maintenance etc. However, in-game, only a small portion of the Oil Rig is visitable.
船塢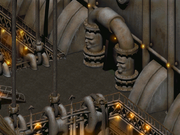 船塢是鑽井平台的入口,許多黃色聚光燈為此處提供照明。每一條到達此處的船都在此停靠,Valdez號油輪也不例外。

入口大廳
鑽井平台的入口大廳,這裡放置著許多自動炮台,它們足以消滅愚蠢地在此地挑起戰端的任何敵人。大廳的地板上刻著帶有英克雷字樣的大型浮雕,在左下角有一個可以訪問的終端。大廳通過旋轉樓梯與拘留/研究所相連,從大廳去到兵營需要經過一條設有等候室的走廊。 與法蘭克·何瑞根的最後一站即發生於此處。

兵營
兵營與入口大廳項鏈,營區內設有儲藏室,老式的T-51b動力盔甲在那裡被用來代替叉車用作搬運設備;士兵宿舍(連同一個大的健身房與衛生間);一個儲存爆炸物的軍械庫;以及宿舍管理區。在緊鎖的防洪門之後便是通向總統區的樓梯。
Loot
Storeroom:
2

sledgehammer

s
1

pulse grenade

1

Big Book of Science

1

Guns and Bullets
Security Room:
Lounge:
Barracks:
1

pulse grenade

1

club

2 stimpaks
300

2mm EC

1

Electronic lock pick
Admin:
Armory:
1

Wattz 2000 laser rifle

1

Avenger minigun

50

microfusion cell

s
2

plasma grenade

s
2

frag grenade

s
4

pulse grenade

s
100

5mm JHP

100

5mm AP

4

AP rocket

s
4

explosive rocket

s
CO Quarters:
50

microfusion cell

s
2

pulse grenade

s
2 knives
3

club

s
1

crowbar

2

First Aid Books

2

Dean's Electronics

2

Scout Handbooks
Presidential Security Checkpoint:
隔離&研究區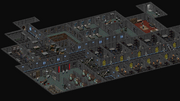 阿羅由村民和13號避難所居民被關押於此。此地設有幾個小型醫療研究設施與一個儲藏室。該區位於入口大廳南部,並與機關室相連。

機關室
機關室由一系列小房間構成,這些房間的門均由電腦控制,除非按正確順序激活房間里的終端,否則所有的門都將立刻鎖死,將不幸的傢伙關在裡面。設在機關室兩側的房間存有一些物資,並且其中並沒有設置機關(不過有警衛)。東北處的房間中可以找到一個GECK,它就放在生存設施的儲存室里。機關室位於隔離&研究區的南部,並且與總統區相連。

總統區
迪克·理查德森總統、伯德副總統、總統秘書以及英克雷的精英成員的辦公室均設於此地。這裡還有高壓儲藏罐、作戰指揮中心、會議室以及測試新型FEV病毒的醫療研究室。後門的樓梯通向反應堆所在區域。此外還有一個通向隔離&研究區的緊急逃生通道。

反應堆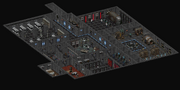 此處為鑽井平台的最底層,中央控制電腦與反應堆均位於此處,這裡還有一個小型的兵營,駐紮著保護反應堆的衛兵。為了維護反應堆,幾個科學家和平民也在此處駐留。反應堆所在區域只能通過總統區的通道抵達。

Easter Egg
If you have your Science and Speech skills high, you can try repairing computers in the room with electric floor. If you are successful you will obtain the Alien Blaster, if your Speech skill is high enough.
Appearances in Games
The Oil Rig appears at the very end of Fallout 2.
Notes
Resting on the Oil Rig after initiating self-destruct will cause you yourself to die. It will still show the enclave oil rig blowing up cutscene, but you will not get your ending. It turns out you are dead.
References