Jurassic World: Dominion Dominates Fandom Wikis - The Loop
打开音效
"
The mysterious Mechanist has unleashed a horde of evil robots into the Commonwealth, including the devious robobrain. Hunt them down and harvest their parts to build and mod your own custom robot companions. Choose from hundreds of mods; mixing limbs, armor, abilities, and weapons like the all-new lightning chain gun. Even customize their paint schemes and choose their voices!
"
— Official description
機械守衛是Fallout 4第一個擴充內容 , 於2016年3月22日發售。玩家建議等級15。
內容
故事講述機械大師正在聯邦打算使用機器人一統聯邦,而你正前往無線電來源幫助機器人艾達並一起解開機械大師之謎。
此DLC新增機器人的工作檯,可以用來改造艾達、嘎爪、居禮(限還是幫手小姐時),並且可以創造屬於玩家自己的機器人。
另外增加新的掠奪者陣營:鐵鏽惡魔。
角色
Ahab

Hurtz

Jackson

Liza

Porter

Shades

Sparks

Turing

Zoe
勢力
機器人
Assaultron

Assaultron devil

Assaultron demon

Assaultron succubus

Assaultron hag

Assaultron gorgon

Swarmbot

Tankbot

Junkbot
Locations
Items
Armor and clothing
Eyebot helmet

Mechanist's armor and helmet

Robot armor

Sentry bot helmet
Consumables
Holodisks and notes
Fallout 4 holodisks and notes
Keys and passwords
Fallout 4 keys
Miscellaneous items
Fallout 4 miscellaneous items
Robot mods
主页面:
Automatron robot mods
Weapons
Assaultron blade

Mr. Handy buzz blade

Salvaged assaultron head

Tesla rifle
Settlement objects
Quests
Achievements/Trophies
| Name | Requirement | Achievement points | Trophy type | PC/PS4 Image | Xbox Image |
| --- | --- | --- | --- | --- | --- |
| Mechanical Menace | Complete Mechanical Menace | 20 | | | |
| Headhunting | Complete Headhunting | 20 | | | |
| Restoring Order | Complete Restoring Order | 20 | | | |
| Robot Hunter | Unlock 10 Robot Mods | 20 | | | |
| The Most Toys | Build 10 Robot Mods | 20 | | | |
Notes
Installing the add-on adds a couple of new idle comments to most companions' repertoire. These lines revolve around robots and let the Sole Survivor's followers express their opinion of the machines in various ways depending on personality. If an automatron built by the player character shares a settlement with an organic companion or is currently traveling with the Survivor, their updated comments tend to make up the majority of their idle chatter when they get within earshot.
Similar to above, a small number of new loading screens are added to the basic ones as soon as Mechanical Menace is started in earnest. They seem to replace the normal loading screens almost completely even after the Automatron questline has been finished, severely limiting the overall choice of loading screens one gets to see.
圖集
Official trailer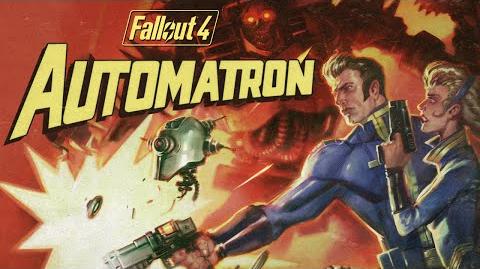 Template:Navbox Automatron Template:Navbox add-ons FO4