"
我们是NCR游骑兵 - 我们让世界变得更美好。
"
— NCR游骑兵於辐射2

新加州共和国游骑兵(英文名:New California Republic Rangers)是新加州共和国的精英军事机构。游骑兵是一支志愿特种部队,以其专业的侦察能力、勇敢和战斗能力而闻名。[1] 他们的主要目的是应对常规部队无法应对的威胁,以及保护NCR边界的安全、侦察威胁和其他特殊任务。[2] 他们卓越的训练、武器装备以及战前和战后的各种技术使他们能够在战斗中以对NCR有利的方式进行,即使他们的人数和枪械可能处于劣势的情况下。[3]
背景
游骑兵队由赛思在新加州共和国的早期创立,[4] 最终成为一个独立的执法机构,专注于在其境内外废除奴隶制。几十年来,他们在法庭上和战场上都与这种做法作斗争,慢慢地建立了他们的政治和军事力量。到2241年,他们的积极行动和许多高层朋友确保了沙蔭市以南共和国土地上的立法通过,使他们将注意力转向首都以外的领土。[5] 他们有限的人数使他们的任务变得困难,因为他们经常被敌人打败。因此,游骑兵秘密行动,尤其是在NCR领土之外。在奴隶贩子出现的地方,游骑兵会袭击他们,帮助潜在的奴隶逃离他们的绑架者,并将解放的奴隶偷运到共和国南部。他们的行动是奴隶贩子公会的一个主要障碍,尤其是在新里诺和克拉马斯周围。游骑兵实施的操作安全使他们的牢房和安全屋无法被未经训练的奴隶贩子发现。[6] 甚至他们的总部也是秘密的,隐藏在沙蔭市的汽车店里。[7][8] 人们普遍认为,明确的目标和清晰的道德指南针帮助他们战胜了看似不可能的困难并取得了胜利。[9]
最后,事实证明,他们的坚持对于帮助不断发展的共和国及其年轻的军队在充满暴君、奴隶贩子和掠夺者的废土中生存至关重要。游骑兵队稳定地帮助平衡了代表自由和民主的共和国。他们的废奴主义演变成一种基本的奉献精神,以保护废土人民免受各种形式的暴政。[10]
他们的工作在2271年呈现出新的形态,当时爱丽丝首席签署了游骑兵统一条约,将沙漠游骑兵并入NCR游骑兵,并让游骑兵致力于保护胡佛大坝、新维加斯和内华达州南部免受军团势力的侵害。[11][12][13]
在接下来的十年里,游骑兵的职责慢慢转变为永久性的守夜,向东观察,监控边界以对抗军团等威胁。[14] 游骑兵在宏大的科罗拉多河两岸巡逻,试图与拒绝公平战斗并经常使用儿童和伏击来对抗游骑兵的敌人作战。许多人受伤并被迫离开游骑兵队,无法继续巡逻。少数康复者可以指望优先分配到陆军的精锐部队,这些部队总是需要有能力的士兵。[15][16][17] 他们对抗军团的最大成就是在2277年,当时在漢隆首席的指挥下,游骑兵扭转了第一次胡佛大坝之战的局势。在他们和NCR的第1侦察营设置的狡猾陷阱中,他们将凯撒军团最优秀的战士引诱到大坝进入巨石城。当敌军进入时,游骑兵引爆了预先放置在建筑物内的炸药,摧毁了凯撒的主力部队。[18]
由于胜利,游骑兵在整个共和国被称为英雄,盖过了李·奥利弗将军指挥下的数十名陆军士兵的牺牲。这位心怀怨恨的将军以自己的方式赢得了下一场对抗,这常常损害了他所指挥的部队,尤其是游骑兵。新加州共和国军队采取了对抗的姿态,在科罗拉多河岸边站稳脚跟,同时面对对面的军团阵地。鉴于持续的人力短缺和供应线过度紧张,这只会使共和国的战略局势比以前更加不稳定。李·奥利弗将军总是与漢隆首席的建议相反,将游骑兵放在大坝西部的中间。然而,尽管漢隆首席认为游骑兵队缺乏坚守阵线所需的火力或支持,但后来证明奥利弗将军毕竟做出了正确的决定。[19][20]
然而,他们的形象仍然完好无损。游骑兵充当总统亞倫·金博爾[21]的保镖,并在莫哈韦上维持着游骑兵前哨网络,包括游骑兵驻扎站A、游骑兵驻扎站B、游骑兵驻扎站C、游骑兵驻扎站D、游骑兵驻扎站E和游骑兵驻扎站F,以及通往共和国的门户莫哈维前哨站。当平民和巡逻游骑兵在莫哈韦和其他边境坚守阵线,充当线人和手术刀来破坏敌人的稳定时,[22]老兵们却在巴哈忙于执行政府的命令,追逐幽灵。[23]这一事态并没有影响到普通游骑兵的奉献精神,但沉重地压在了现任漢隆首席的心头,他认为,守住大坝将是共和国的死亡。[24]
到2281年,他们代表了NCR的精英,经常被赋予危险或有声望的任务,例如组建当时的共和国总统亚伦·金博尔的精英保镖。然而,根据漢隆首席的说法,游骑兵的生活归结为"向东看"这个短语,这是用于共和国领土扩张的工具。[14] 无论如何,游骑兵未能实现目标的情况很少见,他们的成功通常被认为是理所当然的。[22]
游骑兵在莫哈韋廢土的六个游骑兵站工作: 游骑兵驻扎站A、游骑兵驻扎站B、游骑兵驻扎站C、游骑兵驻扎站D、游骑兵驻扎站E和游骑兵驻扎站F。这些站点的任务是在NCR的领土上巡逻,然后将他们的报告传送到游骑兵司令部(莫哈韋的高尔夫营地),后者将分析威胁并直接从正规军中呼叫增援。然而,这些信息已经与混杂的目击事件混淆了。[24] 再加上李·奥利弗将军对NCR军队的普通士兵的青睐,以及游骑兵经常被置于危险之中,让奥利弗的动力装甲突击部队[25]更有利,这使得游骑兵的工作对漢隆首席和普通巡逻游骑兵来说非常令人沮丧 。
组织
最初是一个致力于铲除奴隶制的独立机构,多年来发展成为一个具有民间调查公司、特种部队和执法特征的独特组织: 部分侦察员,部分突击队,部分警长。[26] 尽管曾经是自治的,但到2271年,游骑兵并入NCR的军事指挥系统,在任何重大交战或在莫哈维前哨站或麦卡伦营地等战略地点的持续行动中由军官指挥。 然而,游骑兵在履行职责方面有回旋余地,模糊了独立机构和陆军特种部队之间的界限。[Non-canon 1]
游骑兵并不多。在莫哈韦废土,该地区的游骑兵总数最初不超过几十个,集中在游骑兵站。[27] 为第二次胡佛大坝之战做准备的增兵使他们的人数大幅增加。[28]
他们被组织成游骑兵营,而游骑兵营又分为连,然后又分为排,然后是小队。目前至少有四个游骑兵营,他们的连队可以以动物命名(例如大毒蜂连队)。[29][30] 阿尔法小队是最精锐的游骑兵小队之一。[31] 2281年,在莫哈韦也有一支NCR游骑兵暗杀队,如果NCR领导层下令,他们就会"对可怕的人做可怕的事情"。
游骑兵经常服役一生,直到他们丧失能力、被杀或退休。服役20年的退伍军人不会获得奖章或手表,而是获得传统的游骑兵红杉,一种仪式性(但仍然非常实用)的狩猎左轮手枪。[32]像军队的士兵一样,游骑兵在战场上的工作也会得到报酬。薪酬也是以激励为基础的,发现重要的情报可以带来加薪。[33]
招募
与NCR陆军不同,NCR游骑兵是一支全志愿部队,不使用征兵制。[34] 相反,游骑兵会主动招募成员,最常见的是从在战斗和/或侦察方面表现出色的新加州共和國軍隊士兵中招募,尽管未来的游骑兵可以自由拒绝这一邀请。[35] 只要候选人展示出必要的技能,任何人都可以加入:游骑兵队在平等的基础上接受人类、屍鬼和超级变种人。[36][Non-canon 2]
预计所有候选人都将接受严格的培训,由于极端标准,大约有十分之八的人退学。那些完成并获得徽章的人已经证明他们"比影子更安静,甚至比死亡爪更凶猛"。[26]
在游骑兵正式成为共和国的一个机构之前,游骑兵首领在提名游骑兵方面有更大的灵活性。[37] 那些以大量方式帮助游骑兵事业的人被快速提升到完全游骑兵状态,并带有他们独特的徽章。[38]
等级
游骑兵队是一个紧密结合的队伍,非常重视尊重老兵和前辈的智慧。其中最伟大的是2281年的漢隆首席,他是他的游骑兵同伴近乎崇敬的对象。游骑兵一般不使用NCR陆军的标准军衔结构。已知的等级是:
遊騎兵
老练遊騎兵
首席(只有顶级游骑兵才有这个等级)
装备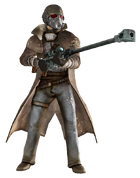 "
独特的黑色游骑兵战斗盔甲由沙漠游骑兵的传统风衣和战前防暴盔甲组成。游骑兵巡逻装甲是在NCR手工制造的。
"
— 辐射:新维加斯载入画面提示
2241年,游骑兵的默认战斗装备是第二代强化战斗盔甲,拥有多种先进武器可供使用,包括全自动战斗霰弹枪、火焰噴射器和旋轉機槍。[39]
在2281年,游骑兵穿着独特的黑色战斗盔甲,包括传统的风衣搭配战前防暴盔甲和游骑兵巡逻盔甲,在NCR手工制造。[40] 游骑兵战斗头盔也是战前的老式军用装备,内置低光光学器件,可以进行更先进的夜间侦察和射击,以协助正规军。[41] 游骑兵军械库包括反器材步枪、刷子枪、各种自动武器等等。
成員
2241

Ranger Ezekiel

Ranger Gond

Ranger Rondo
各种未命名的NCR游骑兵组成巡逻队,在NCR周围和主要贩卖奴隶路线上进行巡逻。他们穿着战斗盔甲并携带多种高端武器,如旋轉機槍、突击步枪(除了H&K CAWS)和狙击步枪。在NCR首都周围,可以发现他们与随机敌对者进行战斗,例如超級變種人和掠奪者,而在奴隶路线上,可以发现他们杀死奴隶贩子。
2281

Ranger Anders

Ranger Dobson

Ranger Ghost

Ranger Gomez

Ranger Grant

Ranger Jackson

Ranger Keller

Ranger Milo

Ranger Stella

Ranger Stevens

Ranger Morales
与外界的关系
游骑兵,尤其是老练游骑兵,在朋友和敌人中都享有可怕的声誉。在莫哈韦沙漠,可以看到他们的海报,一些NCR士兵认为他们"嚼铁钉,吐汽油弹"。甚至凯撒军团的人也对游骑兵表示敬意,称他们为"挥霍者所能提供的最好的东西"。
与玩家角色的互动
辐射2
NCR游骑兵可以在随机遭遇中看到,并且通常会让获选者独自一人,只有在他们是奴隶贩子时才会进行攻击。它们也出现在新加州共和国中。如果不是敌对的,获选者甚至可以选择加入游骑兵成为成员。
辐射:新维加斯
信使可以在整个莫哈韦沙漠的各个哨站和营地遇到游骑兵。可以选择在各种任务中帮助他们,例如更新他们的无线电安全代码或从3号避难所中救出一名成员。如果信使选择帮助NCR,一支老练游骑兵小队将协助第二次胡佛大坝之战。
只要玩家角色与NCR有良好的声望,信使可以通过NCR紧急广播呼叫游骑兵作为增援。或者,如果在NCR中的声誉不佳,他们可能会派出一队游骑兵来杀死信使。
辐射:新维加斯中的选择将改变游骑兵队的命运。结局的范围可以从漢隆首席和陪同他的少数游骑兵被杀并因他们的牺牲而受人尊敬,他们胜利并被誉为英雄;如果漢隆首席反对占领的阴谋被曝光,则被辱骂并永久蒙羞。[42]
登场
NCR游骑兵首次登场于辐射2。他们在辐射:新维加斯中扮演重要角色,并计划出现在被取消的范布倫中。
幕後
按照辐射圣经的说法,新加州共和国游骑兵部队类似于战前的同类德州游骑兵。[Non-canon 1]
图库
参考
非正史
↑ 1.0 1.1 Fallout Bible 6 New California Republic: "[...] The NCR military is composed of several Divisions, including special cavalry and mechanized units. One of their "Special Forces" units consists of the Rangers, a select group that is pledged to protect the people of the Wastes much like the Texas Rangers of old. The Rangers are said to have numerous safehouses throughout the wastes, and they use these to strike at slavers outside of NCR territory (usually in the North). As expected, the two groups hate each other with a passion. NCR was also in the habit of establishing marshals in the major population centers in their territories, responsible for enforcing the laws of NCR throughout the Republic. Ghouls, super mutants, and humans were all known to serve in the NCR armed forces, even in the rangers.
↑ Fallout Bible 6: "5. So if supermutants can now reproduce..."
"They can't. Marcus was joking in New Reno. Super mutants are sterile. Blame me for another episode of bad humor, oh cruel reader."
"...Goris and Xarn can perpetuate the intelligent deathclaw race, and new ghouls are being made from over-radiated people dying..."
"Goris and Xarn did not perpetuate the race – they are the last of their kind. See below."
"...that would mean Humans, Supermutants, Ghouls, and Intelligent Deathclaws would be major races in New California right?"
"Not as of the end of Fallout 2, no. The predominant and most accepted race in NCR is human (and probably will be for generations). While super mutants and ghouls are tolerated (although some gain true acceptance, especially in the military and in the NCR Rangers), deathclaws of any intelligence would not be, assuming any significant number survived the Enclave's massacre at Vault 13, which they didn't."