| | |
| --- | --- |
| | 關於an overview of bloatfly variants,參見bloatfly。 |
"
One of the Wasteland's most disgusting creatures, the Bloatfly shoots its maggots as projectiles, and often explodes upon death.
"
— Fallout 4 loading screen
Bloatflies are creatures found in the Commonwealth in 2287.
Background
Characteristics
Biology
Gameplay attributes
Bloatflies in the Commonwealth will crawl on surfaces and display more aggression than their counterparts in other wastelands. Although they generally attack at long range, at times they will fly close to their target. They can be found near bodies of water and throughout swampland, often attacking alongside bloodbugs and stingwings.

Variants
Bloatfly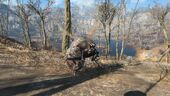 The standard variant, common throughout the Commonwealth. Usually found in groups of up to three.
名称 (Form ID)
数据
行为
能力
物品
Bloatfly


00029469

Bloatfly gland

Bloatfly meat
Black bloatfly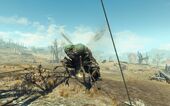 A slightly stronger variation, likewise frequently traveling in a group. Featuring a darker carapace, this variant is sometimes seen with other creatures such as stingwings or bloodbugs.
名称 (Form ID)
数据
行为
能力
物品
Black bloatfly


001423B0

Bloatfly gland

Bloatfly meat
Festering bloatfly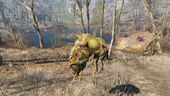 A bloatfly variant with a higher number of Hit Points. Can be found alone or in a group of other bloatflies or with different types of creatures.
名称 (Form ID)
数据
行为
能力
物品
Festering bloatfly


001423B1

Bloatfly gland

Bloatfly meat
Glowing bloatfly
Glowing bloatflies are a hardier variant whose body emits a green glow caused by massive radiation exposure. Upon death a glowing bloatfly will explode with irradiated matter causing radiation damage to nearby life forms and may even damage and irradiate nearby crops giving them a radioactive glow.
名称 (Form ID)
数据
行为
能力
物品
Glowing bloatfly


001423B2

Melee (7 )

Rad field (20 )

Bloatfly gland

Bloatfly meat

Irradiated blood
Related quests
Fly Fishing

: Approaching

Doctor Duff

in Diamond City's

Science! Center

will result in the scientist explaining the characteristics of these creatures to the Sole Survivor and requests assistance in locating and retrieving a

bloatfly gland

.
Notes
Bloatflies are often seen stationary, clinging to objects such as trees, walls, and pipes. They also can be found in sewers, in homes and buildings, or in parks or wooded areas.
Bloatflies and bloodbugs do not seem to be hostile towards each other and will attack the player character at the same time.
When the Sole Survivor is attempting to pacify a bloatfly utilizing the

Wasteland Whisperer

perk, they will address the creature by saying, "Hey, buzz buzz." In order to have the bloatfly attack on their behalf, they will make insect buzzing noises and then yell, "Kill! Infest!" When giving commands to the bloatfly, they will say, "There's a good fly."[1]

Bloatfly larva syringes

can be used to farm legendary bloatflies. The bloatflies themselves are the source of materials for the syringe.

Bloatfly larva

e can carry disease in Survival mode.
Originally bloatflies were meant to drop an item called bloatfly maggots upon death, however this was cut from the game. [需要引证]
Appearances
Bloatflies appear in Fallout 4.
Gallery
References
↑

Sole Survivor Wasteland Whisperer dialogue
西海岸
(辐射, 辐射2, 辐射:新维加斯)
外星人

 ·

Bighorner (Bighorner bull, Bighorner calf)

 ·

鸟类

 ·

巨大蒼蠅 (

Legendary bloatfly

)

 ·

双头牛

 ·

大黄蜂 (Young cazador, Legendary cazador)

 ·

多脚兽 (Evolved centaur)

 ·

郊狼 (Coyote alpha male, Coyote den mother, Coyote pup)

 ·

死亡爪 (Baby deathclaw, Young deathclaw, Blind deathclaw, Deathclaw alpha, Mother deathclaw, Intelligent deathclaw, Legendary deathclaw)

 ·

狗 (

Cyberdog

,

Legion Mongrel

,

Vicious dog

)

 ·

Fire ant (Fire ant worker, Fire ant soldier, Ant queen)

 ·

Floater

 ·

Fly

 ·

Gecko (Hunter gecko, Fire gecko, Golden gecko, Little gecko)

 ·

Ghost people (Ghost harvester, Ghost seeker, Ghost trapper)

 ·

屍鬼 (Feral ghoul roamer, Feral ghoul reaver, 发光种, Feral trooper ghoul)

 ·

巨型蚂蚁 (Giant worker ant, Giant soldier ant, Giant ant queen)

 ·

Giant catfish

 ·

巨鼠 (Mole rat, 猪鼠)

 ·

人类 (侏儒

 ·

無腦人)

 ·

湖沼蟹

 ·

螳螂 (

Giant mantis

,

Giant mantis nymph

,

Giant mantis female

)

 ·

Marked man

 ·

夜枭 (Young night stalker, Den mother, Legendary night stalker)

 ·

辐射蟑螂

 ·

辐射蝎 (雕像木蝎, Bark scorpion hunter, Small radscorpion, Giant radscorpion, Radscorpion queen)

 ·

渡鸦

 ·

地底人

 ·

孢子携带者 (Spore carrier savage, Spore carrier brute, Spore carrier runt)

 ·

孢子植物

 ·

超级变种人(玛丽博萨) (Super mutant master, 夜行者)

 ·

瓦那明球

 ·

穴居者 (穴居者女王)

 ·

狼

 ·

妖怪

东海岸
(辐射3, 辐射4, 辐射76, 辐射战略版2)
憎恶

 ·

外星人

 ·

Alien squid

 ·

Alien worm

 ·

Angler

 ·

Beaver

 ·

Bee swarm

 ·

鸟类

 ·

巨大蒼蠅

 ·

Bloodbug

 ·

Bloodworm

 ·

双头牛

 ·

Brahmiluff

 ·

House cat

 ·

Cave cricket

 ·

多脚兽

 ·

鸡

 ·

Crow

 ·

死亡爪

 ·

狗 (

Mongrel

)

 ·

Fire ant

 ·

Firefly

 ·

Flatwoods monster

 ·

Fly

 ·

Fog crawler

 ·

狐狸

 ·

Frog

 ·

Gatorclaw

 ·

Gazelle

 ·

屍鬼 (狂屍鬼, Feral ghoul reaver, Feral ghoul roamer, 发光种, Swamp ghoul)

 ·

Appalachian Floater

 ·

Ghoulrilla

 ·

巨型蚂蚁 (巨型蚂蚁女王)

 ·

Giant catfish

 ·

Gorilla

 ·

Grafton monster

 ·

Gulper

 ·

Hermit crab

 ·

Honey beast

 ·

人类

 ·

Lamprey floater

 ·

Manowar tendril floater

 ·

巨獭

 ·

泥沼蟹 (Mirelurk hunter, Mirelurk king,

Nukalurk

, Swamplurk, Swamplurk queen)

 ·

Mole rat

 ·

鼬鼠礦工

 ·

Mothman

 ·

Mutant crocodile

 ·

Mutant hound

 ·

Mutant wanamingo

 ·

Needle tooth floater

 ·

Opossum

 ·

辐射鸡

 ·

Radgull

 ·

Rad rabbit

 ·

Rad-rat

 ·

Radtoad

 ·

辐射蟑螂

 ·

辐射蝎 (白化辐射蝎, Giant radscorpion)

 ·

Radstag

 ·

輻屍人

 ·

Scorchbeast

 ·

Sea creature

 ·

Snallygaster

 ·

Squirrel

 ·

Stingwing

 ·

Tick

 ·

Super mutant (Vault 87) (Super mutant behemoth, Super mutant brute, Super mutant master, Super mutant overlord)

 ·

超级变种人(学院)

 ·

Super mutant (Huntersville)

 ·

泥沼族

 ·

Trog

 ·

温迪戈

 ·

野狼

 ·

妖怪
中西部
(辐射战略版, 范布倫)

Badger

 ·

Boom bug

 ·

House cat

 ·

双头牛

 ·

狗

 ·

Electro-beetle

 ·

Endless walker

 ·

Gehenna

 ·

屍鬼 (

Born ghoul

, 狂屍鬼, 发光种)

 ·

Giant albino ant (Giant albino ant queen)

 ·

Giant leech

 ·

巨鼠

 ·

Giant wasp

 ·

Hairy deathclaw (

Baby hairy deathclaw

)

 ·

人类

 ·

Komodo dragon

 ·

Molech

 ·

Mountain lion

 ·

Mutant cannibal

 ·

Raccoon

 ·

辐射蟑螂

 ·

辐射蝎

 ·

Radtoad

 ·

Trog

 ·

Super mutant (Mariposa)

 ·

Wolf

德克萨斯州
(辐射:BoS, 辐射:BoS2)

双头牛

 ·

郊狼

 ·

狗

 ·

Experimental deathclaw (Baby experimental deathclaw)

 ·

屍鬼 (发光种)

 ·

Giant rat (Mole rat)

 ·

人类

 ·

Radbug

 ·

Radscorpion (glowing radscorpion, spitting radscorpion, large giant radscorpion)

 ·

Small rat

 ·

Giant rat

 ·

超级变种人(玛丽博萨)
Project V13

尸鬼

 ·

人类

 ·

Mutant mantis shrimp

 ·

Super mutant (Project V13)

辐射:避难所

死亡爪

 ·

狂尸鬼

 ·

屍鬼

 ·

人类

 ·

鼹鼠

 ·

猫

 ·

狗

 ·

Parrot

 ·

辐射蟑螂

 ·

辐射蝎

 ·

超级变种人