The Washington Monument is a large, Pre-War obelisk at the center of the National Mall in Washington, D.C. It is a United States Presidential Memorial constructed for George Washington.
背景
紀念碑的殘骸仍然屹立在戰後的古老首都廢墟中。接近觀察的話會發現,紀念碑已經有兄弟會的士兵駐守,而建築的內部結構也已暴露在外。從附近的地方可以很容易的看見這座遊戲里最高的建築。
紀念碑是遊戲裡面高處的地點之一,在這座建築的最高位置可以俯瞰國會大廈。
華盛頓紀念碑已被鋼鐵兄弟會佔領。雖然鋼鐵兄弟會的成員都是些強力NPC,但還是經常給數量上佔據優勢的超級變種人群毆至死。
布局
近入的時候,左右兩側各有一個凹洞,中間是電梯。乘電梯可以到頂,塔頂有一些機器,是用來發射銀河廣播電台的信號的。
值得注意的物品
There is no real loot at the top, other than four boxes of 12 10-mm rounds and a Metal Helmet, though the Monument can be considered of some value as a local base for someone exploring the D.C. ruins, due to the bed at the Monument's peak and the guaranteed safety within.
紀念碑周圍有個隱藏區域(大門左邊有個缺口近入),裡面有個彈藥箱,內有一個導彈發射器和三個導彈。
相關任務
銀河廣播電台
註釋
這裡可以用來當家,裡面有床,而且掉落在地上的物品不會消失。
紀念碑灰常高以至於幾乎在整個首都廢土都可以看見它(另外兩個分別是MDPL-13 發電站和十便士大廈),在特區的北部地區雖然你面對著高塔,但你打開嗶嗶小子時會發現實際上代表地圖上游標的你並沒有朝向紀念碑。
The monument is guarded by the Brotherhood of Steel's 2nd Monument Defense Detachment, led by Paladin Berrings.
After the Lone Wanderer's first visit to the monument, the Brotherhood of Steel will no longer guard the gate, but will patrol the rear.
Appearances
The Washington Monument appears in Fallout 3.
Behind the scenes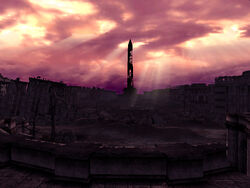 Bugs
In the PC version, traveling behind the monument can cause the player to get stuck in the wall/fence surrounding the monument.
Sometimes quick traveling from the top of the monument will cause the elevator to stay on the top floor, upon re-entering the Monument you are in a room with blacked out hallways and only the elevator is accessible. Entering it causes you to go down to the bottom floor and then have to go all the way up again. (Xbox 360 and PS3 confirmed)
On the Xbox 360, once the Brotherhood of Steel Initiates die from the constant Super Mutant attack, they do not seem to respawn.
圖集
See also
Capitol

Museum of American History
References