| | |
| --- | --- |
| | 這是一篇綜合多款遊戲中背景信息進行對比的文章。關於每個遊戲中區分開來的信息和狀態,參見右邊鏈接的文章。 |
A bladed glove is a glove with attached blades or spikes.
種類
刀片拳套

在拳套的背面綁縛了許多刀片的拳套。
撕碎者手套

這種手套設置了短爪built into the fingers.
虎爪

一種在掌心位置設置了短爪的武器。
Ripper gloves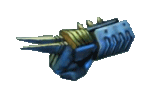 The ripper gloves are gloves with elongated spikes attached for the purpose of ripping through enemies.
Spiked gloves

The spiked gloves are gloves with attached spikes.
Iron bear claw glove
The iron bear claw fist is a glove that was to appear in Van Buren, the canceled Fallout 3 by Black Isle Studios.
Parentheses () denote variants.