上好佳賭場是賭城區的賭場之一,由權利幫經營,來自新維加斯的三大部落之一。
背景
"
Fully renovated by the Chairmen, The Tops is billed throughout New Vegas as a place for men to kick back, drink, laugh, and have a good time.
"
— Fallout: New Vegas loading screen
The Tops offers a classic Vegas experience, with cool, hip, fun, and macho posturing to entice those with a sense of style. This is a place for manly men with a dame on each arm; here to see the Rad Pack as they perform their routine 「The Four Taps」 over at the Ace Theater. Choose a fine wine, order the Brahmin steak rare, and have a good time, baby! The place is run by The Chairmen, who talk tough, but most of them don』t take things too seriously; they』re just too cool and laid back to let anything get to them (with the exception of Benny).[1]
布局
上好佳賭場到處都有五十年代著名團體「鼠黨」時期拉斯維加斯的影子,背景音樂播放的是弗蘭克-辛納特拉那舒緩的樂曲,與之相伴的是賭博機的叮噹聲和倒霉賭鬼的抱怨。這裡保安嚴密,門口有壯漢負責安檢,以防有人夾帶武器入場。
這裡共分為6個區域,分別是:賭場,餐廳,王牌劇院,總統套房,13樓和後院。
大廳和賭場
大廳門口有個大大的弧形櫃檯,班尼的左右臂-斯旺克就在這。櫃檯後面就是賭場了,右手方向是賭場的主廳,而樓梯後面是賭場的小廳。從小廳過去就是電梯間,電梯只能去13樓,而電梯間的小門通向後院。從主廳可以去餐廳,主廳的電梯直達總統套房,不過需要鑰匙。
從樓梯上二樓後,左手就是出納員,換籌碼的地方。出納員右邊通向劇院。
餐廳
酒保賣酒,廚房的鎖櫃里有點吃喝,包括5瓶石英型核口可樂,從這裡也可以去後院。
王牌劇院
在這裡可以吃點喝點,然後看看戲。湯米·托里尼是這裡的經理。他能給你個任務「天才的舞台」,幫忙找一些藝人來演出。這的演出是有時間表的,想看某個節目就要按照節目安排的時間來。分別在下午的:1,4,6,8,10整點演出。
總統套房
鑰匙在班尼或權利幫守衛身上。
後院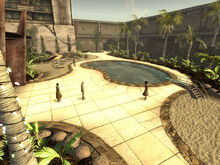 The courtyard is a small area behind the Casino. 有個水池,旁邊種了點棕櫚樹,賭徒們可以在這溜達,還有幾個保安。
13層
第13層有許多房間和許多上鎖的門。班尼的套房,賭神套房,都在這一層。這層有5個50的門,在達成 「撬鎖好小子」的成就時,可以小幫你一把。
賭神套房比普通房間稍大,而且多少有點貨色。賭神套房需要你在這賭場贏夠7500才可以得到鑰匙。不過這個房間不好,因為保安會進來隨便拿東西。
班尼套房在最中央,雙開門的。鑰匙在班尼和他的保鏢那。屋裡沒什麼好東西。最重要的是後面的大洞,那裡是班尼的密室,著名的機器人「好好先生」就在那裡。它可以給你主線任務
At the end of the main hallway, the very last locked door leads to the High Roller's suite. This lock cannot be picked. The key is obtained from the floor manager by winning a minimum of 7,500 chips in the casino.
地下室
班尼密室後面有一個過道,連著一個電梯,是緊急通道。不過這個電梯的鑰匙在遊戲中不存在。
但是打開電梯很簡單,攻擊班尼,他會逃命,這時候電梯就開了。不過要小心,一旦他進了電梯,電梯就關閉了。所以,只要班尼進不去電梯,你就可以用電梯了。有個簡單辦法就是做任務「鈴兒響叮噹」。和班尼約好在總統套房見面,先原諒他爆你頭,然後他試圖離開時幹了他。無論如何,班尼一進電梯,你就再也追不上了。當然了,用控制台也能搞定。
地下室牆上有個洞,通向21號避難所的反應堆維護區。21號避難所確實沒什麼東西,只有許多進不去的門,門後的房間都被土掩埋了,應該是豪斯先生做的。有少許的炸藥,估計是班尼挖掘這塊區域用的。
通道盡頭有一扇門,如果用控制台打開,會通至一個空白區域,如果跳進去會被傳送到21號避難所內部。可以從禮品店離開或繼續探索內部。
賭博
遊戲種類
21點,

輪盤

和

角子老虎機

21點按3:2賠付,17點莊家會要牌。
獎勵和限制
As the player character earns chips, the floor manager will offer increasingly valuable gifts, culminating in a complimentary suite.
當玩家贏超過10000枚籌碼,會被賭場列入黑名單。 They can still use its other functions, such as the restaurant, the theater and cashing out their chips, but they cannot win any more money in the Tops; the ban is permanent.
值得注意的物品
一樓 & 餐廳
總統套房
相關任務
Talent Pool

The Courier Who Broke the Bank

(achievement)
註釋
在進行「天才的舞台」這個任務的時候,每當你拉來一個人,這人的宣傳招貼就會出現在賭場門口最醒目的地方。
後院的存在從建築理論上講,是一種超空間存在。你可以看到一堵高大的石頭牆擋住了「罪惡之都」,但是,在賭場外面看的話,這堵牆壓根就不存在,這也許是測試版里遺漏的一個問題。
Certain unused tables in the gambling halls suggest that at one time the casino used to offer the gambling game Craps as well.
Strangely, there is a poster advertising the Gomorrah near the front door.
According to a newspaper seen in the Gomorrah, it was called "TOPS" before the War.
The framed newspaper clipped to the right of the entrance doors in the lobby contains an error, refers to The Ultra-Luxe as "The Ultra Lux".
If patch 1.06 is installed, there will be a wall separating the reception area and the casino floor.
Even though Mr. New Vegas says that The Tops is "Fully-renovated by the Chairmen", a big piece of the tower is gone.
Compared to the other casinos, The Tops can be seen as low quality as the reception building from the outside has many cracks across it, there is a huge chunk of tower that is missing from the main building and the windows from the outside appear to have cracks as well.
The Tops casino floor appears to have broken picture frames and torn wallpaper.
音樂
背景音樂包括以下幾首歌曲:
For music used in the show performances, see The Aces.
登場
上好佳賭場僅出現在輻射:新維加斯
幕後
王牌劇院裡,有個叫 「紅黨」的演唱組合,這是對當年在維加斯紅極一時的「鼠黨」團體致敬。鼠幫是由弗蘭克辛納特拉、迪安·馬丁、小森美戴維斯、祖伊畢什、彼得羅福特,他們是美國50-60年代紅極一時的演唱組合。
班尼的套房位於13樓。在西方13是不吉祥的數字,很多飯店和機關大樓都會跳過這個數字當樓層。

James Garcia

created the 3D model of The Tops neon sign.[2]
設計上好佳賭場的靈感一部分來自於「金沙賭場」,而那裡則是「鼠黨」曾經的主要演出場所。
Bugs
Has platform::PC

廚房的上鎖的門會基因突變,玩隱形,你開鎖的時候看不到鎖也看不到發卡。[已验证]

Has platform::PC

有時候,離開賭場後發現,武器被賭場黑了。[已验证]

Has platform::Xbox 360

If the player dismisses companions while inside The Tops and tells them to return to the Lucky 38, they may walk toward the front doors but never exit. Instead, they remain waiting in The Tops lobby. To fix get the companion to re-join you, exit The Tops, then dismiss them again once you are both outside of the casino. They will then walk to the Lucky 38.[已验证]

Has platform::Playstation 3

When exchanging chips into caps, the messages "added X caps" and "removed X chips" are displayed, but no chips are removed and no caps are added. To fix exchange chips into Legion/NCR money, then exchange Legion/NCR money into caps at another casino.[已验证]

Has platform::Playstation 3

Sometimes one of the Chairmen will have no head, but his mouth, eyes, and hair will be floating above his suit.[已验证]

Has platform::Playstation 3

On the 13th floor, If you drag a corpse into the corridor behind Yes Man's room it will become invisible.[已验证]

Has platform::Xbox 360

Taking the elevator to and from the 13th floor sometimes causes the screen to go black after loading.[已验证]

Has platform::PC

Sometimes when entering The Tops there will be a glitch where almost every door in The Tops has an Average lock on it and some random places in the wasteland will too (e.g. ovens, random containers etc.) Also, they will sometimes lock again as soon as you unlock them.[已验证]

Has platform::PC

當一進入賭場大門,你發現卡機了,可以在控制台輸入「enableplayercontrols」來解決。[已验证]

Has platform::PC

If you obtain 32764 The Tops Chips and then drop them, it will appear as -32764 The Tops Chips. Upon turning in your chips, you will still have the option to turn in your chips, effectively allowing for infinite caps.[已验证]
圖集
References
↑

Fallout: New Vegas Official Game Guide