"
A Wanamingo's just the single orneriest critter there is. Tall as two men, stronger than a bull brahmin, and with flappin' suckers instead of arms. Can't be hurt with guns, neither. S'posedly, injuns called 'em up for revenge on the white-man for what the war did. I don't put much stock in that, though.
"
— Marge LeBarge about the Wanamingo
Wanamingos (also referred to as aliens) are mutant creatures that appear in Fallout 2.
Background
Wanamingos are strange mutant animals that live mostly underground. Despite the rumors of their extraterrestrial origin, they were actually created with FEV as weapons for waging war on other countries and escaped into the wastes. In that aspect, they are similar to deathclaws.[1]
In Fallout 2, they are called "wanamingos" only in Redding and "aliens" elsewhere, but eventually, the name "wanamingo" came to be used for the species as a whole across the wastes.
Characteristics
Biology
Morphologically, wanamingos are bipedal lifeforms that bear almost no resemblance to any other form of terrestrial life. They possess a large central body with a sizable mouth full of razor-sharp teeth, and a pair of long, tentacle-like appendages that appear to be used for both grasping objects and to batter opponents in combat. The creature's large head lacks visible sensory organs, but it does not seem to require eyesight in order to discern the location of prey. The creatures are devastating in close combat, chewing at foes and lashing at them with their tentacles. Through a process not entirely understood, these attacks also induce radiation poisoning.
They hatch from eggs laid by a wanamingo queen - a large grey-colored wanamingo which others fearlessly protect. They aren't intelligent in terms of typical fauna, but the species is described to have a collective mentality.[2]
Range
Long-lived but unable to reproduce without a queen, they are slowly dying out by 2241. The only known queen lives in the wanamingo mine in Redding. All "aliens" living in that mine are killed by the Chosen One in 2242. Other wanamingos can be found scattered throughout the wasteland between Redding and San Francisco, most notably in the San Francisco tanker.
Gameplay attributes
Wanamingos are fierce foes and a potent threat to lower-level players. They are highly resistant to most damage types and can hurl a flurry of powerful attacks at their enemies in close combat. However, they have a natural weakness to fire and will flee if one of their feet becomes crippled.
Variants
Wanamingo

Wanamingos are strange mutant animals that live mostly in underground colonies. They are often mistaken for extraterrestrial beings, due to their otherworldly anatomy. They can easily shrug off damage which would tear the flesh from the bone of a human, and are truly a force to be reckoned with.
Name

(Proto ID)

Statistics
DT/DR
Abilities
Wanamingo / Alien


00000242

Tough wanamingo / Tough alien


00000243
Wanamingo queen

The wanamingo queen is the matriarch of the wanamingos, found within the depths of the mine near Redding. This is the only queen known to exist in 2241. She can lay eggs for the reproduction of the wanamingos and can be found deep underground in her breeding room.
Name

(Proto ID)

Statistics
DT/DR
Abilities
Wanamingo queen[3]


00000354
Notes
When targeting any form of wanamingo, the option to shoot an area labelled "the eyes?" appears. It is clear to see that the wanamingo doesn't have eyes, thus, when hit in said area, the player receives the dialogue "Wanamingo was hit in the eyes? for 'X' hit points, damaging its air (?) intake."
Appearances
Wanamingos appear in Fallout 2 and appeared in Fallout 76 in plushie form as part of the Fallout 76 update One Wasteland For All. Mutant wanamingos do not appear in the files of Fallout 3, but can be found in the book The Art of Fallout 3, an art book available with the Collector's Edition of the game. This book also includes a new version of wanamingo mutated by radiation.
Behind the scenes
The wanamingo appearance is very similar to the H.R. Giger xenomorphs of the Alien series, specifically their head. They are also referred to as "aliens" outside Redding.
In the Fallout Bible, Chris Avellone stated his personal opinion that they should not be included in any future Fallout games, and speculated on their origin:
"
Sorry about the error on the Wannamingoes and sterility – I had forgotten about the mother and the eggs in Redding. In any event, to clarify, the eggs you see in Fallout 2 are the last generation of Wannamingoes to exist in the wasteland; the young Wannamingoes seen in F2 will perish in five years, and their parents a few years before that - an internal genetic clock will simply stop ticking, and they'll fall over dead. The Wannamingoes are a vicious mutant breed that had their moment in the sun, and now their sun has set.

To put the tombstone on their extinction, the largest known nest of Wannamingoes were wiped out when the Great Wannamingo mine was reclaimed by Redding with the help of a traveling tribal. The mother was killed, and the last remaining eggs were hunted down, stepped on, and then the remains were examined by local scientists and doctors who came to the extinction conclusions mentioned above.

Again, Wannamingoes are not aliens – they are a curious mutant or genetically-designed fighting machine that has only been able to find a home in the cold, dark places of the wastes.

It is possible that the wannamingoes were old Enclave experiments (or even experiments from before the Great War), and if this is true, then it's likely their genetic/biological deadman's switch was purposely engineered to keep them from breeding past a certain generation.

As a final note, this is strictly a personal decision on my part. If you want them to live for fan fiction, pen-and-paper role-playing campaign purposes, or for your own peace of mind, feel free to have some of them survive the stopping of their genetic clock – in the Black Isle universe, however, the little buggers are already dead and their irradiated shells are scattered along the floor of abandoned mines throughout northern California where they make nice crunching noises when you step on them.
"
— Fallout Bible 2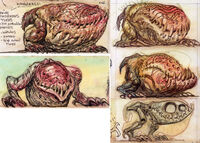 A mutant wanamingo was considered for inclusion in Fallout 3 at one point, with an enlarged mouth, no tentacles, and a pinkish color. It was eventually cut.
Gallery
References
↑ Fallout 2 Official Strategies & Secrets p.35: "Wanamingos are tough, very fast, and resistant to laser weaponry. Where they came from or what they're doing here is unknown. They aren't intelligent in the usual sense, but they do seem to have a hive-mind mentality. They're usually seen underground and in groups."
↑

There's also the name attached to the critter model: "Queen Alien." But since there's only one queen with an overriden name, it never appears in-game.
West Coast
(Fallout, Fallout 2, Fallout: New Vegas)
Alien

 ·

Bighorner (Bighorner bull, Bighorner calf)

 ·

Bird

 ·

Bloatfly (Legendary bloatfly)

 ·

Brahmin

 ·

Cazador (Young cazador, Legendary cazador)

 ·

Centaur (Evolved centaur)

 ·

Coyote (Coyote alpha male, Coyote den mother, Coyote pup)

 ·

Deathclaw (Baby deathclaw, Young deathclaw, Blind deathclaw, Deathclaw alpha, Mother deathclaw, Intelligent deathclaw, Legendary deathclaw)

 ·

Dog (Cyberdog, Legion Mongrel, Vicious dog)

 ·

Fire ant (Fire ant worker, Fire ant soldier, Ant queen)

 ·

Floater

 ·

Fly

 ·

Gecko (Hunter gecko, Fire gecko, Golden gecko, Little gecko)

 ·

Ghost people (Ghost harvester, Ghost seeker, Ghost trapper)

 ·

Ghoul (Feral ghoul roamer, Feral ghoul reaver, Glowing one, Feral trooper ghoul)

 ·

Giant ant (Giant worker ant, Giant soldier ant, Giant ant queen)

 ·

Giant catfish

 ·

Giant rat (Mole rat, Pig rat)

 ·

Human (Dwarf

 ·

Lobotomite)

 ·

Lakelurk

 ·

Mantis (Giant mantis, Giant mantis nymph, Giant mantis female)

 ·

Marked man

 ·

Night stalker (Young night stalker, Den mother, Legendary night stalker)

 ·

Radroach

 ·

Radscorpion (Bark scorpion, Bark scorpion hunter, Small radscorpion, Giant radscorpion, Radscorpion queen)

 ·

Raven

 ·

Slags

 ·

Spore carrier (Spore carrier savage, Spore carrier brute, Spore carrier runt)

 ·

Spore plant

 ·

Super mutant (Mariposa) (Super mutant master, Nightkin)

 ·

Wanamingo

 ·

Tunneler (Tunneler queen)

 ·

Wolf

 ·

Yao guai
East Coast
(Fallout 3, Fallout 4, Fallout 76, Fallout Tactics 2)
Abomination

 ·

Alien

 ·

Alien squid

 ·

Alien worm

 ·

Angler

 ·

Beaver

 ·

Bee swarm

 ·

Bird

 ·

Bloatfly

 ·

Bloodbug

 ·

Bloodworm

 ·

Brahmin

 ·

Brahmiluff

 ·

House cat

 ·

Cave cricket

 ·

Centaur

 ·

Chicken

 ·

Crow

 ·

Deathclaw

 ·

Dog (Mongrel)

 ·

Fire ant

 ·

Firefly

 ·

Flatwoods monster

 ·

Fly

 ·

Fog crawler

 ·

Fox

 ·

Frog

 ·

Gatorclaw

 ·

Gazelle

 ·

Ghoul (Feral ghoul, Feral ghoul reaver, Feral ghoul roamer, Glowing one, Swamp ghoul)

 ·

Appalachian Floater

 ·

Ghoulrilla

 ·

Giant ant (Giant ant queen)

 ·

Giant catfish

 ·

Gorilla

 ·

Grafton monster

 ·

Gulper

 ·

Hermit crab

 ·

Honey beast

 ·

Human

 ·

Lamprey floater

 ·

Manowar tendril floater

 ·

Mega sloth

 ·

Mirelurk (Mirelurk hunter, Mirelurk king, Nukalurk, Swamplurk, Swamplurk queen)

 ·

Mole rat

 ·

Mole miner

 ·

Mothman

 ·

Mutant crocodile

 ·

Mutant hound

 ·

Mutant wanamingo

 ·

Needle tooth floater

 ·

Opossum

 ·

Rad chicken

 ·

Radgull

 ·

Rad rabbit

 ·

Rad-rat

 ·

Radtoad

 ·

Radroach

 ·

Radscorpion (Albino radscorpion, Giant radscorpion)

 ·

Radstag

 ·

Scorched

 ·

Scorchbeast

 ·

Sea creature

 ·

Snallygaster

 ·

Squirrel

 ·

Stingwing

 ·

Tick

 ·

Super mutant (Vault 87) (Super mutant behemoth, Super mutant brute, Super mutant master, Super mutant overlord)

 ·

Super mutant (Institute)

 ·

Super mutant (Huntersville)

 ·

Swampfolk

 ·

Trog

 ·

Wendigo

 ·

Wolf

 ·

Yao guai
Midwest
(Fallout Tactics, Van Buren)
Badger

 ·

Boom bug

 ·

House cat

 ·

Brahmin

 ·

Dog

 ·

Electro-beetle

 ·

Endless walker

 ·

Gehenna

 ·

Ghoul (Born ghoul, Feral ghoul, Glowing one)

 ·

Giant albino ant (Giant albino ant queen)

 ·

Giant leech

 ·

Giant rat

 ·

Giant wasp

 ·

Hairy deathclaw (Baby hairy deathclaw)

 ·

Human

 ·

Komodo dragon

 ·

Molech

 ·

Mountain lion

 ·

Mutant cannibal

 ·

Raccoon

 ·

Radroach

 ·

Radscorpion

 ·

Radtoad

 ·

Trog

 ·

Super mutant (Mariposa)

 ·

Wolf
Texas
(Fallout: BoS, Fallout: BoS 2)
Brahmin

 ·

Coyote

 ·

Dog

 ·

Experimental deathclaw (Baby experimental deathclaw)

 ·

Ghoul (Glowing one)

 ·

Giant rat (Mole rat)

 ·

Human

 ·

Radbug

 ·

Radscorpion (glowing radscorpion, spitting radscorpion, large giant radscorpion)

 ·

Small rat

 ·

Giant rat

 ·

Super mutant (Mariposa)
Project V13
Ghoul

 ·

Human

 ·

Mutant mantis shrimp

 ·

Super mutant (Project V13)
Fallout Shelter
Deathclaw

 ·

Feral ghoul

 ·

Ghoul

 ·

Human

 ·

Mole rat

 ·

Cat

 ·

Dog

 ·

Parrot

 ·

Radroach

 ·

Radscorpion

 ·

Super mutant
Community content is available under
CC-BY-SA
unless otherwise noted.