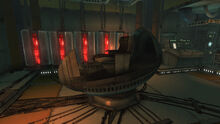 Virtual reality or VR is a simulated experience that can be similar to or completely different from the real world, in environments to generate realistic images, sounds, and other sensations that simulate a user's physical presence in a virtual environment.
Background
Edit
Virtual reality was used by the United States Armed Forces and the Vault-Tec Corporation for the purposes of education and training. Similar to video games, virtual reality can include entertainment (i.e. experiencing old memories) and educational purposes. Specialized equipment is required to experience virtual reality, such as the Visiontron or SimTek 5000. Pre-War VR programs can be played via holotape, or otherwise coded from scratch.[1]
Before the war, the company Virtual Strategic Solutions worked as a private contractor for the U.S. Army, developing virtual training aids for various combat situations. At its Washington, D.C. facility, they produced the virtual reality Anchorage Reclamation simulation. It was also responsible for installing a VR system in the Mount Desert Island Naval Facility[2] which was later overwritten by DiMA to serve as secure storage for memories he didn't want to remember, but couldn't afford to forget.[3]
Known VR simulators
Edit
There are several locations with VR simulators, utilized for a variety of purposes. Vault 13's SimTek 5000 simulated the outside world for preparation for leaving a vault.[4][5] Vault-Tec's Tranquility Lane simulation in Vault 112 as well as Virtual Strategic Solutions, Inc.'s Anchorage Reclamation simulation in the VSS facility, labeled "SIM-U-TEC Chamber 003," were virtual representations of real world situations, in the latter being used for military training. The VR pods in Goodneighbor's Memory Den allow individuals to relive past memories. An interface on the USS Democracy allows for virtual reality to be used as a security mechanism. Virtual reality pods are used as flight simulators at Nellis Air Force Base and there are also VR simulators in the Brotherhood of Steel Hidden Valley bunker, used for combat exercises,[6][7] and the X-13 research facility at Big MT.[8] The VR room at Big MT was destroyed by one of the staff members after it caused several deaths.[9]
Locations
Edit
Appearances
Edit
Virtual reality appears in Fallout, Fallout 3 and its add-on Operation: Anchorage, Fallout: New Vegas and its add-on Old World Blues, Fallout 4 and its add-on Far Harbor.
References
Edit
Community content is available under
CC-BY-SA
unless otherwise noted.