Split (reason: Ambiguity with regards to whether VR simulations in Fallout can be considered "games" as there are no instances of them being used for leisure. Recommend creating separate 'Virtual reality' article)

It has been suggested that this article or section should be split in multiple parts. Please help

Nukapedia

by discussing this issue on the

article's talk page

.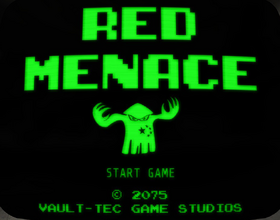 A video game, colloquially referred to as a holotape game,[1] is an electronic game that involves interaction with a user interface to generate visual feedback. There are two types of video games in the Fallout world, holotape games, and virtual reality simulations.
Holotape games
Edit
Prior to the Great War, holotape games were a rising medium of entertainment that saw moderate success in public, with holotapes being sold stand-alone or being included in magazines to entice sales.[2] Dedicated companies[3] and divisions of companies[4] were created to develop holotape games in an attempt to get a foothold in this burgeoning market. Holotape games spanned a wide spectrum of genres, including strategic defense,[5] platforms,[6] and text adventures.[7]
Terminals would attempt to keep up with the rapid progression of holotape games, with RobCo Industries developing consumer terminals capable of handling the highest-end graphics.[8][9]
Holotape games (and in turn holotape game players) are often looked down upon for being childish and generally a complete waste of time with no redeeming social value.[10] However, there are some individuals, human and robot alike, that not only enjoy playing holotape games but also boast about their skills.[11]
Virtual reality
Edit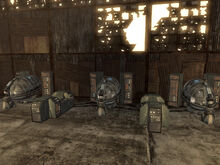 Virtual reality (VR) was a fairly new technology before the Great War and was known to have been in use only in the United States military and in at least one Vault-Tec vault, being Vault 112, dedicated to virtual reality, with other vaults having SimTek 5000 VR devices.[12]
Similar to holotape games, VR simulations were utilized by the United States Armed Forces to train both pilots in aerial dogfights tactics[13] and soldiers in past battles.[14] Vault-Tec also used virtual reality for some of their vault experiments, most notably in Vault 112 where the overseer and all residents have been in a simulation for over 200 years. The Mojave Brotherhood of Steel is also known to have utilized these simulations for training purposes, with pre-War VR tapes being found, but also created from scratch by Lars Taggart.[15]
The extent to which VR simulators generally replicate reality is unknown. In some cases being killed in the simulation results in the person being killed in real life.[16] For example, as a fail-safe in Vault 112 and a simulation used to open an armory in the VSS facility.
List of known holotape games
Edit
List of known VR simulators
Edit
Appearances
Edit
Video games appear in Fallout, Fallout 4 and Fallout 76. Virtual reality appears in Fallout 3 and Fallout: New Vegas.
References
Edit
Community content is available under
CC-BY-SA
unless otherwise noted.