Welcome to The Vault!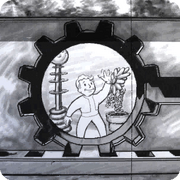 Hello, Wunengzi, and welcome to The Vault, the Fallout wiki! Thank you for your contributions, and we hope you'll stay with us and make many more.
Some links you may find useful:
If you have questions, you can ask in our forums, join the live chat in our IRC channel or post a message on my talk page. We hope you enjoy editing here and look forward to working with you!
Thank's for the recent image contribution, if you find more relay tower articles or any other article without an image, we'd love it if you got an image. Nukey (talk) 23:11, October 5, 2010 (UTC)
Racist image?
Edit
You mean

? It's not so bad, is it? It's just a user page image of the user himself, I see no harm in it. Thanks by the way for your (though be it somewhat late) support on my admin request. Hope to see some of your contributions here, the are enough pages that could use a little rehaul by someone with writing skills like you have (read your profile page). Greets, Jspoelstra 17:13, March 11, 2011 (UTC)
Epic dialogue
Edit
It would be so epic indeed if you could go with Graham's Armor to The Fort and tell Caesar you met an old friend of his... What a real pity Obsidian didn't thought about putting it there :(
And you could run through The Fort calling "Joshua Graham, Joshua Graham" just like they did in "The Life Of Brian" with "Jehova, Jehova" Just a Fallout fan ... 20:18, July 28, 2011 (UTC)
Daniel Contreras
Edit
Yes the image is unnecessary, especially the comment accompanying it as well. It is also against the quality standards of the Vault, as such I have removed it and deleted it.

20:08, July 8, 2011 (UTC)
Community content is available under
CC-BY-SA
unless otherwise noted.