Hey, nice to see another user at The Vault! It's nice to meet you. My name is AreYouGoingToEatThatNuke? or for short, call me Nukey.

Just to help you out and get you started, here's a few places that you should visit:
Porter21. He knows all about editing and creates most of The Vaults templates!
Ausir. He runs the Wikia, and knows a lot about Fallout and is the founder of The Vault.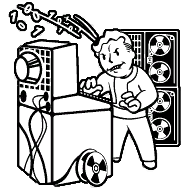 This is how hard the administrators work. Really.
Nitty. He is one of the more active administrators and is very knowledgeable, if arrogant.
A few things to be aware of, also, while editing on this Wikia and leaving messages on forums, blogs and talk pages:
Don't be nasty or rude! Saying inappropriate things or being rude towards people is not accepted here. If you disagree about something, talk about it civilly.
Don't edit in first person! Putting things in articles like "This user..." and "I..." doesn't work here. I'm not saying that this is the Encyclopedia Britanica, but it ruins the quality of articles.
Read, read, read! Information is the ultimate weapon!
More rules may be found here!
You need to leave your signature on talk pages and forums by typing four tildes (~). It helps people identify you.
Personalize your user page! Don't be afraid to upload pictures for that purpose! Just don't put your age and location on there, creepy people will use it for bad purposes!
Ask me if you want a personalized signature! Unique signatures will make you more memorable, and they are wonderful to have!

Tips to get you started!
Don't vandalize or use bad grammar! I, myself, am a grammar Nazi and I also hate vandalism.
If you need any help with making your page, ask me (please)!
You are now an official Vault Resident! With these tip's in mind, you'll be a respected and popular user!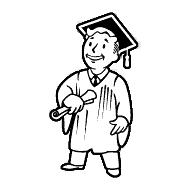 Nukey  tok 
Thanks for helping with the spammers! Ausir 18:27, 5 April 2006 (CEST)
np :), Just I hate this. --Winterheart 11:17, 7 April 2006 (CEST)
You are now a sysop - please block the spammers indefinitely. You can also revert the changes with one click ("rollback") if you diff the last edit. Ausir 08:30, 9 April 2006 (CEST)
Whoa!!! But where invitation to admins, mysterious magic and dancing around fire :)? Thank you. --Winterheart 12:26, 9 April 2006 (CEST)
As you probably noticed, thumbnail generation for images doesn't work. We're working on fixing it. Ausir 03:29, 6 June 2006 (EDT)
Tactics special encounters are in the Fallout Tactics special encounters article, but they require separating into specific articles and cleanup. Ausir 12:13, 6 June 2006 (EDT)
Yeah, I see. Just prev. version of special encounter has been terrible :) --Winterheart 12:15, 6 June 2006 (EDT)
Hey :) I can speak some Russian, but not much. Ausir 03:35, 7 June 2006 (EDT)
By the way, have you thought of making a Russian language version of The Vault? We already have a Polish one, and AFAIK, Fallout is just as popular in Russia as it is in Poland... Ausir 13:47, 11 June 2006 (EDT)
Hmm, this great idea, but I afraid, nobody (without me) will make articles :(. But I try ask Russian Fallout community. And, images separeted from each Vault or shared for all? --Winterheart 18:59, 11 June 2006 (EDT)
Images are shared - if you upload them to the English vault, you can use them in the Polish one as well. Besides, at first, nobody but me edited the English and Polish ones, but it's not the case anymore :).Ausir 03:01, 12 June 2006 (EDT)
Why did you delete the redirect from Republic of dave to Republic of Dave? --MadDawg2552 21:07, 24 January 2009 (UTC)
I'm sure he didn't mean to, or maybe he's just operating under old rules.
Hi fellow sysop Winterheart, this is my first time getting a chance to talk to you. ;) I don't know why you're troubling yourself with redirects, they're kind of a mandate. (See: Help:The_Vault) I'll just quote it so you won't have to search the thing, please don't think I'm trying to lecture you though ;) "For links in lower case, it's suggested that users create new pages which #redirect to the proper article. This will help expand the Vault's strict search engine results." AshRandom (Talk) 00:38, 25 January 2009 (UTC)

You may call me ol' hardcore wiki-user, but I think that redirects with name in lowercase are wrong. --winterheart 13:36, 25 January 2009 (UTC)
Ongoing forum discussions of note
[
edit source
]
Hi! If you haven't already, please drop by the Forum:Wiki general discussion boards and join in some of the current discussions. At issue are questions of admin maintenance responsibilities, a new way of handling bug submissions, and table formatting, among others. I lool forward to continuing to work with you, especially as the coming release of Fallout: New Vegas brings us more content to create and organize. Cheers.--Gothemasticator 04:09, March 21, 2010 (UTC)
Privet!Sgt.Salvator:NCR Rangers 09:19, April 4, 2010 (UTC)
oh, hi. --winterheart 09:21, April 4, 2010 (UTC)
http://www.star-tm.ru/ Da li si kojim slučajem čuo za ove obožavaoce serijala igre Fallout?
Why'd you remove the picture? Nitty Tok. 02:54, April 16, 2010 (UTC)
Fallout 1 and 2 characters project
[
edit source
]
Hello. I am just leaving a quick note to say that we need to get this project finished. Its been very slow for a long time now, and so this is just a quick note to ask for you to continue your contributions. It would be really good if we could finish this project, and if everyone does that little bit more work, I'm sure it won't be long. So please don't forget about it :). Thanks,

.
New policy on inactive admins
[
edit source
]
This is a friendly notice to inform you of a recent policy change here at Nukapedia. We have enacted a policy concerning all inactive admins/mods/chat mods who have not edited here in over 9 months. As your most recent edit was on November 20, 2011, you are one of the those who fits that criteria. We felt it important to get in touch with you to give you the opportunity to again become an active contributing editor and member of the Nukapedia community, whilst retaining your user rights. Please respond on my talk page, otherwise, if we do not hear back from you by October 16th, as well as see an increased presence on the wiki, your extra user rights will be removed. You will have the opportunity to respond to a bureaucrat to request them back at any point after becoming edit active for at least one month and show an active desire to make continued contributions again on Nukapedia. Thank you for your time.--Kingclyde (talk) 06:15, October 3, 2012 (UTC)
I've removed the bot flag from your inactive bot account. If you need the bot flag replaced, please contact me. The Gunny  

17:07, April 20, 2013 (UTC)
Community content is available under
CC-BY-SA
unless otherwise noted.