Hi there!
Edit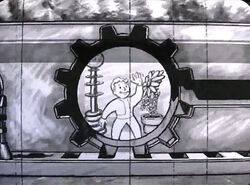 Welcome to our Fallout wiki and thank you for your contributions! I hope you'll stay with us and make many more improvements.
A little help to get you started:
I'm glad to have you here and look forward to working with you!
Ausir
(talk)
23:29, February 22, 2010 (UTC)
Jee En Ar!
Edit
While a couple smidgets of your recent edit were useful, you kind of deleted a bunch of info. Moreso than you added, in face.

As such, I'm going to undo the edit, and add in the little bits that you did. Fruckert 02:12, March 12, 2010 (UTC)
If any information was taken out, it was by accident. You may wanna look more carefully, though. Odds are I just moved it so as to keep quests together.—WhosAsking 12:23, March 12, 2010 (UTC)
Yeah...I failed to notice that. The edit got reverted, back to your original. My apologies. Fruckert 03:40, March 13, 2010 (UTC)
Community content is available under
CC-BY-SA
unless otherwise noted.