Welcome to The Vault!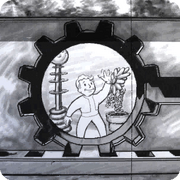 Hello, White storm, and welcome to The Vault, the Fallout wiki! Thank you for your contributions, and we hope you'll stay with us and make many more.
Some links you may find useful:
If you have questions, you can ask in our forums, join the live chat in our IRC channel or post a message on my talk page. We hope you enjoy editing here and look forward to working with you!
Hey dude welcome to the Vault, we appreciate your contributions to the section for the creators. Thanks(Nemerian 08:38, April 17, 2011 (UTC))
Absolutely right man, but remember without the correct information on this website, they would be viewed as "nobody's". A house is put together with small nails, little things count so be proud of what ur doing. Thanks(Nemerian 09:16, April 17, 2011 (UTC))
No way, i would never have guessed man, u got some skills there. Greets(Nemerian 09:29, April 17, 2011 (UTC)) P.S. when u post message sign ur name with four tilde (~) keys in parenthesis, will be easier for ppl to talk.
Re: Heya!
Edit
Hello, Andrey. :) It's nice to meet you here. Where exactly in Ukraine have you been? veryblackravenTalk 09:24, April 29, 2011 (UTC)
Well, in Ukrainian it is Одеса, Первомайськ, Луганськ and Андрій. :) Pronunciation is also slightly different from Russian. You should visit Kyiv (Kiev) an and Lviv (Lvov) if you have a chance. These cities are very beautiful. If you like old architecture. :) As for me, I visited Russia only twice and both times it was Moscow. veryblackravenTalk 09:40, April 30, 2011 (UTC)
Oh, I see. :) And I wondered "what a good English". :) veryblackravenTalk 22:34, April 30, 2011 (UTC)
Weapon pages
Edit
Don't move those weapon pages. We stick to the GECK names. Jspoel

03:37, October 23, 2011 (UTC)
I lifted your chatban. It was overdue. Jspoel 03:41, October 23, 2011 (UTC)
You served your chatban time and now get a new chance, just like everyone else with a minor first offense.
Message to Yes-Man
Edit
If you, Yes-Man, are reading this, please keep on reading. If someone other than Yes-Man is reading this, please tell Yes-Man about this.
This Wiki is pretty cool. It has a lot of content, good editors and other shitzu. But it's community kinda fails. One guy got banned for discussing something on the chat. People didn't agree with him. He wanted to help by sharing his opinion. People started ganging up on him and telling him to leave, stop trolling and other crap. One of them was an admin and banned him. He complained about it on another wiki to let steam off and because he couldn't do it on here. After getting unbanned, GhostAvatar tried to cover it up by claiming the user "Hijacked the chat for his own use. Several people told you to stop. You didn't and got banned. The chat is a place for community discussion, not for suiting your own desires." I was once bullied like that. I got unbanned and wanted to get back on the chat. I was making friends and crap. They asked my age and I knew it was going to happen again. I told them it was going to happen again. They said it wasn't going to happen again. I believed them. I said it was 12, my actual age. And claims came that it was illegal to have a wikia account if under 13. It isn't. It is simply the opinion of the people that made wikia. And if it was illegal, I would be a criminal. Also, I would be reported to the police by wikia. I wasn't. So, Yes-Man, would it be alright if I was back as an editor, but not a chatter? Andrey (White storm) 22:46, March 15, 2012 (UTC)
I forwarded your message to Yes-Man. But being under-age isn't illegal, but it is against Wikia's rules. And since you/we are here, we will follow Wikia's rules. -

ΣΔ

Let's talk!

22:52, March 15, 2012 (UTC)
Re:Message
Edit
Hi there, White Storm. In actuality, it is illegal to have a Wikia account if you're under 13. This is not a rule made up by this Wiki; it's a rule that is enforced by Wikia as a whole. If it were up to me, and many of the users here, you wouldn't be banned based on age. However, it is a real law created in America, known as the Children's Online Privacy Protection Act, not a rule made up by us. This isn't a law that makes you a criminal if you break it; it's made to protect people who are underage from internet predators. So, I'm afraid that I can't legally unban you or I'd be in breach of the act. All you can do is wait until you turn 13, then you can come back to this Wiki.


03:14, March 16, 2012 (UTC)
Community content is available under
CC-BY-SA
unless otherwise noted.