Welcome to Nukapedia!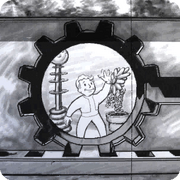 Hello, Vault Kid 3, and welcome to the Fallout Wiki! Thank you for your contributions, and we hope you'll stay with us and make many more.
Some links you may find useful:
If you have questions, you can ask in our forums, join the live chat or post a message on my talk page. We hope you enjoy editing here and look forward to working with you!
So, best if you join the NUN.
Hi! Welcome to the NUN programme.
I'm Skire (you can call me Danny if you want), one of the administrators here. I will be your NUN mentor. Let me know on my talk page your interests here and what you wish to primarily get out of this programme. In addition, I want to know which time zone you are in. I look forward to working with you!
400 caps from Griffon.
Edit
Hi! The *only* reason, why I reverted your edit, is because your note duplicates the previous section, word to word. Nothing more and nothing less. Let's make it this way: In a couple of hours, I'll check that info with the GECK, possibly there's a mistake on the page. --Theodorico (talk) 17:46, February 27, 2013 (UTC)
It's definitely a bug. I moved that note to the Bugs section, where it rightfully belongs. And you were right: 4 payments x 100 caps == 400 caps. --Theodorico (talk) 23:30, February 27, 2013 (UTC)
RE: Antique Land
Edit
Your edit fell under the realm of strategy, you were giving people advice on how to proceed through the quest "...best to do this one first, and put it on right away as the radiation count is 4 rads per-second, & the other 2 locations can be equally high." this qualifies as strategy, which we do not include in our articles. As a result, it was reverted. Richie9999 (talk) 18:57, March 12, 2013 (UTC)
Re:Jack and Diane
Edit
Your note has nothing to with the quest itself, but rather the characters Jack and Diane. --Skire (talk) 03:09, March 23, 2014 (UTC)
Duplicate pages
Edit
Hi, when you create an article page, search and make sure the page doesn't already exist. If you wish to practice creating pages or other things, you can use your own personal sandbox. You can access it by using the link (personal sandbox) in the welcome box at the top of your talk page. JMA4269 (talk) 18:42, January 10, 2017 (UTC)
Community content is available under
CC-BY-SA
unless otherwise noted.