New Zealand
Edit
The country is not mentioned in the game at all, it's all speculation based on one voice actress having an NZ accent. Ausir(talk)
08:02, July 17, 2011 (UTC)
Hello my friend ;)
I see your edit in the Dala page and it contains several mistakes to the guidelines The Vault.
Think tank is a brain bot so they are no more human. Also, don't bolt title like "doctor" and cyborg is not a race. Nice evening and see you soon on The Vault! Itachou [~talk~] 19:00, July 22, 2011 (UTC)
Yes, in fact when someone edit before you, your edit has been completely erased and can be found in the back of the page.
But whenever this happens, look at what has changed over your edition because despite this, it's your edits that re-put the wrong information on the page even if you didn't mean to =): [1]
Bot - Capitalizing
Edit
Can I ask you to take a look at this forum topic? I would appreciate your input. Jspoel

19:12, July 28, 2011 (UTC)
Backpack mod
Edit
I use [atomic mods] backpack nv eng. I'm not sure about the name on the Nexus, though.

Tagaziel (call!) 13:04, August 14, 2011 (UTC)
Thanks for blocking Blargo1. Scarface11235 reverted his work, and I am on to him when Scarface said that he (Blargo) is a vandal. Have a nice day and see you soon. --Gauzz Rifle ( talk  · contribs) 11:12, September 4, 2011 (UTC)
yeah, thanks for the welcome, this is like my third account here, so i'm good for now.--Joshua-Conduit 21:59, October 3, 2011 (UTC)
Hi TrailerParkApe ;)!
Please don't put a comma before the name of an add-on, it's pretty useless, unsightly and the standard format used in most pages is with no comma. Have a nice evening and see you around! Itachou [~talk~] 18:29, October 4, 2011 (UTC)
A phrase of greeting for a person and a phrase for presenting an add-on are two different things. You are the only one to put commas and it is currently not the general format used on The Vault, so if you respect the rules of The Vault (you should since you are admin), please don't put them =). Itachou [~talk~] 18:54, October 5, 2011 (UTC)
Multiple formats is not a good thing and make the whole unprofessional (we try to avoid that here). The current format is without the comma since a while now, thanks to respect it. Itachou [~talk~] 19:27, October 5, 2011 (UTC)
Yeah, that happens from time to time. I had it a few days ago, chat was unbearable so I just decided to do something else. Cartman's had that for ages, but not as extreme as you seem to have. Oh and HAI! Hugs

"Say 'ello to my little friend!"
Nah, I don't know if anyone knows. It's just random. I get it in periodical waves which makes the chat unjoinable for a couple of days, and then it disappears. I think Wikia is working on it, but other than that, no idea. Nicolle says *snuggles* - Hugs "Say 'ello to my little friend!"
Promotional crossover content
Edit
Hello, TrailerParkApe. Can you please look at this forum topic? Your opinion would be highly appreciated. veryblackraven 07:27, October 24, 2011 (UTC)
Please e-mail me at pawel.dembowski@gmail.com. Thanks! Ausir(talk) 18:44, November 5, 2011 (UTC)
Are you staying?
Edit
Just wondering if you'll be staying on this wiki, or if you'll be moving to the "new" Vault. Grammarlad(talk) 12:48, November 27, 2011 (UTC)
I noticed you're planning on staying, which is nice to hear of course. Can you add your name here, so people know which admins are still available? Jspoel

01:33, December 3, 2011 (UTC)
Interview
Edit
Hello, the Wikia Content Team would like to interview the remaining admins on here to get some more information about them. Since I heard that you are staying, I'd like you to answer the following three questions - 1.) What do you most like about the Fallout series? Why does this series appeal to you more than any other series? 2.) What are your wishlist items or things that you would like to see in the game? and 3.) What kind of help are you looking for around here? . Any help in completely this would be greatly appreciated. - Wagnike2 20:39, December 14, 2011 (UTC)
Strike3 13:13, December 24, 2011 (UTC)
This is not a circular, ok so maybe it is :p
Edit
MESSAGE TO ALL! Merry Christmas, hope you have a great day! If you see this, it means I love you enough to go to the effort of visiting your TP and copy/pasting this - well done :p Loves and stuff!

"Even In Death May You Be Triumphant"
Merry congratulations and whatnot
Edit
Thanks, I appreciate it! Happy holidays! Hugs

"Say 'ello to my little friend!"
Hey, thanks for making that blog about Sawyer's modification TPA. The Vault even made a page for it; maybe we can do that here too. Jspoel

19:21, December 29, 2011 (UTC)
RE: Sandbox
Edit
Thanks for that, i did not realise i still had that little sandbox lieing about XD.

The Nemesisx 11:31, January 20, 2012 (UTC)
HAAAAAAAAAAAAAAAAAAAAAAAAAI
Edit
Was nice chatting to you after such a long time away from, well, um, chatting :p Hope you are all good, wish we could have spoken sooner and for longer! See you on Skype! Mucho loves :D <3

"Even In Death May You Be Triumphant" 22:37, January 22, 2012 (UTC)
User blog
Edit
Thanks for deleting my blog, Mister Ape! Or is it Mister TrailerPark? Anyway, it's appreciated :)


09:05, January 24, 2012 (UTC)
My understanding is the response they came back with is one of disinterest over the name change in general. That said, as there isn't a "Nukapedia" in the fallout universe, with my layman's knowledge how copyrights and trademarks work, I can't see anything for them to object to. The Logo is in a similar situation. Agent c 20:17, January 24, 2012 (UTC)
Thank you!
Edit
For your vote, it is appreciated! I shall rule chat with an iron fi... um, with grace and fairness! Thanks again for the faith in me, I shall do my best to make sure you didn't make the wrong choice TPA! Loves <3

"Even In Death May You Be Triumphant" 11:14, January 27, 2012 (UTC)
Every other week. Why the interest?

Skål! 22:17, February 2, 2012 (UTC)
Ah! Yes, I decided to make it every other weekend since I am now starting to introduce second parties and I'm also taking into consideration the time everyone might need and larger challenges I might implement. Skål! 23:01, February 2, 2012 (UTC)

I plan on making SNM quite large. ;) While some users don't appreciate such a concept, (For instance the Mystery Polls had more views/comments/votes because it was simpler and more to the point.) I really do hope this helps brings the community closer though. That's the whole reason for involving as many people as possible and the interviews. Let me know if you have any ideas! Skål! 23:09, February 2, 2012 (UTC)

Yeah, when's my interview!

κηδεμόνας

[~μιλώ~]

23:16, February 2, 2012 (UTC)

Take part in the SNM competition and you'll have a chance at getting that interview. ;) Skål! 23:18, February 2, 2012 (UTC)

Glad to hear you're enjoying it then! It's just a shame that it doesn't seem many people are interested in it quite yet. Skål! 23:44, February 2, 2012 (UTC)

I can understand that. I can't really expect much anyways since the split and the fact that nothing new is really going on in the Fallout universe right now. :P Skål! 23:49, February 2, 2012 (UTC)
Your revert
Edit
Wasteland omelet restores a total of 720 health. Black blood sausage heals up to 700 and also increases your overall health by 25. BBS has WO beat by 5 health.

Skål! 08:30, February 3, 2012 (UTC)
Let me re-write this a little then. Skål! 08:32, February 3, 2012 (UTC)
Who shall win?
Edit
I was wondering when those two would finally be at each others throats. ;D I have a rubber doll on Tiddly Winks the bear!

Skål! 09:40, February 3, 2012 (UTC)
Templates seminar
Edit
Yesterday I (and I think everyone here) received an invitation for a seminar about templates, next Friday. We have a forum thread about that now, so I know there is interest. I hope you have signed up for it. Jspoel

14:19, February 7, 2012 (UTC)
If you don't have time upcoming Friday, soon after the live presentation, this webinar will be added to the community central page. Then you can view it in your own time. Jspoel 21:40, February 7, 2012 (UTC)
David Anthony Pizzuto
Edit
I have information that the person who gave voice to Lily Bowen, David Anthony Pizzuto, has passed away. Would you look into the matter? MysteryStranger: Trust in the power of Infinity! 13:36, February 17, 2012 (UTC)
I noted it on the Vault. Here is a link. MysteryStranger: Trust in the power of Infinity! 17:20, February 17, 2012 (UTC)

Could you do it? I don't think I'm into that kind of reportage. MysteryStranger: Trust in the power of Infinity! 17:26, February 17, 2012 (UTC)

Great! Thanks. MysteryStranger: Trust in the power of Infinity! 17:33, February 17, 2012 (UTC)
While your entry didn't make it into the top 3, I would like to extend my appreciation towards your interest and the work you put into your wasteland tale. You put a lot of effort into your entry and did a lot of research, and if it weren't for the fact that it was still a work in progress, it would have easily earned itself a winning position, in my opinion. I hope you continue to add onto it though, (I'll be keeping an eye out on it) and I really hope to see you in future challenges at the Strategic Nuclear Moose. See you around, my friend.

Skål! 09:34, February 18, 2012 (UTC)
Just make sure to keep me informed whenever you make any additions! I know what you mean though. I haven't been able to progress my own wishlist and story for awhile either. Sometimes you just have to be in a certain type of mood to get the juices flowing, I suppose. Skål! 09:40, February 18, 2012 (UTC)
Wasteland Map
Edit
Hi Apey. I became terrible bored here down under, due to lack of kangaroos to box and shortage of shrimp to barbecue. So, I came across your Wasteland Tales story, what with the map and all, and I thought I'd make you a new map. Not that there's anything wrong with the one you made; it's just that such a nice story needs a map to match.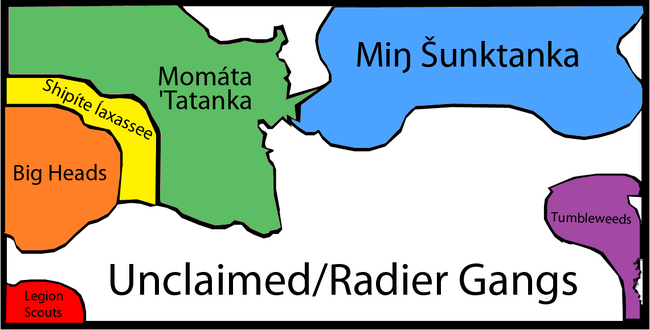 Don't feel obliged to use it if you don't want to, it didn't take all that long to make. But, it's there if you want it. Anyway, see you round, Apes.


10:53, February 21, 2012 (UTC)
Fallout 3 locations
Edit
Well there are many Fallout 3 locations that need to be de-capped. I just made a mistake in this one, sorry. MysteryStranger: Trust in the power of Infinity! 09:53, February 25, 2012 (UTC)
Haha, that's one way of putting it, abomination. Looks like you're not in favor of it then, right? It's called the expanded navigation bar (see Forum:Expanded wiki navigation). I activated it in the wiki features a few days ago. Personally, I think it looks a bit better than the old one with more options and more color (I like green), but you can't access recent changes in 1 click. So that's a downside. I think it deserves a fair chance, 2 weeks trial run or so. Then we'll probably have a vote on it. Jspoel

14:41, March 5, 2012 (UTC)
I just created a forum thread where people can vote for it! Jspoel 20:34, March 22, 2012 (UTC)
Fallout: New Vegas creatures project finished
Edit
Fallout 3 creatures project finished
Edit
Present 2
Edit
You have been given A year's free subscription to the Nukapedia News Digest..

Your efforts and diligence have not gone unnoticed, and you have been given a small token of appreciation.

For providing a news tip to the Nukapedia News Digest Agent c

12:41, March 16, 2012 (UTC)
Oh you didn't have to delete it... Nevermind. Agent c 21:50, April 15, 2012 (UTC)
Vandal rush inbound
Edit
Hello Trailer. I wanted to inform you that there are some large amount of trolls attacking and targeting large wikis, such as CoD and MLP. They're from a certain website and they might attack Nukapedia next. Just informing you.
"Game's rigged from the start."
Food Additive
Edit
That's.... very odd. Let me check through the history and find out who broke what.

Skål! 17:32, June 28, 2012 (UTC)
Messed up pages
Edit
We're aware of the problem of the expression errors on pages and it has been reported to Wikia. It's on all pages with an infobox. They're working on it I hope. Jspoel

17:33, June 28, 2012 (UTC)
Interview Time
Edit
Can you come to the chat? Energy X ∞ 20:28, September 30, 2012 (UTC)
Fallout: Apprentice
Edit
Hey, TPA! I was wondering if you would like to upload an electronic signature? I am currently creating the Grand Prize for Chad's Fallout: Apprentice, and I am wanting to create a plaque that has all of the consenting leadership's signatures and thanks on it!

Some Assembly Required! 14:26, October 15, 2012 (UTC)
Permaban reviews
Edit
I'd like to get your input on Forum:Vote:_Permaban_Reviews, if you could. I've extended the vote for a day, as I feel it's a very important decision that will effect how we deal with bans. Please add your views if you could. The Gunny  

17:24, October 20, 2012 (UTC)
Notable content
Edit
Give this forum update a read. Let me know what you think about what if anything should be added back into notable loot? The Gunny  

20:47, November 5, 2012 (UTC)
Inactivity
Edit
Hey, TPA! Due to a recent topic I brought up in which I hope to start setting a precedent soon, I'm going ahead and asking those with special rights that have become fairly or entirely inactive throughout the past year if they plan on either stepping down, or becoming active again sometime in the near future In your case, I have noticed your occasional activity in the chat-room, and so I was wondering if you'd be more comfortable in a Chat Moderator position until the time comes that you feel comfortable again with Administrative duties.
I do want to make one thing clear: I appreciate everything that you've done for us, and I'm not trying to depreciate your work by asking for your intentions. It is my hope that you won't take offense at my request; a few of us are simply looking at the growing number of inactive Special Rights holders, and we are looking to bring that number down some so we have a clearer picture of what our wiki needs in expertise, as well as keeping our Special Rights list as concise as possible for editors looking for help from their Administration.
Hope to hear back from you soon. Until then, I hope you have a wonderful New Year, and I'll be looking forward to the next time I can catch you on chat/Steam. :D

Some Assembly Required! 23:15, January 1, 2014 (UTC)
Hi TPA, I just want to make it clear that Leon does not speak for the administrative team on this issue. No official change to policy has been agreed. I hope you can continue to contribute. Agent c (talk) 22:51, January 4, 2014 (UTC)

lol Chad, I would have thought that the conversation Al and I were having would have been enough for you. Anyways, thank you for the reply, TPA! I really am looking forward to the day we can start seeing your name again around the wiki. :) As for your rights, my message to you was merely a formality, to see if you'd be more comfortable stepping down, or if we could possibly motivate you to come back to us! Anyways, glad to hear you have a good New Year, and hopefully we'll talk again soon. Some Assembly Required! 23:01, January 4, 2014 (UTC)
Hello bureaucrat, admin, moderator, chat mod, or patroller!
Can you please take a look at this forum and voice any opinion you may have.
Thank you
69.l25 (talk) 00:22, January 22, 2014 (UTC)
Admin rights
Edit
I see you're saying goodbye to the wiki due to real life issues. Are you ok with me removing your rights? Otherwise you can consider this a notice of inactivity for 9 months and you'll have a month to become active again. Let me know. Good luck in college! Jspoel

13:59, February 5, 2014 (UTC)
Greetings
Edit
It's always good to see a familiar face editing again! Welcome back!---bleep196- (talk) 16:27, June 3, 2015 (UTC)
Not a whole lot has changed on the editing front, pretty much all the coding is still the same. We've implemented some new policies, especially some major changes in terms of bugs and citing but you will catch onto those fast. ---bleep196- (talk) 23:57, June 3, 2015 (UTC)
Wikia's forced addition of videos to the wiki
Edit
Hello, I realise you may not have edited the wiki, or even visited us in a while. We do miss you, and I apologise for contacting you with a request for help… but we do need it, and there's not much you need to do to help us.
As you may be aware, Wikia/Fandom have added a number of videos to pages on the wiki that they have self authored. Although the consensus view so far seems to be that these are not to our standards, I encourage you to view these for yourself and make up your own mind.
You can find a link to all the videos, and a petition I would like you to consider here. If you believe that these videos do not meet our standards, detract from the wiki, and should be removed, I encourage you to vote yes on this petition. You are of course welcome to vote no if you do not believe this is the case.
Thank you for your consideration. Agent c (talk) 21:24, September 7, 2017 (UTC)
Removed admin protection now. Good to see you again. Agent c (talk) 18:45, August 19, 2018 (UTC)
Well, we're voting over leaving wikia here. I stood down as crat, Richie stood up, some old problems are back, some old problems have new faces. But mostly same old same old. Agent c (talk) 18:51, August 19, 2018 (UTC)
Community content is available under
CC-BY-SA
unless otherwise noted.