Welcome to The Vault!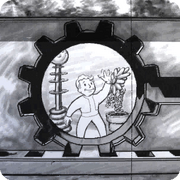 Hello, Tiwuno, and welcome to The Vault, the Fallout wiki! Thank you for your contributions, and we hope you'll stay with us and make many more.
Some links you may find useful:
If you have questions, you can ask in our forums, join the live chat in our IRC channel or post a message on my talk page. We hope you enjoy editing here and look forward to working with you!
Mister Handy
Edit
You can change the Mister Handies to Mister Handys. Seems to be the correct plural. Jspoel

00:26, December 3, 2015 (UTC)
Thanks. Should I go ahead and change the Mister Gutsy and Miss Nanny pages also? I've already had one person telling me it's incorrect. :P Tiwuno (talk) 01:00, December 3, 2015 (UTC)

Mister Gutsies are referred to that as a plural in an FNV terminal in Nipton. Great Mara (talk) 01:02, December 3, 2015 (UTC)

True, Mara, but lots of terminal entries use incorrect grammar. Since our site is in English, shouldn't we also follow the rules of pluralizing English proper pronouns? Tiwuno (talk) 01:27, December 3, 2015 (UTC)

I didn't know (or remember) about that terminal entry in Nipton. In that case we follow game spelling and it should stay -ies instead -ys then I think. Jspoel 01:31, December 3, 2015 (UTC)
Playstation
Edit
That one doesn't have the 4 added to it. The current one does. Jspoel

19:14, December 7, 2015 (UTC)
Community content is available under
CC-BY-SA
unless otherwise noted.