Welcome to The Vault!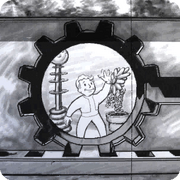 Hello, Tim to the Adams, and welcome to The Vault, the Fallout wiki! Thank you for your contributions, and we hope you'll stay with us and make many more.
Some links you may find useful:
If you have questions, you can ask in our forums, join the live chat in our IRC channel or post a message on my talk page. We hope you enjoy editing here and look forward to working with you!
sign your posts
Edit
Please sign your posts on talk pages.I'm on a BlackBerry and I can sign, so you can sign too. As far as Love and Hate being flagged, flagged in what way? --Kris

04:21, August 3, 2011 (UTC)
Your quest edits
Edit
Stop linking characters and then unlink them again. Any more of this and you're likely to get blocked. Jspoel

16:50, August 3, 2011 (UTC)
Here you removed the Intelligence link and added it again one edit later.
This is too much. There is no doubt in my mind that you are achievement boosting. You made thirteen edits to Old World Blues (quest) when it would have only taken about 2 or so. When you were changing "tje [;auer" to "the player", you deliberately changed one letter at a time until the problem was fixed: a total of four edits that could have been done in one. You also purposefully removed and re-added periods to the page. There was also linking and unlinking being done to Klein on He Came... And Went. Enjoy your three day block from The Vault. --Kastera (talk) 17:35, August 3, 2011 (UTC)
you said you've got all the achievements for f03 ANd new vegas... i only need 2 more for new vegas. any tips on caravan?
You have been blocked yet again for achievement boosting. Your continued violation of standard editing protocol means that you did not read our policies. Please review the policies and change your style of editing. Thanks.--Kingclyde 00:40, August 7, 2011 (UTC)
You should already be unbanned. Please also sign your posts on the talk pages.--Kingclyde 04:49, August 21, 2011 (UTC)

When you edit a talk page, there is a tool bar above the text area. The fifth button from the right is the signature button. Mouse over it and you will see it. You were banned for achievement boosting. When you edit an article, just try and make all of your edits at one time. If you want to add links, go through the whole page and do it as one edit.--Kingclyde 05:14, August 21, 2011 (UTC)
Achievement boosting
Edit
Some of your edits are looking suspicious, watch yourself. --


05:48, August 21, 2011 (UTC)
Let's start a Riot!!!
Edit
It looks good so far. As for the images, they will get done in due time. Unfortunately, they are images that take the longest to make, and will probably be done last by either me or Jspoelstra. With the images in the sig, you just need to go to preferences and create a custom sig there using wiki code for the image.

21:28, September 22, 2011 (UTC)
Well if you click edit you will see the code I use for mine below;
You will need something like this for yourself, just simply replace the user name for your own. Also the image as well, this has to be uploaded to the Wikia. To add it as your sig (once you have your own code), go to Special:Preferences, half way down the page is the sig section. Now just tick the custom sig option and paste your code into the box and hit save. You should be all done.
I caught your message to GhostAvatar and thought ah, let me make someone happy. And of course, LR images do have high priority. Takes some time, but the quality's worth it. I'll upload the last riot gear (advanced) in a bit. Jspoel 23:12, September 22, 2011 (UTC)
Custom signature
Edit
To make an image link to your talkpage, first you need to upload an image (for example tim.jpg) and link it to your talkpage when you code you signature in the signature box of your user profile (My preferences, top right corner). Then you can code it like this: [[User:Tim to the Adams|Tim to the Adams]] [[file:tim.jpg|link=user_talk:Tim to the Adams]]. After that, checkmark custom signature box to activate it. Jspoel

00:25, September 23, 2011 (UTC)
Moving Picture Boxes!!
Edit
Well I'm not sure the appropriate size, but my Avatar GIF is under 500kb. So just upload any GIF under 500kb and they should stay animated. Then link it to your User page the way I did. --Felix Brehh 22:22, September 23, 2011 (UTC)
I went old skool. I downloaded the video, and in VLC I "snapshot"'d the heck out of the part. Then I used Photoscape and added all the pictures.
VLC for the snapshots and Photoscape to make the gif. --Felix Brehh 22:45, September 23, 2011 (UTC)
Google "VLC Player" and "Photoscape" that should bring up the software. It's all free. You might need to get used to it all so no need to rush. --Felix Brehh 23:02, September 23, 2011 (UTC)
Welcome back
Edit
Actually, one of the ban option is to ban any IP used by a banned user, it's automatic =).
No problem my friend, glad to have been able to help you! Alright then, see you tomorrow and have a nice evening! Itachou [~talk~] 00:34, September 28, 2011 (UTC)
I can't find it. Maybe if you gave me an actual link to it, I could find it. --Kastera (talk) 00:15, September 30, 2011 (UTC)
Tunneler
Edit
Sorry it took so long to respond. Yeah, it defiantly looks a lot better than it did previously. Nice work

13:39, October 6, 2011 (UTC)
Add-on ideas
Edit
I'm not an admin so I lack the power to delete pages. Did you think I was an admin? -- Almighty Higgey (talk page) 23:21, October 12, 2011 (UTC)
Well, it certainly boosts my ego to think that someone believed I was an admin. :) And thanks! I just Googled something along the lines of "Vault boy sad" and there it was. Had to have it. -- Almighty Higgey (talk page) 01:46, October 14, 2011 (UTC)
No, don't add Mr. or Mrs. in front of the name. Somewhere, before I started here, it was decided that when only a last name is known, that will be the pagename. That's also for mentioned-only characters. When someone in the game already has that name, you need to be creative and add something in brackets behind it, like the game appearance or location. Jspoel

21:39, October 21, 2011 (UTC)
Printscreen
Edit
Try holding the Shift and press the Prt Scrn button. Then go to an image program like Paint and press Ctrl-P (or Paste in the menu). It should place the printscreen on the screen and you can save that. Jspoel

00:45, November 8, 2011 (UTC)
Community content is available under
CC-BY-SA
unless otherwise noted.