Hi there!
Edit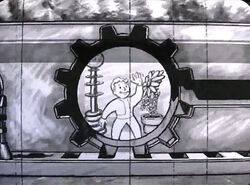 Welcome to our Fallout wiki and thank you for your contributions! I hope you'll stay with us and make many more improvements.
A little help to get you started:
I'm glad to have you here and look forward to working with you!
--
Nitpicker of the Wastes
(
Talk
) 00:26, May 2, 2010
Hey there
Edit
Hey Yoshi. How're you liking New Vegas? I got it last weekend, and I'm enjoying it. ED-E vanished on me though... Also you should see this. I'm so happy!
Frank-West
00:02, October 28, 2010 (UTC)
Yeah, I really like ED-E's battle tune, and Boone just kills almost everything, but I haven't found any other companions so far. I don't like how you only get a perk every two levels, but having a base cap of thiry is nice.
No worries. It's better because of more weapons, bigger yet still comfortably smallish environment, and better graphics (if graphics are an issue for you)/ It's worse because the story isn't as good (IMO) the character isn't NEAR as good in ANY way, and you can't select overtime mode as a seperate mode, and there's no infinity mode. Also there isn't as much cool clothing, I mean some of it is cool, just not as much. Also the psychos mostly aren't as good IMO, but some of them are phenomenal, like Brandon. Overall it's better, except those things. Oh yeah, and the loading screens are RIDICULOUS sometimes. Frank-West 00:28, October 28, 2010 (UTC)

Case West has no release date yet, unfortunately. I'm thinking it'll either come out somewhere in November or near Christmas. And yes, lots of the psychos were pretty much shadows of the old psychos. Some were original though, like Randy and Brandon. Frank-West 00:41, October 28, 2010 (UTC)

I think it's really great, but the bugs... Oh the bugs. I figure they'll patch most of 'em, they've already patched quite a few. It's basically just a huge upgrade to Fallout 3, like you said, which I like. I'm glad it's not a big change from the formula they used in Fallout 3. Overall I'm really happy with it, but I'm not very far in it yet. I'm just now getting into the strip. Frank-West 00:52, October 28, 2010 (UTC)

Yeah, definitely better than 3. I think the map's a bit smaller though, but that's not a big deal. I really love the faction quests, and the reputation, it immerses you a LOT more than Fallout 3 ever did, because there are so many more solutions to most problems, rather than 3's usual "Just kill these dudes" now you can actually explore many different paths. Anyway, I gotta go for now. I'll talk to you later. =) Frank-West 00:59, October 28, 2010 (UTC)
Capitalization
Edit
Our capitalization policy. We don't go by in-game spelling. We capitalize proper nouns and decapitalize everything else.--Gothemasticator 22:52, November 10, 2010 (UTC)
Ehhh... I guess that one is kind of a judgement call. But I land on the side of not a proper name.--Gothemasticator 00:16, November 11, 2010 (UTC)
Dino Dee-Lite hotel room
Edit
Why did you move the Appearances section to be above the Bugs section on this page? The only section that ever goes below the Appearances section is the References section. --Kris

04:36, November 21, 2010 (UTC)
Community content is available under
CC-BY-SA
unless otherwise noted.