Welcome to Nukapedia!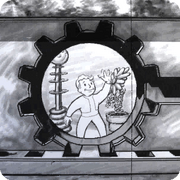 Hello, The Vault 13 Dweller, and welcome to the Fallout Wiki! Thank you for your contributions, and we hope you'll stay with us and make many more.
Some links you may find useful:
If you have questions, you can ask in our forums, join the live chat or post a message on my talk page. We hope you enjoy editing here and look forward to working with you!

I've gotten several of these. Wonder why. The Vault 13 Dweller (talk) 02:19, October 20, 2012 (UTC)
Sorry I couldnt respond in chat. Yes I did see that messaage, thank you for the sentiments. I hope to see you around for some time to come. Agent c (talk) 02:42, October 20, 2012 (UTC)
Thanks, I guess, dude. Give the people here a try, I know I didn't like a few people here before I became friends with them, but I hope to see you around, my man. Cheers,

"Semper Invictus" 02:58, November 6, 2012 (UTC)
Hi, Sory to hear you're having issues with chat. I'm disappointed that rather than tell us what the issue is, you've instead chosen to pre-judge the response you'll get. Moderators and even admins have had to justify actions to each other and the community in the past, and removal of powers and bans have followed when this has been shown to be the case. Ultimately whether or not anything comes of this right now is down to yourself; if you would like us to investigate I'll need you to tell me what happened, and see if we can get some logs. Agent c (talk) 04:11, November 6, 2012 (UTC)
Look, i'm not telling you to stop doing, because you can do what you want, plus i can't, but what you're doing lately with all the i hate this group and i like this group is not good. Someone is going to get pissed and you only get one chance and someone dislikes you for good. So keep doing it if you want, because you can, but seriously i would tone it down a bit for everyone's sake.
"Editing With Triple S Technology!" 5:21, November 6, 2012 (UTC)


Hi Vault 13 Dweller, welcome to Nukapedia, and the New User Network!
We hope you spend a lot of time around here. Sadly I can't pair you with Dead Gunner as we don't feel he's experienced enough to take a mentee at the moment, but we have plenty more experienced editors.
To help pair you with a mentor could you please let me know:
What timezone you're in, and what times you're likely to be on.
Which of the Fallout games you prefer.
If you have any specialist interest areas, or anything in specific you'd like to focus on.
What experience you have at editing
Thanks again for joining us.
Agent c
I reverted your edit because it falls under strategy. As we are a Fallout encyclopaedia, strategy does not belong in our mainspace pages. Just giving you a heads up.

nihil novi sub sole 03:43, March 26, 2013 (UTC)
Just so you're aware, it is against wiki policy to remove content from your talk page. I have reverted your removal of the content. If you have any questions, feel free to ask.

nihil novi sub sole 02:17, March 27, 2013 (UTC)
As a patroller I watch the recent edits log, which shows changes to all pages - not just articles. Any edit by a non-sysop shows up with a little red exclamation point next to it, to let us know it needs to be reviewed. It also shows the amount of text added/removed, and removed text from a talk page is an instant red flag. The recent changes page is located here should you wish to take a look at it.
I understand there may be some things on your talk page you may not wish to be there, but that is the case for many users, including myself. This wiki tries to foster a culture of openness and honesty, and removing messages tends to go against that. As such, content is not to be removed from talk pages, whether user talk pages or article talk pages. nihil novi sub sole 02:27, March 27, 2013 (UTC)
Not a problem. Feel free to let me know if you have any other questions. Happy editing! nihil novi sub sole 02:31, March 27, 2013 (UTC)
Your opinion or vote on anything is welcomed and appreciated. Just because you are new does not mean you do not matter. I will message you if/when this comes to a formal vote, if you care to contribute your opinion.

nihil novi sub sole 07:04, April 5, 2013 (UTC)
The vote is up in the forum. For your convenience, here is a link to the page. Remember, you are welcome to vote on any proposal you wish, you do not need permission to do so. Taking initiative is a good thing to see from new users. Let me know if you have any questions that I can answer. ōrdō āb chaos 22:54, April 8, 2013 (UTC)
Hi vault 13 Dweller, just wondering if there was any problem we might be able to help you with? Agent c (talk) 01:07, July 7, 2013 (UTC)
Community content is available under
CC-BY-SA
unless otherwise noted.