Line 169:
Line 169:
 

Can you be a little more specific? The first Divide was the Capital Wasteland BoS. [[User:Tocinoman|<font color= "580000" size= "+1"> ~ '''Toci''' ~ </font>]][[User talk:Tocinoman|<font color= "333300"> <sup>''Go ahead, make my day.''</sup> </font>]] 22:46, August 8, 2012 (UTC)

 

Can you be a little more specific? The first Divide was the Capital Wasteland BoS. [[User:Tocinoman|<font color= "580000" size= "+1"> ~ '''Toci''' ~ </font>]][[User talk:Tocinoman|<font color= "333300"> <sup>''Go ahead, make my day.''</sup> </font>]] 22:46, August 8, 2012 (UTC)

 

:It's too broad. Bring it to something specific. [[User:Tocinoman|<font color= "580000" size= "+1"> ~ '''Toci''' ~ </font>]][[User talk:Tocinoman|<font color= "333300"> <sup>''Go ahead, make my day.''</sup> </font>]] 23:29, August 8, 2012 (UTC)

 

:It's too broad. Bring it to something specific. [[User:Tocinoman|<font color= "580000" size= "+1"> ~ '''Toci''' ~ </font>]][[User talk:Tocinoman|<font color= "333300"> <sup>''Go ahead, make my day.''</sup> </font>]] 23:29, August 8, 2012 (UTC)

 
+
 
+

== Keller Family Refuge ==

 
+
 
+

Actually, the Victory Rifle is in the sniper shack, but that information is irrelevant to the quest, so it's still good that you removed it. [[User:TheShotgunShogun|TheShotgunShogun]] ([[User talk:TheShotgunShogun|talk]]) 16:34, August 24, 2012 (UTC)
---
Revision as of 16:34, 24 August 2012
Welcome to Nukapedia!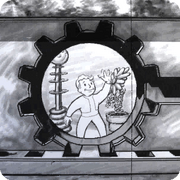 Hello, The Nuclear King, and welcome to the Fallout Wiki! Thank you for your contributions, and we hope you'll stay with us and make many more.
Some links you may find useful:
If you have questions, you can ask in our forums, join the live chat or post a message on my talk page. We hope you enjoy editing here and look forward to working with you!
Karma Values
Are taken from the GECK editor for the games. Just to confirm, are you using the GECK to check the Karma values?

Message 03:50, May 13, 2012 (UTC)
Pipgirl
Just letting you know that Pipgirl has been indefinitely banned here at Nukapedia. That, and he's not a girl. :')

Skål! 07:21, May 19, 2012 (UTC)
Seriously? wow...oh well none of my business then.
Edits
Why is it that you make these odd edits, like periods or the word "note," and then immediately revert them? Paladin117>>iff bored; 04:06, May 27, 2012 (UTC)
Congratulations!
After looking through your edit history, I have decided to give you a 3-day ban, explanation or not. Your recent edits here have been unsightly unnecessary and unprofessional, and strongly supports an achievement boosting motive. If you are having trouble editing pages here, I would advise for you to join our New User's Network where experienced users can help you learn the ropes. Please take this time off as a learning experience, and I hope to see you here afterwords making more productive edits. Thank you and have a nice day/night.
A present, just for you!
Because of your actions, the Enclave Administration has either banished you from chat, or you've been banished from this wiki entirely. Please read up on our chat rules & our policies and guidelines. The responsibility of knowing how long your banishment is and when to come back is solely on you.
Ban Length & Reason:
3-day ban for adding nonsense to pages just to revert his changes shortly after.
If you have any questions and/or concerns after your banishment, feel free to express them on my talk-page. Alternatively, you can leave a message for any of our active administrators or moderators.




Skål! 04:19, May 27, 2012 (UTC)
Regarding your previous ban:
If you truly mean that, then I appreciate your maturity and understanding of the situation. I hope to see quality edits from you in the future, and just let me or another experienced user know if you have any questions. Have a good one.

Skål! 19:46, June 1, 2012 (UTC)
Will do! --The Nuclear King 22:24, June 1, 2012 (UTC)
Talk page
Policy states you're not allowed to blank user talk pages. Paladin117>>iff bored; 05:18, June 4, 2012 (UTC)
I know; my bad... --The Nuclear King 02:40, June 5, 2012 (UTC)
Lions
Haha yeah, I'm a huge Lions fan. Why you ask? Are you one too? :P

Hawk da Barber 2012 05:29, June 6, 2012 (UTC)
No, but we might have something in common, I hate the Packers. --The Nuclear King 08:22, June 6, 2012 (UTC)
Glad to see the Lions doin' good (imma dolphins fan...don't laugh) --The Nuclear King 20:00, June 6, 2012 (UTC)
Strategy
Hello The Nuclear King for individual notice templates, thank you for your recent edit here at Nukapedia. I just wanted to drop you a quick note to let you know that we don't include gameplay strategy on article pages. All content needs to be objective. Thanks again. You should completely familiarize yourself with Nukapedia's policies and guidelines if you have not yet done so.
MS: Destiny conquers all. 10:51, June 14, 2012 (UTC)
Oh sorry 'bout that. I didn't know. --The Nuclear King 10:53, June 14, 2012 (UTC)
o its fine Pittsburgh is a good place.TheHouseAlwaysWins
Rotson
First check the GECK, then change the Karma if needed. Rotson's Karma is good, not neutral. Jspoel

16:30, June 14, 2012 (UTC)
Oh, sorry 'bout that. Forgot 'bout the GECK.
Hole
Might be something in that. Lemmie have a think about it. Agent c 22:01, June 18, 2012 (UTC)
Alright, cool! --The Nuclear King 22:02, June 18, 2012 (UTC)
Name change
Yes, I was. You can read it on Agent c's News Digest. Energy X 21:39, June 22, 2012 (UTC)
Lucy West
Earlier you changed Rotson's karma, now you're doing it again with Lucy West. Like I said before, don't change it if you're not sure. Check the GECK. Jspoel

18:20, June 23, 2012 (UTC)
Sorry I know its in the GECK, but it doesn't make any sense like Andy Stahl and Doc Church's karma is Good, but hers isn't. I'll be more accurate next time.
Sig
It's a dragon cursor. :) The original product would follow your mouse around wherever you moved it. Turns out it makes a great sig as well.

Skål! 22:15, June 24, 2012 (UTC)
Pic of Spade
Thanks! It's just my personal little logo thing...
Germany flag
I've restored the flag of Germany, so now it's on your profile page and also on the Germany page. Jspoel

00:43, June 30, 2012 (UTC)
Thank you :)
Nuka-Cola
Where exactly did you get this Nuka-Cola logo from? It looks different than the normal logo. Paladin117>>iff bored; 05:15, June 30, 2012 (UTC)
I image searched it. If its incorrect I'll remove it if you want me to.
I found it, on this site. I'm not an image expert, but I don't know if a fan's art design (and I'm assuming you took it without their knowledge) is the best image for that page. However, I am a bit unsure. Paladin117>>iff bored; 05:29, June 30, 2012 (UTC)
Ok then I'll remove it.
I saw where you found the Nuka Cola logo from my blog, Wasteland Crafting. You're right that it's not exactly the same as the official logo. I drew it based off another design I saw somewhere. But I just wanted to let you know you're free to use the image from my blog anywhere you like. All my images are free from restrictions. All I ask is that you post a link to my blog to indicate where you got the images. Thanks. Wastelandcrafting (talk) 14:58, July 23, 2012 (UTC)Greg, Wasteland Crafting
Poll ideas
Hi there, thanks for the suggestions!
My only problem with the first idea is that it's only two choices, Werner and Ashur. I like to give variety, makes for more interesting polls. However, that second idea is intriguing...
Favourite Fallout: New Vegas location:
Mojave Wasteland
Big MT
The Divide
Sierra Madre
Zion Valley
That's... that's a real damn good idea. Thanks for that, I'll be sure to use it! Perhaps I might bump it up the list of suggestions, showcase it next week. Thanks, man!

10:03, July 1, 2012 (UTC)
Clearly anyone that doesn't answer Big MT is a fool :p

"Even In Death May You Be Triumphant" 23:58, July 2, 2012 (UTC)
Super mutant
It's understandable you removed that note because the verification was overdue. But I think you removed that note without actually testing it yourself, so a legit bug could be removed. When you check you Category:Verification overdue you can read SD'd remark about that. For the future, only remove bugs in that category if you verified them and they're not true. Jspoel

21:37, July 19, 2012 (UTC)
Van Buren
Hey Nuclear, I undid your edit on Diana Stone because we don't alter any info on Van Buren character pages because it comes from the design documents, which means the character page has to stay true with the design document, as well with your Davidson edit. He has 0 karma which would translate to Neutral (I think) but we have to put 0 because that's what the design document says. With ZAX, almost every single piece of info is notable as, there isn't much info to start off with. Thanks for understanding, if you have questions please feel free to ask.

Hawk da Barber 2012 - BSHU Graduate 06:38, July 20, 2012 (UTC)
Image deletion
Moderators can't delete things. Only admins. :P ~ Toci ~ Go ahead, make my day. 10:24, July 30, 2012 (UTC)
RE: Present
Many thanks! Technically, the presents can be sent for anything, but the less of them that are sent make them worth more. I just wish the next one won't be an animal! XD, I got a zoo going on over here!
Any way, see you around. --The Ever Ruler (talk) 23:23, July 31, 2012 (UTC)
Re: Divide idea
Can you be a little more specific? The first Divide was the Capital Wasteland BoS. ~ Toci ~ Go ahead, make my day. 22:46, August 8, 2012 (UTC)
Keller Family Refuge
Actually, the Victory Rifle is in the sniper shack, but that information is irrelevant to the quest, so it's still good that you removed it. TheShotgunShogun (talk) 16:34, August 24, 2012 (UTC)
Community content is available under
CC-BY-SA
unless otherwise noted.