Welcome to The Vault!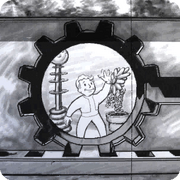 Hello, XxSick DemonxX, and welcome to The Vault, the Fallout wiki! Thank you for your contributions, and we hope you'll stay with us and make many more.
Some links you may find useful:
If you have questions, you can ask in our forums, join the live chat in our IRC channel or post a message on my talk page. We hope you enjoy editing here and look forward to working with you!
Commisary terminals
They would go under world objects section.

17:34, September 22, 2011 (UTC)
Videos
I am in the process of removing videos that do not match the video policy. Yours in one of those vids. Please link your video as outlined in the policy. Thanks. --Kingclyde 20:36, October 23, 2011 (UTC)
Please utilize the following code to embed the videos versus uploading them. Thanks. Help:YouTube extension --Kingclyde 06:07, October 24, 2011 (UTC)
I've removed some red linked videos and let one embedded example remain. You can use that example to add some more. Jspoel 17:26, October 24, 2011 (UTC)
Fallout North Texas
Based on your comment to Leea's polls, sounds like you're a North Texan as well. Always nice to see another Tex around here. If you ever want to talk on the subject of Fallout in Dallas, just message my talk page, or visit my server if you have Minecraft. Suggestions for the server are always welcome. :) NomadMC (talk) 13:07, April 23, 2017 (UTC)
Discord Verification
Verified
Fandom videos
Hi wolf,
I didn't want you to think I had forgotten your questions on This blog. I'm actually working an FAQ using the things you have put forward in comments as part of its formation on Exodus. It will be a slow growing FAQ, as there are questions coming in all the time, but feel free to drop me a talkpage message if there is something you want adding in. Sakaratte - Talk to the catmin 20:34, June 8, 2018 (UTC)
I completely forgot about the login requirement on that site. I'll release the login requirement when we are ready to reveal the FAQ completely. I'll have a word with Agent c later and see if he wants to lift it now. That way we can get started with showcasing things.
As for the forum, that is a bit of a work in progress. We are trying to hook it into mediawiki so it is one login for everything at least that is the plan in the long term. Sakaratte - Talk to the catmin 10:19, June 9, 2018 (UTC)
Re:Discussions
I've had problems like that before, but it sounds like you've already gone through all the steps I would've suggested. Last time it happened to me, I manually entered the URL for signing out (www.wikia.com/logout) and then signed in as normal and it was fixed. Although, the problem seemed to be caused by me changing my password. Paladin117>>iff bored; 12:16, June 27, 2018 (UTC)
Nukapedia and Fandom/Wikia talks
Hi,
Apologies for the impersonal nature of this message, as I'm relaying the same thing to admins and people who have previously expressed a view on featured video. Forgive me if I tell you some things you already know.
We have a call scheduled with Wikia this Friday. We need your input - and the input from as many others as possible. We're hoping to settle once and for all what our relationship is, if it can be salvaged, and what the future should be, as until we settle these featured video can't be settled.
Please, have a look at this forum and tell us what you think.
In addition to looking at our own future hosting option, we've also been in talks with other hosts. Included in these is Gamepedia/Curse. We have an ongoing dialogue with them, and if you have any questions about a possible unification to the vault, please do let me know and I'll relay any similar response we've had, and if your question is a first, I'll ask the question.
Thanks again. Remember, War never changes. Agent c (talk) 21:05, July 2, 2018 (UTC)
Janaschi
Thanks for letting me know. Reading through what he left you there, I'm inclined to leave it be for the time being. Our main issue with Janaschi hasn't been to do with a bias based on the past as he feels it may be, but about having all the facts and questions being asked through a single route. 3 have spoken with at least 4 different members of staff over these last few weeks and if the member of staff Janaschi is talking to isn't part of the talks, the answers might be different for the thoughts of those who are involved.
That said, anyone is free to go source their own information. I suspect the staff member in question is Tagaziel, who has been indirectly involved in the discussions. I'd recommend going to him directly with questions if you want to receive some answers directly about points discussed. Sakaratte - Talk to the catmin 09:12, July 13, 2018 (UTC)
Poll Commenters' Awards Nomination
- Pardon the automatic message format.
You have been nominated for one or more categories in the Poll Commenters' Awards. You can accept the nomination(s) here, if you wish to do so.
Thank you for your time, and good luck in the awards! |\| () |\/| /\ |) | Talk | Discord | NMC 15:20, July 22, 2018 (UTC)
Message from Milkdud1
Понял? Конечно, нет. На самом деле нет оправдания для заполнения двух с половиной часов фильма с такой ненужной экспозицией. Но вы несете это, потому что множество штук настолько неактуальны. Там круиз, явно имея время своей жизни, прыгая над этими лондонскими крышами, ставя педаль на металл сквозь кривые смерти улиц Парижа, дергая его с головами в ванной ночного клуба, прыгая с парашютом из транспортного самолета на высоте 25 000 футов гроза или пилотирование вертолета из смертельной спирали, что делает IMAX предпочтительным способом просмотра этого фильма. Ходят слухи, что Fallout может стать последней большой миссией: Невозможно получить. Если так, то, по крайней мере, Круиз, который начал эту серию супер-размерных блокбастеров, работающих на адреналине 22 года назад, идет в пылу славы??
FO4 Alien Polls
Seems like there's more questions possible here too. Probably two questions actually.
Hypothetical question 1: Is it okay to fight the alien? (rough idea)
Hypothetical question 2: Do you think that the aliens should have been attacking earth by now en masse?
Of course, will look more into possible ideas and refining exactly what initial responses would be used and all that. |\| () |\/| /\ |) | Talk | Discord | NMC 01:05, August 6, 2018 (UTC)
That sounds good as a start, I may modify it (and I'll probably post it next week, not today, as I have to do the Finals first), but overall sounds good to me. Thanks for summarizing it. Also: To summarize politics, in addition to Saka, Agent C stepped down as well, and the full vote on moving is heading strongly towards doing nothing. |\| () |\/| /\ |) | Talk | Discord | NMC 04:18, August 10, 2018 (UTC)
Nukapedian of the Year Nomination
Hey Dyre. I wanted to let you know I nominated you for Nukapedian of the year and, if you accept, leave a reply to my comment letting everyone know that ya accept. Sorry I left the nomination 20 hours ago so I apologize for letting you know this long after. https://fallout.wikia.com/wiki/User_blog:Peace%27n_Hugs/Nukapedian_of_the_Year_(2018)_stage_1 Autumn (talk) 20:44, November 28, 2018 (UTC)

Of course. You definitely deserve it. Autumn (talk) 01:47, November 29, 2018 (UTC)
NOTY 2018
Really, thanks a lot for nominating me mate, it means a lot. And thanks for the continued support. Good luck to you in the NOTY as well! |\| () |\/| /\ |) | Talk | Discord | NMC 02:56, December 12, 2018 (UTC)
NOTY2018
Hey! Hosting is done with pleasure :) ! I've added the text, if you would like to have it changed or replaced later on, you can still ask me :) Good luck! - Greets Peace'n Hugs (talk) (blog) 18:21, December 12, 2018 (UTC)
Nukapedian of the Year 2018
Congratulations on being the runner-up Nukapedian of the Year 2018! - Greets Peace'n Hugs (talk) (blog) 17:51, January 1, 2019 (UTC)