Welcome to Nukapedia!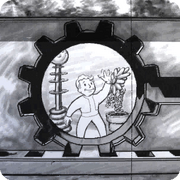 Hello, The Leaping Eagle, and welcome to the Fallout Wiki! Thank you for your contributions, and we hope you'll stay with us and make many more.
Some links you may find useful:
If you have questions, you can ask in our forums, join the live chat or post a message on my talk page. We hope you enjoy editing here and look forward to working with you!
Weapon sound replays
Edit
Hi. I have relayed your question to another admin who has more experience in the area. You should expect a response from him shortly. SigmaDelta54 (Talk) 14:48, April 21, 2012 (UTC)
Okay, thank you!--The Leaping Eagle 14:49, April 21, 2012 (UTC)
I've tried it and both weapon sounds work fine here. Have you installed Java? If you don't have that installed it doesn't work. You can find it on java.com. Jspoel 14:54, April 21, 2012 (UTC)
Tried them both again, they both worked fine this time, I guess sometimes they work and sometimes they won't. Sorry for wasting your time.--The Leaping Eagle 14:57, April 21, 2012 (UTC)
Holotapes
Edit
That's an idea, except I can't find the soundfiles in the extracted .bsa files. Do you know where to find them? Jspoel

16:03, April 22, 2012 (UTC)
Laser rifle
Edit
Ok, thanks for letting me know. I've changed the soundfile to the FNV laser rifle sound. If you find more, let me know, ok? Jspoel

16:11, May 15, 2012 (UTC)
To tell the truth I don't seem to find much to edit here. Then last week I decided enough's enough and started editing there. Though there are some things that I don't seem to understand why is this and why is that there (unlike here), I'll still edit there (too bad I didn't join when having TES IV: Oblivion).
You have been chosen to write this week's VIP comment for the Hole. Practically, you just need to write a couple of sentences for whom you support, here, below, so that I can put it in the blog. This week, Jingwei and Chase battle. Energy X 21:28, September 9, 2014 (UTC)
Apologies for the delay. I was/am pretty sick, so I had to take an early night. Anyway, here is my commentary:
As much as I love the good old US of A, I will have to give Jingwei my support. General Chase is merely a tactician, and probably hasn't been in heavy combat for years. Jingwei, on the other hand, fights alongside his men, and keeps himself in the action. Of course, I'm sure Chase wouldn't go down without a fight, and it sure would be interesting to watch. With all that's said and done though, Jingwei's got a pretty kick-ass sword, right? Probably the closest we'll get to seeing lightsabers in Fallout. Zoom.
The Crimson Eagle (talk) 14:46, September 10, 2014 (UTC)
All right, the comment was added. Energy X 22:05, September 10, 2014 (UTC)
Brian Richter
Edit
I'm honestly not sure why Great Mara saw you new edit as as edit warring as the change was different to the one before, I have come to discuss the note though. Your second change was pretty on the mark with eliminating The Commonwealth to add the character names was fairly on the mark, so I have blended your change of using names with the reference to this being unusual for characters who have origins in the Capital Wasteland. I haven't gone with all 3 names as I am not 100% as to if Danse and Deacon encountered the Enclave during their time there (we don't know if they left or arrived in the capital before/after the Enclave's residence). It should address the lack of reaction sufficiently now, but if you want to make further tweaks, feel free to do so without referring to myself first (unless you want to remove the whole note). Sakaratte - Talk to the cat 04:27, May 21, 2017 (UTC)
Edit warring was the farthest thing from my mind. I was simply trying to reach a middle-ground between the two of us, so I'm glad you see it the same way. I like what you've done, however, so I see no need to change it. As an aside, Danse would likely have encountered the Enclave. His mentor was killed at Adams Air Force Base, so on the off chance that he didn't actually fight them, he should at least recognise what the Enclave are. Still though, I'm glad we sorted it out, and thanks for opening dialogue with me. It's much appreciated. --The Crimson Eagle (talk) 16:40, May 21, 2017 (UTC)

It's a good thing I spotted this sooner rather than later, the message got buried under a flood of edits I was making. Mara probably has a stricter opinion on the definition of edit warring to me, your change wasn't similar or identical to the one you made prior (which is my definition), but acknowledged the reason why and expanded on the direction I took.
I must have missed the discussion about Adams, granted I never played with Danse much though. MacCready was the most abvious choice as he features in both games, but any would have done really. Sakaratte - Talk to the cat 17:29, May 21, 2017 (UTC)
Community content is available under
CC-BY-SA
unless otherwise noted.