Welcome to The Vault!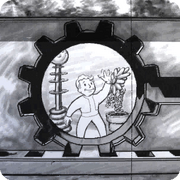 Hello, Temguru, and welcome to The Vault, the Fallout wiki! Thank you for your contributions, and we hope you'll stay with us and make many more.
Some links you may find useful:
If you have questions, you can ask in our forums, join the live chat or post a message on my talk page. We hope you enjoy editing here and look forward to working with you!
Limmiegirl-Itachou
Don't know you but I wanted to tell you something. I come on this wiki from time to time and I saw some of the work of Itachou. It is one of the most respected people here. I don't know Limmiegirl so I'm neutral about her.
If you saw the whole discussion, Limmiegirl start the flame and Itachou never wanted to ban her. Threaten to ban her for something that doesn't respect the rules and to try to avoid a next flame from her is reasonable if you ask me, it was like a warning. I don't like people talking about others behind their backs, like Yes-Man I think it's just disgraceful. Light-Revan 03:08, November 6, 2011 (UTC)
I'm not wasting my time arguing about this with people who clearly dont get what I'm saying. You think Limmiegirl was wrong? You think its actually her fault, and that Itachou wasn't being over defensive and dickish? Well, its your right to be misguided and ignorant, but I'm not buying it.
This is the end of it. I have more important things to do than explain color to the blind.
It's time to grow up and see things as they are and not as you would like. Limmiegirl start the flame (that something against the rules = Blog comments - Don't flame) and Itachou replied. The rest doesn't matter, both have argued their views with conviction (Limmiegirl sound more aggressive than Itachou to me - designating him as a "paranoid brat with a chip on his shoulder" and "deeply disappointed at you both as an administrator and as a person", wanted to get him riled up for nothing since he used gender-neutral pronouns).
If Limmiegirl had not said anything, and therefore doesn't broke the rules, this story would never have existed. Think about this. Light-Revan 15:13, November 6, 2011 (UTC)
Community content is available under
CC-BY-SA
unless otherwise noted.