---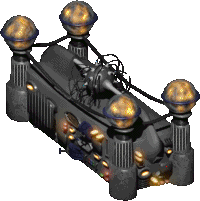 Click the computer to leave a message!
---
Yes, it's been a long while. Hope you're doing well. I'm in Discord chat at the moment, I assume you have an account there. We can talk there if you still have time. Otherwise, tomorrow at an earlier time, check for me there then, ok? Jspoel

20:05, August 13, 2019 (UTC)
I'm in Discord now, for another hour and a half or so I think. Probably later on tonight again. Jspoel 14:29, August 14, 2019 (UTC)
X-01 (Fallout 76) Gallery
Edit
By the way the Mothman Power Armor picture you added to the gallery of X-01 (Fallout 76) was not X-01 it was T-60. I removed it because it didn't belong, mean no offense, just thought I'd tell you. AssassinZ05 (talk) 16:24, September 13, 2019 (UTC)AssassinZ05
Nukapedia - Vault Merger: voting has reopened
Edit
Howdy,
As you may have already seen, voting for the proposed merger has been reopened. Voting was originally postponed so that users could better discuss the proposal, and after a lengthy conversation, that forum has since come to a close. For more information, please see the discussion itself. The post is a little lengthy, but if you are truly interested in making an informed decision, I would recommend reading through it.
Because this discussion may or may not affect how you voted initially or your rationale at the time, please review your post so that it reflects your current beliefs accurately.
This is only a notice of open polls and is not soliciting a change of vote. This is a generic talk page message intended for any and all voters, so as to avoid any indication of bias towards a particular outcome. Voting is slated to end on 5:01 pm November 1, 2019 (UTC).
The formal vote can be found here.
Thanks,
The Dyre Wolf (talk) 11:42, October 28, 2019 (UTC)
Nuka-Vault shindig
Edit
So am I to understand that we have had no discussions about this anywhere? I got a little bit from J but I need to hear it from you. It seems to vary a little.--Kingclyde (talk) 06:16, November 2, 2019 (UTC)
Template: Interactions univ
Edit
Hiya, I assume the auto conversion from Template:Interactions FO4 to Template:Interactions univ is your good work? Just wanted to see if this meant it was no longer necessary to convert the templates on the character pages while merging or whether best practice means I should really convert them to the Interactions univ version in source editor, even if it doesn't change what it looks like on the page. --L84tea

Would you like a cup of tea? 22:24, December 6, 2019 (UTC)
Oh cool, I'll just never worry about those again then! Don't forget the FO76 pages as well, they also use the FO4 template. :) --L84tea Would you like a cup of tea? 22:20, December 9, 2019 (UTC)

All the Fo76 character pages weren't ready for the redirecting to interactions univ yet. I see unconverted pages in the Protectron category, people are trying to fix it now. Can you give it another look? Jspoel 19:10, December 11, 2019 (UTC)
You message to me was a bit delayed already sorted it out a while ago
Thanks for fixing up westside though. User:Branebriar1930
Hub = Barstow, CA?
Edit
Hello! Telling the Hub being located in Barstow, you refered to Fallout Official Survival Guide. I've got a copy of this and found no mentions of Barstow. Maybe, I've missed something. Where exactly is it stated? --Л Лолайт 15:07, January 26, 2020 (UTC)
2019 NTV Board Badge
Edit
Thanks for chipping in as a board member and spitballing the "NTV" theme. As a thanks, here's a little badge. No pressure to use it, but it's yours if you want it.
| | |
| --- | --- |
| | Board Member 2019 NTV |
Thanks again, The Dyre Wolf (talk) 14:49, January 27, 2020 (UTC)
Joyce West
Edit
Where did you find Captain West's first name? I see it created on The Vault here, but can't find it in a source file. Also, mind your references, on Cabbot it went wrong with a name tag reference. Jspoel

21:58, January 30, 2020 (UTC)
Ok, first name found in xEdit. Jspoel 22:34, January 30, 2020 (UTC)
Ghoul Whale
Edit
on the Ghoul Whale page (https://fallout.fandom.com/wiki/Ghoul_whale) it says Far Harbor creature as a category and features an image from the DLC, but those whale skeletons are never told to be Ghoul Whale skeletons, it would be like saying all of the shark or whale (idk what they are) bodies around the Commonwealth are all ghoul sharks or whales. I just thought I bring this to your attention as it is technically not true, I also didn't know if I should fix it or leave it the way it is, so I thought I'd just tell an Admin. --Zombieassassin 0V 23:30, February 23, 2020 (UTC)AssassinZ05
Timeline of major events
Edit
What's is the difference between Timeline and Timeline of major events? I see 480kb against 330kb but still the major event page is very large. Are you still working on that? Could more trimming down I hope. You also archived the Timeline page, but now with that one archive it wants 3 more talkpage archives. Do you know why? Jspoel

16:49, April 25, 2020 (UTC)
Update names
Edit
Hey Tag. We've got a bit of a conundrum with the new updates to 76, and i would like to know your input. Jspoel has already responded and recommended asking you too. Basically, Bethesda chose not to officially name any of the new updates, and that makes our job a bit tougher. Based on asking around, consensus has divided into 3 major ideas.
1) The Legendary Race, One Wasteland For All, Fractured Steel
2) Summer 2020, Fall 2020, Winter 2020
3) Name it case-by-case, based on the name of the designated season occuring at the time.
1) is based on the roadmap, and uses the names Bethesda uses on it. While not truly official, that is mine and Jspoel's personal preference, and conveys the main changes with the DLC in-line with others we've already seen (WA, NW, WL). 2) is playing it safe, not assuming, and being technical. Thats fine, but it looks and reads horribly, and is just abhorrent in my opinion. 3) is getting as close as possible to an official name, but its also too inconsistent and doesnt allow for very much pre-making of pages, for example.
Thanks, and sorry for the long message. If you would like, you can refer to Forum:Call for ideas: Renaming Fallout 76 add-ons for a bit more detail and input.--DankalorYT 15:15, May 23, 2020 (UTC)
Thanks Tag. Very helpful response.--DankalorYT 19:07, May 23, 2020 (UTC)
edit war
Edit
i am aware, apologies. busy discussing it in the talkpage--Branebriar1930 (talk) 13:22, May 31, 2020 (UTC)
Wanted images
Edit
I had a question about the files in Special:WantedFiles. Are these becoming available anytime soon? Jspoel

10:27, June 5, 2020 (UTC)
Splitting junk pages
Edit
Could you give your opinion on Forum:Splitting junk item pages in FO4 and FO76? Jspoel

11:50, June 7, 2020 (UTC)
dreamcar
Edit
PLEASE ban dreamcar already! he has forced dank to protect marcy long AGAIN, whilst insulting me because i remove his vandalism. He clearly is not going to learn and appears to be too immature or young to be constructive on this wiki--Branebriar1930 (talk) 10:17, June 12, 2020 (UTC)
FO3 quests
Edit
I see what you mean, though i think vandalism is a strong word. There is quite a big discrepancy in the amount of detail and emotive language in FO3 quest walkthroughs compared to FO4 and NV. I was under the impression that the wiki has evolved somewhat to have walkthroughs become more 'streamlined'. Having more information is fine but i think some of the less quest relevant information should be put in the notes section, more akin to how it is in the later games.--Branebriar1930 (talk) 12:30, June 20, 2020 (UTC)
oh ok cool, good idea.--Branebriar1930 (talk) 13:34, June 20, 2020 (UTC)
rhombus as high elder
Edit
Hey is there any actual evidence that rhombus became high elder.--Branebriar1930 (talk) 17:11, June 24, 2020 (UTC)
Ok thanks, and does the bos main page really need to be locked down for the rest of us? its a pretty long lock down time for such a big and important page?.--Branebriar1930 (talk) 11:40, June 25, 2020 (UTC)
gnr quest
Edit
I removed quite bit from the galaxy news radio FO3 quest as it was filled to the brim with emotive language, fluff words and ridicules amounts of strategies, could you check it and make sure its fine?--Branebriar1930 (talk) 19:45, June 25, 2020 (UTC)
Why did you remove a section i added to the rhombus discussion?--Branebriar1930 (talk) 11:42, June 27, 2020 (UTC)
ah okay, no worries.--Branebriar1930 (talk) 15:44, June 27, 2020 (UTC)
r.e. metric/imperial
Edit
Well grammar is Americanised so i thought it out of place.--Branebriar1930 (talk) 19:25, July 1, 2020 (UTC)
Um...I have no idea what you just said. If that's an American expression its lost on me i'm afraid.--Branebriar1930 (talk) 19:25, July 1, 2020 (UTC)
Forwarding a Complaint
Edit
Knife Maker from discussions wanted to file a complaint against me with a bureaucrat. It was left on my talk page, so I'm just forwarding it to you.
I am registering this complaint against Dyre Wolf here for censorship of two notes neither of which violated rules. For a Thread entitled "Murica Day", I made two posts intended to point out the irony of how an independence day celebration of personal independence (not wearing masks) results in piles of human bodies which I satirized with new lines to the Star Spangled Banner. Before any discussion emerged, Dyre preemptively claimed I was trying to hijack the thread and eliminated my notes. This reflects poorly on his judgement as a moderator and on wikia's general stance to welcome a diversity of opinion so long as it is expressed in a civil and respectful manner.
I have not registered this complaint to a bureaucrat but the matter was serious and an egregious abuse of power.
If you have any questions for me after speaking with Knife Maker, just let me know. I will track down the post he's talking about and the warning left to him, and leave them here shortly. The Dyre Wolf (talk) 05:06, July 8, 2020 (UTC)
Here's the thread where the reported posts were deleted, and here's the thread where the warning was issued. The Dyre Wolf (talk)
Walkthrough style guide
Edit
Regarding [edit]: I agree that we need a style guide for this. The current consensus as I understand it is that referring to the player directly (using second person pronouns or simply the word "player) is not allowed. I have been using Sole Survivor myself because I slightly prefer it to "player character" (and "one can" is indeed right out). I am not particularly attached to any style, but I would like to see a proper discussion had about this and an official style guide written up. Given your position, I think you're better equipped than I am to get that ball rolling; I have no idea who to even talk to about it :P P0cketpc (talk) 02:58, July 14, 2020 (UTC)
Made my day
Edit
Thank you so much for what you said on my admin application. It means the world to me, especially coming from you. I like it here a lot and will work hard to do a good job, with minimal (ok moderate) shenanigans <3 -Kate (Kdarrow (talk) 07:32, July 22, 2020 (UTC))
A few of the links on your user page for your mods are being stubborn. I found them all on the nexus but thought you might want to know. I love them! Especially the newspaper one. That always bothered me, too! -Kate (Kdarrow (talk) 07:34, July 22, 2020 (UTC))
veteran paladin
Edit
So is veteran paladin a real rank in the Bos? JP said you put it their but i have never heard of it before?--Branebriar1930 (talk) 14:09, July 28, 2020 (UTC)
ah ok thanks--Branebriar1930 (talk) 16:28, July 28, 2020 (UTC)
So i understand that there have been talks about changing the ol' player character back to just player? I personally don't mind which it is but as someone who makes those changes a lot i just wanted to know if i should stop changing them or has the matter not been decided yet?--Branebriar1930 (talk) 14:17, August 16, 2020 (UTC)
Understood (on both points).--Branebriar1930 (talk) 20:12, August 16, 2020 (UTC)
Would you mind pointing out those elders for me? I'd like to add them to the elders page.--Branebriar1930 (talk) 20:42, August 16, 2020 (UTC)
Hi Tag
I don't know which bureaucrat to send this to so I'm sending all three the same message expecting that at least one of you will action it. Please remove my content mod rights as I will not be needing them anymore.
Ta. --L84tea

Would you like a cup of tea? 22:35, August 18, 2020 (UTC)
Soz mate, already done. Should have done this a long time ago tbh. Pretty sure you know my reasons and, if not, I don't really know what to say. --L84tea Would you like a cup of tea? 06:58, August 19, 2020 (UTC)
Pic-palooza!
Edit
Hey it's just me! Here to ask where I should put FOT Chimera Project 01.jpg? I added it to my sandbox for the meantime so it will stay safe <3 Just lemme know! -Kate (kdarrow

take her for a spin! 10:20, August 20, 2020 (UTC))
Pioneer Scout answers page
Edit
I did not intend to come out biting on the talk page messages. Waited a day before responding, but still ended up there. While I stand by my criticism of the way the page was handled, it could have been worded for more constructively and far less accusatory. To understand where I am coming from, administrative staff, especially the crats, are the gate keepers to solutions, and they are collectively a group which is almost wholly focused on editing. Some visit discord, are once in a blue moon, one makes the very rare post on discussions. For most, Christ comes 'round more often than they do. I am used to the admin taking care of their own, squaring away all things editing, but ultimately doing very little to help when need on /d. The conceit as unfortunate as it is, is that if admin are not going to participate or help, at least they are quality editors who are contributing to the main site.
So after being directed to a page, proudly heralded by a crat as being something that was well needed, only to find it was slapped together the same as had been seen elsewhere and brought up in numerous merger discussions earlier in the year, it was more that aggravating. It was downright disappointing. You could have asked another user to help you or outright do it, if time was in short supply and finishing the page was not something that could be done in a timely manner. Could have at least added it to the clean up category so other editors who do routinely have the free time to work on the wiki could have addressed it. There's honest mistakes, but leaving it there, with a message only a few sentences in, that recognizes the page is not accurate to the point that it necessitates linking to a separate page for the very information that this page exists to cover? That's not right. So talk of proper pages, considering the page we were discussing? It's a hell of a thing to just pawn that update on someone else.The Dyre Wolf (talk) 10:49, August 25, 2020 (UTC)
dead man's burden
Edit
Hey so i got into a debate with mintcondition about the proper source of the term "white man's burden" and its eponymous perk. Can i ask for you to please weigh in?--Branebriar1930 (talk) 10:44, September 3, 2020 (UTC)
Username-fduser
Edit
Hey Tagz, I was wondering if you could point me in the right direction to reclaim my original username instead of the one with the "fduser" suffix. I tried to rename it via Special:UserRenameTool, but it didn't work because Kastera1000 was already taken (gee, I wonder who took it? ;) ). Thanks, Kastera1000-fduser (talk)
Yeah, I've been visiting the wiki more now that I've started another FNV playthrough. I keep finding locations that seem like they have no loot and the wiki confirms that (like the ant mount and the Basincreek building, unless you count a few bottles of soda as loot). It also took me ten years to realize the All American is an absolute beast; I have no idea why I never used it before now. --Kastera1000-fduser (talk)
CamelChip sponsor
Edit
Hey, Tag
I'd like to officially sponsor the user CamelChip for consideration regarding Patroller rights. They are a hard-working and diligent editor, and I feel like they'd be a perfect fit for the role. Don't really have much more to add onto that - their editing contributions more than speak for themselves. 寧靜
18:15, September 11, 2020 (UTC)
Content moderator
Edit
Hey so I was thinking about running for CMOD soon since there seems to be a bit of a shortage of them ATM. Was thinking I would run upon hitting 10k edits (just a personal milestone) and i was just wandering if, a) i even qualify, and b) how do i put myself up for CMOD?--Branebriar1930 (talk) 16:39, September 18, 2020 (UTC)
Alright cool, and thanks for the endorsement.--Branebriar1930 (talk) 09:15, September 23, 2020 (UTC)
Alright so i have my request written out. Do i just submit it to the forum or am i missing anything?--Branebriar1930 (talk) 10:24, September 23, 2020 (UTC)
Thanks for the endorsement
Edit
Thanks for the endorsement and vote Tag.--Branebriar1930 (talk) 20:40, September 24, 2020 (UTC)
vote duration
Edit
For some reason my vote duration was set for twelve days instead of the usual week. I have changed the pole to end on the 30th as per the standard week duration for votes, hope there are no problems.--Branebriar1930 (talk) 10:43, September 28, 2020 (UTC)
Hey so i thought the vote was suppose to last a week but now it has extended a couple of days, is that normal?--Branebriar1930 (talk) 09:58, September 30, 2020 (UTC)
Doesn't need to be replied to, I've solved it already. Jspoel 10:54, September 30, 2020 (UTC)
Rothchild
Edit
Hey so I saw your comment and I agree. Senior scribe really does not do his position justice, no matter what the guide says. Senior scribe would imply that he is under the three proctors. I have changed his rank back to head scribe, might get some backlash though.--Branebriar1930 (talk) 18:25, October 6, 2020 (UTC)
Special pages
Edit
Hello love. Just me, needing your help as normal. I review a handful of the maintenance reports each day and noticed they have not been updating this week (last time was 10/5). Do you know why this could be? The reports I am especially interested in are double and broken redirects, uncategorized images, and wanted templates and categories. Thanks for holding my hand :) -kdarrow

take her for a spin! 10:32, October 11, 2020 (UTC)
Not sure if this is your handiwork, but looks like we got a refresh today. Either way, thank you! -kdarrow take her for a spin! 17:18, October 14, 2020 (UTC)
Welcome Back.
Edit
Hello, it's me, The Atlas Corporation. It's been awhile and I've got to say, it's damn good to see you back in the game after all this time. Lord knows that Nukapedia needs somebody of your caliber to lift up its rather atrocious standards and make it somewhat credible. Anyways, I just wanted to say hi and that it's great to see you again.
P.S. could you please explain why the Vault is merging with Nukapedia? It seems like such a tragedy to see the Vault's stellar reputation ruined by Nukapedia, of all places.—Preceding unsigned comment added by TheChonChon (talk • contribs). Please sign your posts with ~~~~!
Unified Community Platform
Edit
Errors after update:
ReferencePopups (doesn't work anymore)
ArchiveTool (doesn't work anymore from "Common.js", use "importJS" instead)
Template "Games" (can't be seen)
Special:WikiActivity (deprecated)
Many css errors
Gallery tag errors
Special:Editcount (deprecated)
FormatNum (deprecated)
createbox tag (deprecated, use "inputbox" instead)
etc, etc, etc... good luck.
Source:
Thank U for the fix!!! ($1)
Regards, KPThug™
Community content is available under
CC-BY-SA
unless otherwise noted.