---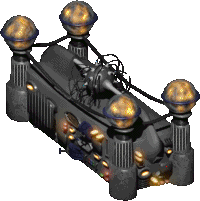 Click the computer to leave a message!
---
Yes, it's been a long while. Hope you're doing well. I'm in Discord chat at the moment, I assume you have an account there. We can talk there if you still have time. Otherwise, tomorrow at an earlier time, check for me there then, ok? Jspoel

20:05, August 13, 2019 (UTC)
I'm in Discord now, for another hour and a half or so I think. Probably later on tonight again. Jspoel 14:29, August 14, 2019 (UTC)
X-01 (Fallout 76) Gallery
[
edit source
]
By the way the Mothman Power Armor picture you added to the gallery of X-01 (Fallout 76) was not X-01 it was T-60. I removed it because it didn't belong, mean no offense, just thought I'd tell you. AssassinZ05 (talk) 16:24, September 13, 2019 (UTC)AssassinZ05
Nukapedia - Vault Merger: voting has reopened
[
edit source
]
Howdy,
As you may have already seen, voting for the proposed merger has been reopened. Voting was originally postponed so that users could better discuss the proposal, and after a lengthy conversation, that forum has since come to a close. For more information, please see the discussion itself. The post is a little lengthy, but if you are truly interested in making an informed decision, I would recommend reading through it.
Because this discussion may or may not affect how you voted initially or your rationale at the time, please review your post so that it reflects your current beliefs accurately.
This is only a notice of open polls and is not soliciting a change of vote. This is a generic talk page message intended for any and all voters, so as to avoid any indication of bias towards a particular outcome. Voting is slated to end on 5:01 pm November 1, 2019 (UTC).
The formal vote can be found here.
Thanks,
The Dyre Wolf (talk) 11:42, October 28, 2019 (UTC)
So am I to understand that we have had no discussions about this anywhere? I got a little bit from J but I need to hear it from you. It seems to vary a little.--Kingclyde (talk) 06:16, November 2, 2019 (UTC)
Template: Interactions univ
[
edit source
]
Hiya, I assume the auto conversion from Template:Interactions FO4 to Template:Interactions univ is your good work? Just wanted to see if this meant it was no longer necessary to convert the templates on the character pages while merging or whether best practice means I should really convert them to the Interactions univ version in source editor, even if it doesn't change what it looks like on the page. --L84tea

Would you like a cup of tea? 22:24, December 6, 2019 (UTC)
Oh cool, I'll just never worry about those again then! Don't forget the FO76 pages as well, they also use the FO4 template. :) --L84tea Would you like a cup of tea? 22:20, December 9, 2019 (UTC)

All the Fo76 character pages weren't ready for the redirecting to interactions univ yet. I see unconverted pages in the Protectron category, people are trying to fix it now. Can you give it another look? Jspoel 19:10, December 11, 2019 (UTC)
You message to me was a bit delayed already sorted it out a while ago
Thanks for fixing up westside though. User:Branebriar1930
Hello! Telling the Hub being located in Barstow, you refered to Fallout Official Survival Guide. I've got a copy of this and found no mentions of Barstow. Maybe, I've missed something. Where exactly is it stated? --Л Лолайт 15:07, January 26, 2020 (UTC)
Thanks for chipping in as a board member and spitballing the "NTV" theme. As a thanks, here's a little badge. No pressure to use it, but it's yours if you want it.
| | |
| --- | --- |
| | Board Member 2019 NTV |
Thanks again, The Dyre Wolf (talk) 14:49, January 27, 2020 (UTC)
Where did you find Captain West's first name? I see it created on The Vault here, but can't find it in a source file. Also, mind your references, on Cabbot it went wrong with a name tag reference. Jspoel

21:58, January 30, 2020 (UTC)
Ok, first name found in xEdit. Jspoel 22:34, January 30, 2020 (UTC)
on the Ghoul Whale page (https://fallout.fandom.com/wiki/Ghoul_whale) it says Far Harbor creature as a category and features an image from the DLC, but those whale skeletons are never told to be Ghoul Whale skeletons, it would be like saying all of the shark or whale (idk what they are) bodies around the Commonwealth are all ghoul sharks or whales. I just thought I bring this to your attention as it is technically not true, I also didn't know if I should fix it or leave it the way it is, so I thought I'd just tell an Admin. --Zombieassassin 0V 23:30, February 23, 2020 (UTC)AssassinZ05
Timeline of major events
[
edit source
]
What's is the difference between Timeline and Timeline of major events? I see 480kb against 330kb but still the major event page is very large. Are you still working on that? Could more trimming down I hope. You also archived the Timeline page, but now with that one archive it wants 3 more talkpage archives. Do you know why? Jspoel

16:49, April 25, 2020 (UTC)
Hey Tag. We've got a bit of a conundrum with the new updates to 76, and i would like to know your input. Jspoel has already responded and recommended asking you too. Basically, Bethesda chose not to officially name any of the new updates, and that makes our job a bit tougher. Based on asking around, consensus has divided into 3 major ideas.
1) The Legendary Race, One Wasteland For All, Fractured Steel
2) Summer 2020, Fall 2020, Winter 2020
3) Name it case-by-case, based on the name of the designated season occuring at the time.
1) is based on the roadmap, and uses the names Bethesda uses on it. While not truly official, that is mine and Jspoel's personal preference, and conveys the main changes with the DLC in-line with others we've already seen (WA, NW, WL). 2) is playing it safe, not assuming, and being technical. Thats fine, but it looks and reads horribly, and is just abhorrent in my opinion. 3) is getting as close as possible to an official name, but its also too inconsistent and doesnt allow for very much pre-making of pages, for example.
Thanks, and sorry for the long message. If you would like, you can refer to Forum:Call for ideas: Renaming Fallout 76 add-ons for a bit more detail and input.--DankalorYT 15:15, May 23, 2020 (UTC)
Thanks Tag. Very helpful response.--DankalorYT 19:07, May 23, 2020 (UTC)
i am aware, apologies. busy discussing it in the talkpage--Branebriar1930 (talk) 13:22, May 31, 2020 (UTC)
I had a question about the files in Special:WantedFiles. Are these becoming available anytime soon? Jspoel

10:27, June 5, 2020 (UTC)
Could you give your opinion on Forum:Splitting junk item pages in FO4 and FO76? Jspoel

11:50, June 7, 2020 (UTC)
PLEASE ban dreamcar already! he has forced dank to protect marcy long AGAIN, whilst insulting me because i remove his vandalism. He clearly is not going to learn and appears to be too immature or young to be constructive on this wiki--Branebriar1930 (talk) 10:17, June 12, 2020 (UTC)
I see what you mean, though i think vandalism is a strong word. There is quite a big discrepancy in the amount of detail and emotive language in FO3 quest walkthroughs compared to FO4 and NV. I was under the impression that the wiki has evolved somewhat to have walkthroughs become more 'streamlined'. Having more information is fine but i think some of the less quest relevant information should be put in the notes section, more akin to how it is in the later games.--Branebriar1930 (talk) 12:30, June 20, 2020 (UTC)
oh ok cool, good idea.--Branebriar1930 (talk) 13:34, June 20, 2020 (UTC)
rhombus as high elder
[
edit source
]
Hey is there any actual evidence that rhombus became high elder.--Branebriar1930 (talk) 17:11, June 24, 2020 (UTC)
Ok thanks, and does the bos main page really need to be locked down for the rest of us? its a pretty long lock down time for such a big and important page?.--Branebriar1930 (talk) 11:40, June 25, 2020 (UTC)
I removed quite bit from the galaxy news radio FO3 quest as it was filled to the brim with emotive language, fluff words and ridicules amounts of strategies, could you check it and make sure its fine?--Branebriar1930 (talk) 19:45, June 25, 2020 (UTC)
Why did you remove a section i added to the rhombus discussion?--Branebriar1930 (talk) 11:42, June 27, 2020 (UTC)
ah okay, no worries.--Branebriar1930 (talk) 15:44, June 27, 2020 (UTC)
Well grammar is Americanised so i thought it out of place.--Branebriar1930 (talk) 19:25, July 1, 2020 (UTC)
Um...I have no idea what you just said. If that's an American expression its lost on me i'm afraid.--Branebriar1930 (talk) 19:25, July 1, 2020 (UTC)
Forwarding a Complaint
[
edit source
]
Knife Maker from discussions wanted to file a complaint against me with a bureaucrat. It was left on my talk page, so I'm just forwarding it to you.
I am registering this complaint against Dyre Wolf here for censorship of two notes neither of which violated rules. For a Thread entitled "Murica Day", I made two posts intended to point out the irony of how an independence day celebration of personal independence (not wearing masks) results in piles of human bodies which I satirized with new lines to the Star Spangled Banner. Before any discussion emerged, Dyre preemptively claimed I was trying to hijack the thread and eliminated my notes. This reflects poorly on his judgement as a moderator and on wikia's general stance to welcome a diversity of opinion so long as it is expressed in a civil and respectful manner.
I have not registered this complaint to a bureaucrat but the matter was serious and an egregious abuse of power.
If you have any questions for me after speaking with Knife Maker, just let me know. I will track down the post he's talking about and the warning left to him, and leave them here shortly. The Dyre Wolf (talk) 05:06, July 8, 2020 (UTC)
Here's the thread where the reported posts were deleted, and here's the thread where the warning was issued. The Dyre Wolf (talk)
Walkthrough style guide
[
edit source
]
Regarding [edit]: I agree that we need a style guide for this. The current consensus as I understand it is that referring to the player directly (using second person pronouns or simply the word "player) is not allowed. I have been using Sole Survivor myself because I slightly prefer it to "player character" (and "one can" is indeed right out). I am not particularly attached to any style, but I would like to see a proper discussion had about this and an official style guide written up. Given your position, I think you're better equipped than I am to get that ball rolling; I have no idea who to even talk to about it :P P0cketpc (talk) 02:58, July 14, 2020 (UTC)
Thank you so much for what you said on my admin application. It means the world to me, especially coming from you. I like it here a lot and will work hard to do a good job, with minimal (ok moderate) shenanigans <3 -Kate (Kdarrow (talk) 07:32, July 22, 2020 (UTC))
A few of the links on your user page for your mods are being stubborn. I found them all on the nexus but thought you might want to know. I love them! Especially the newspaper one. That always bothered me, too! -Kate (Kdarrow (talk) 07:34, July 22, 2020 (UTC))
So is veteran paladin a real rank in the Bos? JP said you put it their but i have never heard of it before?--Branebriar1930 (talk) 14:09, July 28, 2020 (UTC)
ah ok thanks--Branebriar1930 (talk) 16:28, July 28, 2020 (UTC)
So i understand that there have been talks about changing the ol' player character back to just player? I personally don't mind which it is but as someone who makes those changes a lot i just wanted to know if i should stop changing them or has the matter not been decided yet?--Branebriar1930 (talk) 14:17, August 16, 2020 (UTC)
Understood (on both points).--Branebriar1930 (talk) 20:12, August 16, 2020 (UTC)
Would you mind pointing out those elders for me? I'd like to add them to the elders page.--Branebriar1930 (talk) 20:42, August 16, 2020 (UTC)
Hi Tag
I don't know which bureaucrat to send this to so I'm sending all three the same message expecting that at least one of you will action it. Please remove my content mod rights as I will not be needing them anymore.
Ta. --L84tea

Would you like a cup of tea? 22:35, August 18, 2020 (UTC)
Soz mate, already done. Should have done this a long time ago tbh. Pretty sure you know my reasons and, if not, I don't really know what to say. --L84tea Would you like a cup of tea? 06:58, August 19, 2020 (UTC)
Hey it's just me! Here to ask where I should put FOT Chimera Project 01.jpg? I added it to my sandbox for the meantime so it will stay safe <3 Just lemme know! -Kate (kdarrow

take her for a spin! 10:20, August 20, 2020 (UTC))
Pioneer Scout answers page
[
edit source
]
I did not intend to come out biting on the talk page messages. Waited a day before responding, but still ended up there. While I stand by my criticism of the way the page was handled, it could have been worded for more constructively and far less accusatory. To understand where I am coming from, administrative staff, especially the crats, are the gate keepers to solutions, and they are collectively a group which is almost wholly focused on editing. Some visit discord, are once in a blue moon, one makes the very rare post on discussions. For most, Christ comes 'round more often than they do. I am used to the admin taking care of their own, squaring away all things editing, but ultimately doing very little to help when need on /d. The conceit as unfortunate as it is, is that if admin are not going to participate or help, at least they are quality editors who are contributing to the main site.
So after being directed to a page, proudly heralded by a crat as being something that was well needed, only to find it was slapped together the same as had been seen elsewhere and brought up in numerous merger discussions earlier in the year, it was more that aggravating. It was downright disappointing. You could have asked another user to help you or outright do it, if time was in short supply and finishing the page was not something that could be done in a timely manner. Could have at least added it to the clean up category so other editors who do routinely have the free time to work on the wiki could have addressed it. There's honest mistakes, but leaving it there, with a message only a few sentences in, that recognizes the page is not accurate to the point that it necessitates linking to a separate page for the very information that this page exists to cover? That's not right. So talk of proper pages, considering the page we were discussing? It's a hell of a thing to just pawn that update on someone else.The Dyre Wolf (talk) 10:49, August 25, 2020 (UTC)
Hey so i got into a debate with mintcondition about the proper source of the term "white man's burden" and its eponymous perk. Can i ask for you to please weigh in?--Branebriar1930 (talk) 10:44, September 3, 2020 (UTC)
Hey Tagz, I was wondering if you could point me in the right direction to reclaim my original username instead of the one with the "fduser" suffix. I tried to rename it via Special:UserRenameTool, but it didn't work because Kastera1000 was already taken (gee, I wonder who took it? ;) ). Thanks, Kastera1000-fduser (talk)
Yeah, I've been visiting the wiki more now that I've started another FNV playthrough. I keep finding locations that seem like they have no loot and the wiki confirms that (like the ant mount and the Basincreek building, unless you count a few bottles of soda as loot). It also took me ten years to realize the All American is an absolute beast; I have no idea why I never used it before now. --Kastera1000-fduser (talk)
Hey, Tag
I'd like to officially sponsor the user CamelChip for consideration regarding Patroller rights. They are a hard-working and diligent editor, and I feel like they'd be a perfect fit for the role. Don't really have much more to add onto that - their editing contributions more than speak for themselves. 寧靜
18:15, September 11, 2020 (UTC)
Hey so I was thinking about running for CMOD soon since there seems to be a bit of a shortage of them ATM. Was thinking I would run upon hitting 10k edits (just a personal milestone) and i was just wandering if, a) i even qualify, and b) how do i put myself up for CMOD?--Branebriar1930 (talk) 16:39, September 18, 2020 (UTC)
Alright cool, and thanks for the endorsement.--Branebriar1930 (talk) 09:15, September 23, 2020 (UTC)
Alright so i have my request written out. Do i just submit it to the forum or am i missing anything?--Branebriar1930 (talk) 10:24, September 23, 2020 (UTC)
Thanks for the endorsement
[
edit source
]
Thanks for the endorsement and vote Tag.--Branebriar1930 (talk) 20:40, September 24, 2020 (UTC)
For some reason my vote duration was set for twelve days instead of the usual week. I have changed the pole to end on the 30th as per the standard week duration for votes, hope there are no problems.--Branebriar1930 (talk) 10:43, September 28, 2020 (UTC)
Hey so i thought the vote was suppose to last a week but now it has extended a couple of days, is that normal?--Branebriar1930 (talk) 09:58, September 30, 2020 (UTC)
Doesn't need to be replied to, I've solved it already. Jspoel 10:54, September 30, 2020 (UTC)
Hey so I saw your comment and I agree. Senior scribe really does not do his position justice, no matter what the guide says. Senior scribe would imply that he is under the three proctors. I have changed his rank back to head scribe, might get some backlash though.--Branebriar1930 (talk) 18:25, October 6, 2020 (UTC)
Hello love. Just me, needing your help as normal. I review a handful of the maintenance reports each day and noticed they have not been updating this week (last time was 10/5). Do you know why this could be? The reports I am especially interested in are double and broken redirects, uncategorized images, and wanted templates and categories. Thanks for holding my hand :) -kdarrow

take her for a spin! 10:32, October 11, 2020 (UTC)
Not sure if this is your handiwork, but looks like we got a refresh today. Either way, thank you! -kdarrow take her for a spin! 17:18, October 14, 2020 (UTC)
Hello, it's me, The Atlas Corporation. It's been awhile and I've got to say, it's damn good to see you back in the game after all this time. Lord knows that Nukapedia needs somebody of your caliber to lift up its rather atrocious standards and make it somewhat credible. Anyways, I just wanted to say hi and that it's great to see you again.
P.S. could you please explain why the Vault is merging with Nukapedia? It seems like such a tragedy to see the Vault's stellar reputation ruined by Nukapedia, of all places.—Preceding unsigned comment added by TheChonChon (talk • contribs). Please sign your posts with ~~~~!
Unified Community Platform
[
edit source
]
Errors after update:
ReferencePopups (doesn't work anymore) (partially fixed)
ArchiveTool (doesn't work anymore from "Common.js", use "importJS" instead)
Template "Games" (can't be seen)
Special:WikiActivity (deprecated)
Many css errors
Gallery tag errors
Special:Editcount (deprecated)
FormatNum (deprecated)
createbox tag (deprecated, use "inputbox" instead)
etc, etc, etc... good luck.
Source:
Thank U for the fix!!! ($1)
Regards, KPThug™
Would you mind if I asked you some questions relating to a few subjects on lore? TheChonChon (talk)-- 3:58 October 20, 2020 (UTC)
Here, if you don't mind. --TheChonChon (talk)-- 3:07 October 20, 2020 (UTC)
Hello!
I'm asking for permission to post in the fallout fandom wiki for scope mods specifically for FO76.
So basically, I started playing FO76 again with a new character recently, and when I started modding guns and putting scopes on them, there was no preview for the scope so there was no way to tell if I actually liked that scope or hated it, causing me to lose out on junk if I didnt like that specific scope, I mean look at the godawful reflex sight for pipe guns lol. The fandom fallout wiki was great for getting the noob out of me in the past, so I tried looking at it for any kind of preview of the scopes, but there weren't any.
So then I made a YouTube video which basically includes previews for the scopes in FO 76 so you can actually see if you like the scope before your craft it. I don't have this scope problem anymore since I know how all of them look like now, but the people who just started playing won't. So I'm just asking for permission if I can embed the video limit for the specific scope pages on the wiki pages with timestamps for the scopes.
Video: https://youtu.be/AcYQV5cDVJc
MrChicken YouTube (talk) 16:10, October 29, 2020 (UTC)
Mr.Chicken
If it's not an official Design Doc, but rather a fan made thing, I'm going to nuke it. We don't have fan made content like that as part of the general wiki. Unless you got some strong objection to it and a good reason to keep it I'm going to nuke it tomorrow. Richie9999 (talk) 20:35, October 30, 2020 (UTC)
1. How extensive is the Boomers' industrial capabilities? Can they manufacture everything that they need (i.e Fat Man Tactical Nuke Launchers, Mini Nukes, Missile Launchers and ammunition for their Howitzers) or is their industry limited to only a select few things? --TheChonChon (talk)-- 10:31 November 5, 2020.
2. What are your thoughts on the Legion having apparently taken over Bullhead City from the NCR? I personally think that there's absolutely no evidence to support this but everybody else here on Nukapedia thinks otherwise. --TheChonChon (talk)-- 10:31 November 5, 2020.
3. Is there any evidence to support the assertion that the Legion conquered Phoenix and Two-Sun at some point? The only thing to go off of in the case of Phoenix is Aurelius of Phoenix's name (which is hardly sufficient evidence, but I digress) and Two-Sun only ever gets mentioned by Raul Alfonso Tejada (who explicitly states that his time there was BEFORE the Legion ever came into being). Then there's also the fact that the Official F:NV Game Guide explicitly states that the Legion only controls NORTHERN Arizona to take into consideration, as well. --TheChonChon (talk)-- 10:31 November 5, 2020.
4. Do you agree with the assertion that the Legion would've been completely wiped out in the aftermath of the First Battle of Hoover Dam if not for the Divide Incident? Both Joshua Graham and Vulpes Inculta flat-out admit that the Legion would've been screwed if not for the NCR's primary supply line getting nuked. --TheChonChon (talk)-- 10:31 November 5, 2020.
I do appreciate your time and I thank you for sparing the time to answer my questions. 😊 TheChonChon (talk)-- 10:31 November 5, 2020 (UTC)
Good point on the Boomers. Makes perfect sense, I suppose. Except that the loading screen hint in question doesn't say that, though. It just very vaguely and rather confusingly states that all lands East of the Colorado belong to Caesar. If taken at its most literal sense, that would mean that the Legion controls everything up to the Eastern Seaboard (which they very clearly don't). Which is exactly why loading screen hints shouldn't be considered trustworthy sources, at the end of the day. At least the Official F: NV Game Guide is actually to-the-point and reliable enough to give us a clear picture. Alright, let me rephrase the question: if the Divide Incident never happened, the NCR got the necessary incoming reinforcements and General Oliver was replaced by a far more competent field commander (say Col. Hsu or Col. Moore), could the NCR have wiped out the Legion for good? After all, the Legion is hardly that numerous (we're talking at best 5,000-8,000 troops just to be incredibly generous, after all) and the NCR Army in its entirety is more than massive enough to kill them off completely. And again, your time is duly appreciated. --TheChonChon (talk)-- 3:34 November 6, 2020.
Hey I don't really understand that BTS you added to hoover dam but it has spelling errors and emotive language. Can it be edited?--Branebriar1930 (talk) 15:44, November 7, 2020 (UTC)
I understood the content just not the context. I was not sure if it was a direct quote or not.--Branebriar1930 (talk) 18:31, November 7, 2020 (UTC)
That's fine, I only changed their location because they were in the introductory paragraph in a bullet point list, which just looked strange.Branebriar1930 (talk) 11:24, 12 November 2020 (UTC)
Could you please look over the changes TheCHonCHon made to Caesar, he is saying things that seem to conflict with established lore, such the extent of legion's territory and how many tribes he has/had and providing fairly vague references.Branebriar1930 (talk) 09:10, 13 November 2020 (UTC)
I understand that all sources must be taken into account, I'm only pointing out the illogical claim that loading screen hints (keyword there being HINTS) are tantamount to the "word of God" when they're only meant to serve as tiny breadcrumbs of information to get you started to begin with. And here's what's really boggling my brains: why do we explicitly know about Willow Beach, the Arizona Spillway and Ft. Aradesh falling to the Legion but not Bullhead City, a community that was both under direct Republic rule and formally annexed by the NCR? You'd think that that would at least warrant some kind of mention.
I don't mean any offense when I say this, but how in the holy Hell did you come to that conclusion? The NCR is 96 years-old by the events of F:NV, the Legion is 34 years-old. By the events of Fallout 2 in 2241, the NCR had a population of well over 700,000+ citizens (not including transients and non-citizens) and was already fielding entire DIVISIONS worth of troops (meaning TENS OF THOUSANDS of soldiers).
And that was 6 years before the Legion was ever even founded, for goodness sake. Back when Caesar was just a Follower of the Apocalypse by the name of Edward Sallow, Joshua Graham was just another Mormon dude and the Blackfoots tribe were the whipping boys of the Grand Canyon. Just looking at the fact that the NCR was around before Caesar was ever even born alone all but guarantees that the Legion couldn't so much as dream about having anywhere near as many soldiers as the NCR Army.
And don't even get me started on how the piss-poor life expectancy of Legion troops, chronically abysmal birth rates, skyrocketing pre-natal/infant/child mortality rates, hopelessly colossal miscarriage/stillbirth rates (all of which is caused by just the lack of modern medicine, medical technology and medical knowledge alone), the fact that the Legion is forced to both subject women to an extremely brutal form of sexual slavery and impose mandatory child quotas for all Legionaries to abide by owing to the Legion's severely chronic manpower crisis and the extremely savage attrition that would come with 34 years of non-stop tribal conquest and territorial expansion (even Legate Lanius himself, who's only been with the Legion for at best a couple of years, flat-out admits that the conquest of the East was an gruesomely bloody and hard-fought campaign) would make that literally impossible to accomplish within a 34-year timeframe.
And the idea that the Legion can match the Republic's monstrously mammoth industrial/manufacturing capacity is simply laughable. The NCR can mass-produce all manner of highly-sophisticated, state-of-the-art military-grade conventional firearms, high-grade, high-octane explosives and even top-of-the-line, high-end Energy Weapons whereas the Legion can't even figure out how to disarm basic Frag Mines, let alone make pitifully primitive Powder Charges, without the Courier's help.
The Legion can barely figure out how to craft laughably pathetic sheet metal "fortifications" (big deal, even the Fiends can create even better walls from railcars and concrete rubble) whilst the NCR can easily create military-grade concrete bunkers and even defend their major cities back West with forcefields and laser turrets (as evidenced by Shady Sands back as early as Fallout 2, which was almost a spitting image of the Institute).
Most Legionaries don't even have guns but rather have to get by with lawnmower blades lashed to sticks ("Machetes") and even bigger sticks with bits and pieces of sharpened scrap metal fastened to and jabbed into the tips ("Throwing Spears") for weapons whereas ALL NCR Troopers have guns (some even sport ENERGY WEAPONS). I'm sorry, but there isn't a snowball's chance in Hell of the Legion coming even remotely close to the NCR Army in terms of industry.
And the whole "physical conditioning edge" that's often attributed to Legionaries is hardly that significant. Even the Legion itself flat-out admits that they don't believe that it's possible to defeat an NCR Ranger in single combat while even basic NCR Troopers have perfectly demonstrated that they can defeat Legionaries in CQB as evidenced by Sgt. Andrews.
I don't know. The Legion was effectively shattered as a cohesive fighting force at the conclusion of the First Battle of Hoover Dam. Granted that maybe the NCR couldn't have killed every last Legionary and most certainly would've been faced with a bloody counter-insurgency campaign had they invaded Arizona in force, but the fact still stands. The Legion was a crippled, decimated force that couldn't have possibly recovered from a Republic counter-offensive of this scale. TheChonChon (talk)-- 6:50 November 13, 2020
There have been quite a few sweeping changes to the wiki lately, and now that the Unified Community Platform has come to fruition here, it's more important than ever for our leadership to get together and inspire innovative changes for the next generation of wiki editors/readers.
As someone who is somewhat inactive myself, I understand how life gets in the way, and I'll fully understand if many of you are unable to commit, but I'd still like to try my best to appeal to you all in getting involved in a few of our currently active projects; especially so since rights-users participating in our discussions/votes are at an all-time low, and many internal decisions are having to be made between a select few users, which is bad for building consensus on important matters.
As such, I would like to ask for you all to look into two of our most important projects right now, as it would mean a lot to me and the wiki if as many people as possible got directly involved in helping shape our future:
The Vault Academy is a program for the training and acclimation of new and even veteran users, training them on how to get involved in the various facets of the wiki, as well as helping them build bonds with their fellow users. The program has kicked off in a big way, and we are in desperate need of more rights-users to sign on as mentors, as we're having to share multiple mentees between each mentor. If you're looking to leave your mark on the wiki, then signing onto TVA program will be your way of doing so.
As a minor update, we now have a new plagiarism point of contact. Should you suspect plagiarized content is at play, please get into point with the user FDekker who will be the initial handler of all such cases going forward.
We have an upcoming meeting of the minds coming up on the 20th of this month, and we need people to come forth and pitch their ideas for adapting to the recent UCP changes, and to possibly adopt some of the ideas that our new datamining friends have been pitching to us.
Thanks for your consideration, and I do hope to hear back from you all! Even if it is just some of you dropping by to check the place out and say a quick hello. 寧靜
14:07, 13 November 2020 (UTC)
Should we list perks which affect food items in the infobox?
[
edit source
]
Hi Tagaziel, it was suggested that I contact a sysop for guidance. I recently made an addition to an item's infobox which was instantly reverted by a content moderator. That's irritating, to be sure, but this is a wiki, so there's always a possibility that will happen.
I have no problem with aligning articles to match the wiki's guidelines and consensus. In fact, that's what I was trying to do. The problem is that there doesn't seem to be a consensus for this specific issue. For fruits and vegetables, some Fallout 4 articles (eg. Carrot (Fallout 4)) use the perks parameter of the infobox to note which perks modify the item's effect. Other articles (eg. Mutfruit (Fallout 4)) do not. Whichever choice we decide is the best option for this wiki, I'd like to see it applied consistently. Having it one way for one article and a different way for another results in people like me trying to fix it, then feeling like they've wasted their time when their edits are reverted.
Thanks for listening. Ultimate Frog-Man (talk) 02:02, 20 November 2020 (UTC)
Thanks for the guidance! --Ultimate Frog-Man (talk) 14:46, 20 November 2020 (UTC)
There is a bit of problem with your changes to the Cold War page. You changed it to reflect the definition of a cold war in a general sense, when the rest of the page is actually describing THE Cold War, as in the event between the US and USSR. Any thoughts on how this can be resolved? Branebriar1930 (talk) 16:46, 27 November 2020 (UTC)
I have long been under the impression that protectrons, like securitrons, assaultrons, and robobrains, were not brand names, and thus not supposed to be capitalised. Is this not actually the case? Because i have been decapping them for a while now for the sake of consistancy.Branebriar1930 (talk) 18:23, 1 December 2020 (UTC)
The edits reverted you for inhabitants of Rivet city and megaton were inline with the layout of diamond city, where they don't list all the side quests necessary for their appearance, instead just saying optional (which is the term used for any player-choice scenario). Am I missing something? Branebriar1930 (talk) 00:21, 9 December 2020 (UTC)
I believed I was helping them by being consistent, if my changes were wrong then fine my mistake, but I have never had any intention of reverting good faith edits or being unhelpful, as I did explain to them what I thought was the correct format, please don't assume that my intentions were malevolent, or that I did not want to help them, when I clearly did explain my reasoning to them (wrong or not). Branebriar1930 (talk) 11:09, 9 December 2020 (UTC)
Denoting different detonators differences
[
edit source
]
I was only doing what I thought Kdarrow and I agreed on and wanted to do, a BTS section that mentions a relation between the detonators from NV and 76 but also avoids cross linking the games in the main content of an article. I guess an overview page will be needed instead using the disambig page. Devastating DaveZIP ZAP RAP 14:41, 9 December 2020 (UTC)
Hi my darlingest dear, saw the article move from Jane (Freeside) to Lady Jane. I am worried because I have always gone by the opposite rule of thumb - to keep nicknames and other titles out of the article name. The policy here tells us, "for characters, titles and ranks should not be included in the article title. For example, if a character is called "Paladin XYZ," the article should be named "XYZ." I just wanted to double check so I don't make any mistakes and I could even potentially complete all the rest of the nickname moves, there are a bunch, and I even know a lot off the top of my head! Just let me know your commands! -kdarrow

take her for a spin! 11:39, 9 January 2021 (UTC)
Sounds good, that makes sense to me. Can/will do with the nickname articles. You da best. kdarrow take her for a spin! 13:14, 10 January 2021 (UTC)
Hi Tag, just wanted to let you know I am working on the Mormon article(s). There is a Van Buren-specific Mormon article here that I will be polishing up next, which will include the information that you re-added to the Fallout: New Vegas page. I agree it is important and plan to link between the two. Just a heads up! -kdarrow

take her for a spin! 12:56, 9 January 2021 (UTC)
Cool beans, I will take a gander in a bit. Appreciate your expertise as always. <3 kdarrow take her for a spin! 13:13, 10 January 2021 (UTC)
Combat rifle (Fallout 4)
[
edit source
]
Hit a snag trying to port over effect information from the Vault onto the FO4 combat rifle here. The page on the vault mentions a ported and vented barrel that don't match up to the mods available to the rifle. I don't know whether to try and match those to the actual mods available on the gun or not. Great Mara (talk) 21:49, 11 January 2021 (UTC)
Hiya Tag. I think I am getting some things you said mixed up. The way I understood it was you said to put the developer comments in the behind the scenes, and in-game references in the narrative sections, so to keep them separate. Can you let me know how I should format those as I work through them? I don't want to make extra work for you and I am losing a lot of morale and steam seeing my work undone every day. I do appreciate the help! --kdarrow

take her for a spin! 07:55, 13 January 2021 (UTC)
Separate page for sexual abuse
[
edit source
]
I am kind of curious as to why sexual abuse warrants its own separate page. Its not really a topic that has a huge impact on the greater Fallout series (at least no more than murder and drug abuse to name a few other touchy subjects), and I don't see why it couldn't just stay on the sex page. Just my thoughts though, not looking to make a fuss. Branebriar1930 (talk) 18:13, 23 January 2021 (UTC)
Community content is available under
CC-BY-SA
unless otherwise noted.