---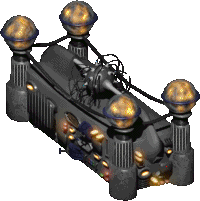 Click the computer to leave a message!
---
Yes, it's been a long while. Hope you're doing well. I'm in Discord chat at the moment, I assume you have an account there. We can talk there if you still have time. Otherwise, tomorrow at an earlier time, check for me there then, ok? Jspoel

20:05, August 13, 2019 (UTC)
I'm in Discord now, for another hour and a half or so I think. Probably later on tonight again. Jspoel 14:29, August 14, 2019 (UTC)
X-01 (Fallout 76) Gallery
Edit
By the way the Mothman Power Armor picture you added to the gallery of X-01 (Fallout 76) was not X-01 it was T-60. I removed it because it didn't belong, mean no offense, just thought I'd tell you. AssassinZ05 (talk) 16:24, September 13, 2019 (UTC)AssassinZ05
Nukapedia - Vault Merger: voting has reopened
Edit
Howdy,
As you may have already seen, voting for the proposed merger has been reopened. Voting was originally postponed so that users could better discuss the proposal, and after a lengthy conversation, that forum has since come to a close. For more information, please see the discussion itself. The post is a little lengthy, but if you are truly interested in making an informed decision, I would recommend reading through it.
Because this discussion may or may not affect how you voted initially or your rationale at the time, please review your post so that it reflects your current beliefs accurately.
This is only a notice of open polls and is not soliciting a change of vote. This is a generic talk page message intended for any and all voters, so as to avoid any indication of bias towards a particular outcome. Voting is slated to end on 5:01 pm November 1, 2019 (UTC).
The formal vote can be found here.
Thanks,
The Dyre Wolf (talk) 11:42, October 28, 2019 (UTC)
Nuka-Vault shindig
Edit
So am I to understand that we have had no discussions about this anywhere? I got a little bit from J but I need to hear it from you. It seems to vary a little.--Kingclyde (talk) 06:16, November 2, 2019 (UTC)
Template: Interactions univ
Edit
Hiya, I assume the auto conversion from Template:Interactions FO4 to Template:Interactions univ is your good work? Just wanted to see if this meant it was no longer necessary to convert the templates on the character pages while merging or whether best practice means I should really convert them to the Interactions univ version in source editor, even if it doesn't change what it looks like on the page. --L84tea

Would you like a cup of tea? 22:24, December 6, 2019 (UTC)
Oh cool, I'll just never worry about those again then! Don't forget the FO76 pages as well, they also use the FO4 template. :) --L84tea Would you like a cup of tea? 22:20, December 9, 2019 (UTC)

All the Fo76 character pages weren't ready for the redirecting to interactions univ yet. I see unconverted pages in the Protectron category, people are trying to fix it now. Can you give it another look? Jspoel 19:10, December 11, 2019 (UTC)
Community content is available under
CC-BY-SA
unless otherwise noted.