Welcome to The Vault!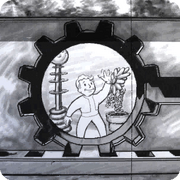 Hello, THIJAKA, and welcome to The Vault, the Fallout wiki! Thank you for your contributions, and we hope you'll stay with us and make many more.
Some links you may find useful:
If you have questions, you can ask in our forums, join the live chat in our IRC channel or post a message on my talk page. We hope you enjoy editing here and look forward to working with you!
Timeline
Edit
Stop messing around with the page making pointless edits.

15:56, July 17, 2011 (UTC)
Agree, please stop to put Point Lookout and Mothership Zeta event before Broken Steel event in the timeline, reference are here to prove and prevent people change what they want with impunity in the timeline, please consult them before doing anything. Nice evening and see you soon on The Vault! Itachou [~talk~] 16:51, July 17, 2011 (UTC)
Look, I put the end of Fallout 3 as the end of Fallout 3, Zeta and Point Lookout are Downloadable Contents and not the end of the game, the end of the game is where the Lone Wanderer chooses to enter or not enter project purity so please don't make Zeta the end of fallout 3 when its just a DLC that doesn't even relate in anyway to the story, for years the activating of project purity was the end but I added the events of the DLC's to the timeline and then you change Zeta to the end, please stop this as Zeta is a DLC and it isn't the end to fallout 3, the reference says its his final adventure yes but it meant its the final DLC. If Lonesome Road said it was the Couriers final adventure it would mean the last new one there bringing out and not after the end.
Lone Wanderer
Edit
I reverted your edit. 'Might have been' is not good enough here, and considered speculation. Jspoel

14:23, October 1, 2011 (UTC)
Thanks for all your efforts on the FO3 navbox, but that navbox is meant just for major characters. Jspoel

15:31, October 24, 2011 (UTC)
I understand but the New Vegas navbox seems to have some unneeded characters also
I've been pondering a bit about this and your navbox does look better with splitting the characters per settlement and faction. Maybe we can change the title to Characters FO3 instead of Major characters FO3, leave a major character section at the top (like it is now) and just add your side quest characters to it. I'll have to talk this over with a bureaucrat and then get back to you on this. Jspoel 16:22, October 24, 2011 (UTC)
I see you're getting ahead of me changing the navbox, but not too bad. We're on the same track I think.
Harold from FOT isn't the same as in other Fallout games. Energy X ∞ 12:02, August 20, 2012 (UTC)
Poll idea
Edit
That's actually a brilliant idea. I hadn't thought of it. In fact, I might bump it up the list and use it this Saturday. Thanks, man.


05:43, August 30, 2012 (UTC)
Hi, Can I ask the basis for your recent edits on the Eden page? Do you have a source for Edens' "Fear" of outsiders, etc? Agent c (talk) 00:16, November 6, 2012 (UTC)
BoS-Outcast Civil War image
Edit
The next time you upload something from The Vault, be sure to cite where you got it from and whom the author is. In the case of the Schism, it would be Tagaziel. --Kastera (talk) 22:28, January 10, 2013 (UTC)
Hello. It seems like there is some opposition against the creation of your Brotherhood of Steel expedition to D.C. page. I realise you put quite some effort into writing and assembling the page, as you did with the "Battle of Project Purity" page. Also, you might want to check out Fallout_Wiki:Content_organization_guideline. If you can show me that there's enough information on your article not found in a single other one, then I'll let it stay. --Skire (talk) 22:46, January 10, 2013 (UTC)
How does Moira appear in Point Lookout? I just know her located in Megaton and Underworld.
I realise she appears in the hallucination. Then again she herself doesn't really appear as it's after all a hallucination. Her image appears perhaps, but she does not. Otherwise, we'd need the same note on the other characters whose images have appeared in the hallucination, and that's simply unnecessary. Your undo also reverted other unrelated edits of mine. But now I have re-added some of the information you wrote in the background section, while removing parts that are not necessarily true. If you need anything or have more questions, please don't hesitate to ask me! --Skire (talk) 23:49, January 28, 2013 (UTC)
Community content is available under
CC-BY-SA
unless otherwise noted.