Welcome to Fallout Wiki!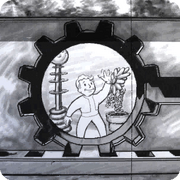 Hello, SniperGuy1, and welcome to Fallout Wiki, the Fallout wiki! Thank you for your contributions, and we hope you'll stay with us and make many more.
Some links you may find useful:
If you have questions, you can ask in our forums, join the live chat or post a message on my talk page. We hope you enjoy editing here and look forward to working with you!
Hello SniperGuy1,  thank you for your recent edit here at Nukapedia. I just wanted to drop you a quick note to let you know that we don't include gameplay strategy on article pages. All content needs to be objective. You should completely familiarize yourself with Nukapedia's policies and guidelines, if you have not yet done so.
--

Skire

(

talk

) 18:00, July 17, 2012 (UTC)
Fast Shot
Edit
The main reason I reverted your edit on Fast Shot was because it contradicted the original information, and based on personal experience with sniping ingame, the increased spread does not help, but the increased rate of fire with the Anti-Material and Sniper rifles makes a world of difference in situations where you need to take out multiple enemies within a very brief window. A side reason that I reverted it was that you did not take the time to point out the negligible differences in the spread rate, even if you think it's not important backing up your argument with actual statistical information makes your argument all the stronger. I hope this helps you be a better editor in the future. ---bleep196- (talk) 19:57, December 22, 2012 (UTC)
Community content is available under
CC-BY-SA
unless otherwise noted.