Welcome to The Vault!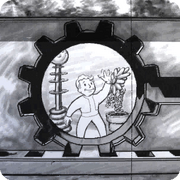 Hello, Shoopuffs, and welcome to The Vault, the Fallout wiki! Thank you for your contributions, and we hope you'll stay with us and make many more.
Some links you may find useful:
If you have questions, you can ask in our forums, join the live chat in our IRC channel or post a message on my talk page. We hope you enjoy editing here and look forward to working with you!
Renaming a page
Edit
If you hover over the downward arrow on the edit button, a menu will come down. One of the options is to rename the page. This will bring to a new menu, where you can change the name of the page. However, a page may have been locked by an administrator, so you may not be able to change the name. If you have any other questions, you can ask me on my talk page. --Kastera (talk) 13:03, August 22, 2011 (UTC)
You know, you can add your traits to your character box by simply adding "|traits =Good Natured
Wild Wasteland".


22:11, August 22, 2011 (UTC)
I live in northern Alabama, close to Albertville in an area called Kilpatrick. By the way like the username.. is that a FFX refrence? --RAM

08:52, August 24, 2011 (UTC)
Respect for the Fall Out boy animation
Edit
Need I really say more? I like yer quick draw M8.

SaintPain → That was broke a'fore I got here! 07:44, August 25, 2011 (UTC)
Your name.
Edit
It reminds me of FFX. Good times :3 Skål! 22:21, September 10, 2011 (UTC)
Lol, I have always wanted the KAOS but I never wanted to pay that much. I just put 9/16 organics in my ears, theyre very nice:)


06:30, October 26, 2011 (UTC)
Community content is available under
CC-BY-SA
unless otherwise noted.