Hello! o/ Please see profile for info related to my projects and editing.
Welcome to The Vault!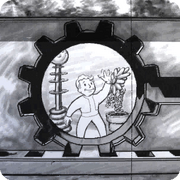 Hello, Shane for Wax, and welcome to The Vault, the Fallout wiki! Thank you for your contributions, and we hope you'll stay with us and make many more.
Some links you may find useful:
If you have questions, you can ask in our forums, join the live chat in our IRC channel or post a message on my talk page. We hope you enjoy editing here and look forward to working with you!
Fallout quests
Edit
You changed source into Source, creating a red link. Don't do that. You may also want read the The Vault:Policies and guidelines. Jspoel

21:11, December 11, 2011 (UTC)
Removal of talk page messages
Edit
"
Users are not allowed to remove comments from user talk pages or blank them, other than to remove insults/harassment or by archiving it (allowed after 40 posts or 32kb of talkpage content). Administrators need easy access to a users' talk page history. When in doubt if a post can be removed, consult an administrator. If a user talk page is blanked by a user, an admin has the right to revert the blanking unless it was done to remove harassment and/or insults. If a user blanks their talk page more than 3 times. it will be considered an edit war, at which point, an admin can step in and may perform a ban at their personal discretion.
"
— User conduct rules and regulations
Please take your time to go through the
Fallout Wiki:User conduct guideline
and familiarize yourself with the content of that page. ------
Cassie
I can see you
.
✿
10:40, November 13, 2014 (UTC)
Next time please insert the correct categories, infoboxes and navboxes when making an article, like the Science! Center. ☢ Energy X ☣ 10:00, November 14, 2015 (UTC)
If you can, can you grammar nazi the #### out of the Denver page? I did the best I could but there are still tons of tense inconsistencies and stuff. Don't worry if you don't want to. SierraX (talk) 05:57, October 18, 2016 (UTC)
Will do. It just pained me to see the article for such a large city look like that. SierraX (talk) 01:18, October 20, 2016 (UTC)
Merry Christmas 2016!
Edit



To: Shane for Wax
From: SierraX

You have been given a Christmas present!

Open it!

Happy Holidays!

You have been given a share of Mass Fusion!

---

Thank you for your contributions, and have a merry Christmas and a happy New Year! -SierraX (talk) 00:32, December 25, 2016 (UTC)
Oxford comma
Edit
We don't need Oxford comma's on the wiki. I've browsed the wikipedia page for it and I think here the comma is redundant because it's a often a simple list, one of the reasons against it. Jspoel

16:58, January 6, 2017 (UTC)
Can you also add a space between the asterisk and the sentence when you add one? It reads/distinguishes slightly better when editing and for consistency. Also mind the double Enters, you sometimes unnecessarily create them when removing a stub. Jspoel 17:00, January 6, 2017 (UTC)
Burnt comic
Edit
Quite possibly the best edit summary I've ever seen! 06:21, February 19, 2017 (UTC)
I thought I'd replied to you a while ago, your latest missed period comment made me check. Thank you for the eternal amusement and wit in the comments boxes. I am glad I have been able to install some faith in the comments being read, although I doubt I am the only person who does read them (The patroller's must see them as well when they are checking edits).
I haven't yet had the (dis)pleasure of my edit summaries being ignored overlooked thankfully. Talk pages on the other hand suffer much the same problem of being overlooked.
Anyone who has any form of writing specialism is always an added benefit to wiki's. I was wondering you you could beef up Hiroshima for me? (I've already put a cleanup tag on there, it's beyond my ability/time to rewrite with other projects considered). I've also added a couple of other articles to Cleanup over the last week or two if you feel like having a go at them as well. Nagasaki might end up the list at a later date, I've yet to have a read through and justify why I don't think it should be deleted yet. Sakaratte (talk) 20:22, February 25, 2017 (UTC)
If you have a moment to spare can you check the grammar and syntax on Fort Strong armory for me? I'm pretty sure its all fine, but I screwed up the formatting whilst editing and may have missed something when I was fixing it. Sakaratte (talk) 17:25, March 25, 2017 (UTC)
Thanks for doing that, i tried to be as object as I could with the layout, but when you pick a start point and out a route in a little subjectivity feels like a necessary evil as long as it remains factual. I'll probably get a couple more locations done over the next few weeks, none of them are up to article standard at present. I think I'll turn it into a project as these do take some time to do. Sakaratte (talk) 12:13, March 29, 2017 (UTC)
Hey Shane, I just fixed a previous message because it was putting your talk page in the cleanup category. Didn't want you thinking I was just mucking around. Its out the category now. Sakaratte - Talk to the cat 21:14, April 12, 2017 (UTC)
Yeah I'd noticed that you had largely gone off grid. Nothing wrong with a little down time and hibernation. I've kind of been doing the same lately, but its more a case of wandered off to another wiki and got lost in cleaning it up. It actually turned out to be one of Ausir's old haunts before he got globalled, made for an interesting read.
I'd rather be overt about intentions then just slip them through without a word. I always get suspicious when people tamper with my pages, so I'd rather give a quick, if slightly pointless message that I'm just fixing something. I never noticed at the time either, if I had I wouldn't have known how to fix it back then. Sakaratte - Talk to the cat 03:00, April 15, 2017 (UTC)
Chenobyl
Edit
I just saw the edit on glowing fungus and I was wondering if the change is completely accurate. As far as I am aware the plant is still functional to a degree, its just the one reactor that is in the sarcophagus that is ruined. Is it the site as a whole or just the defunct area? I honestly didn't know there was a special fungus in the vicinity myself and I spent quite some time reading up on the incident. I'd love to go see the region to be honest. Sakaratte - Talk to the cat 15:12, April 23, 2017 (UTC)
Ah, I didn't know the entire site was classed as ruin (due it still being in a form of operation status). That really is a case of lack of knowledge on my part. Sakaratte - Talk to the cat 21:05, April 23, 2017 (UTC)
Do you mind having a look at this one with your writing skills? The second paragraph is particularly bugging me, one word paragraph and I have no idea how to break it up.
P.S> sorry about not replying to your last message, I kept forgetting. You surprised me when you said you were Ukrainian. Sakaratte - Talk to the cat 20:18, May 19, 2017 (UTC)
Breaking it up as you have is certainly an improvement on the world record attempt at the longest run-on sentence. It's a good job you let me know you'd done it, Sig patrolled it so I didn't see it on my patrol list. I tried to give it a stab myself, but decided it needed a real writers eye. There may be more come your way in the next few weeks as i ahve taken up checking the articles that get an interwiki link added and there certainly a lot of things that need fixing across the board.
The split nationality, makes me a lot less surprised lol. Your writing standard is much higher than I would expect from someone who would have most likely taken English as a second language, in many cases even first. Sakaratte - Talk to the cat 06:35, May 21, 2017 (UTC)
Letting someone know you've taken a look is common courtesy really. I need to get back into the habit of checking things out when I read them. I've been procrasting on the "I need to have a think" line lately.
ANyway, do you mind taking a look at Combat shotgun (Fallout 4), specifically the characteristics? I'm struggling to follow it myself. If you can't make it make sense then I'll just tag it for a full re-write. Sakaratte - Talk to the cat 17:41, May 22, 2017 (UTC)
Oxford commas
Edit
Hi Shane, I've had a complaint sent my way about the oxford comma's. Personally I don't take issue with them and I've mostly left it alone for the most part, but being admin now means that if I can't get avoid having this conversation. I know you prefer them and they can be useful in some instances, the guidelines are as such that they should only be used in complex lists.
Personally, you're at the absolute bottom of my list of people to have to bring anything up with, and I wish the complainant had come to you directly first to try and resolve things. They really are neither here nor there to me, I might take the odd one out here and there myself when it reads odd to me, but otherwise I'll leave them. Sakaratte - Talk to the catmin 21:42, June 21, 2017 (UTC)
I do agree with you on the point of lack of direct interaction from them with you. This is something that you might have been able to resolve this amicably between you, instead of it being brought to admin attention. You edit summaries certainly get read and often there is a revert summary addressing why too, I know a lot of people edit and move on without looking back when things get changed again, so its not a reliable way of addressing an issue in my opinion. I think the best solution would be for you to spot check your contributions to see what gets reverted back and people need to come to you directly if they still have issue, I think that would be the best way to put this to rest as a whole (petty oxford comma almost always gets reverted from my observations).
What I meant by the bottom of my list is I don't have any concerns with your edits in general, you make about as many bung edits as anyone else and you're changes don't raise red flags with me. You and Mara are the two I defer to for a proof read if I need to make sure what I've done is up to snuff or I need something looking at that I can't quite fix, like run-on sentences. A lot of what you have done lately does fall in the lines of bad spelling and missing words and I think a fair bit of what is changed afterwards is first to third person conversion. (I would appreciate if you could take a shot at that as well when you're running if you have time, Fallout 3 and NV are first person nightmares.) Looking at your recent contributions, a lot of your edits from yesterday have stood on their own without change, so I think the issue has been taken a little out of context because you did a hell of a lot yesterday. Sakaratte - Talk to the catmin 19:34, June 22, 2017 (UTC)
The Pitt, The Hole and The Mall are proper nouns. You should't change it with a downcap t. Jspoel

15:57, July 9, 2017 (UTC)
I'm going to be honest and say I don't know. From what you have said it probably should but indint knownof there is a rule or prescedent in place (it's the first time this come to my attention as I would be interested in the answer.) It might be best to ask Mara himself as he down called it all. Janaschi should be able to give you some confirmation of this if you want to check beforehand, I've been passed to him about capitalisation questions in the past. Sakaratte - Talk to the catmin 08:24, July 20, 2017 (UTC)
Hmm.
Took me until now to see your message to me. Usually I get an E-Mail for that sort of thing.
I haven't really had the chance to do anything more than skim your inquiry - I'll be back tomorrow, though, and if you still want my input, then I'll see what I can do.
Until then~ 寧靜

02:58, August 4, 2017 (UTC)
So, if you're wanting a bit of a history lesson regarding this aspect of the wiki, then you'll be sorely disappointed. The reason that the portal is such a mess, in general, is simply because it has hardly been modified since this wiki's conception after Ausir brought The Vault to Wikia.
Why is that so? My hypothesis is that more established users, especially after the recent changes have been bookmarked, very rarely ever visit the front-page, and so it is largely forgotten about, except by users that still Google us to get to our wiki. I admit to never really thinking about the front-page portal myself.
So if there are innovations that you have in-mind, then that's certainly something that you should look into. There are a myriad of other wikis that have rather creative front-pages - if you're having trouble finding examples, or if no one around here is all that interested/skilled to do the work, then may I suggest you shooting the user CzechOut a message?
The guy is a wizard at all things wiki, and Wikia finally hired him on as staff a few years back, so I figure he's still pretty active around the overall Wikia community. 寧靜 22:11, August 5, 2017 (UTC)
Community content is available under
CC-BY-SA
unless otherwise noted.