Hi there!
Edit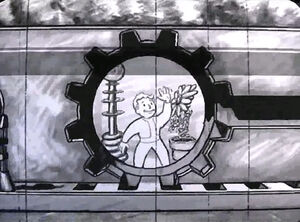 Welcome to our Fallout wiki, and thank you for your contributions! There's a lot to do around here, so I hope you'll stay with us and make many more improvements.
I'm really happy to have you here, and look forward to working with you!
hey Rpeh its me LuciusZelgius from uesp
Professor's Radscorpion
Edit
Spelling aside, there actually is. See: Professor. Ausir 19:38, 6 April 2009 (UTC)
Deletion
Edit
I removed the delete tag from articles like Vault 101 Text Messaging Reader. I don't see how the fact that they can't be used by the player is relevant. Sure, they might not be exactly high-priority articles, but there's no point in deleting them either. I agree with e.g. merging some Vault 101 sub-locations, but not the deletions. Ausir 09:40, 11 April 2009 (UTC)
(outdent) I don't think it's likely that a "Vault 101 Text Messaging Reader" would be in any vault other than 101. Do you? And a broken messaging reader - one that doesn't actually do anything at all - is even less worthy of mention, although I'm half surprised that Newark67 didn't create an article for it. If the Vault 101 article grew too long, then I'm sure things like lists of the floor coverings could be taken off without impacting too heavily on the lore. Unless you think people are going to read a wiki to discover the type of floor tile used in a vault? –Rpeh•T•C•E• 10:24, 11 April 2009 (UTC)
Community content is available under
CC-BY-SA
unless otherwise noted.