Welcome to The Vault!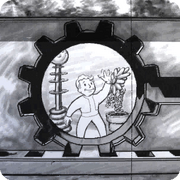 Hello, Rooker75, and welcome to The Vault, the Fallout wiki! Thank you for your contributions, and we hope you'll stay with us and make many more.
Some links you may find useful:
If you have questions, you can ask in our forums, join the live chat in our IRC channel or post a message on my talk page. We hope you enjoy editing here and look forward to working with you!
Marksman carbine page link
Edit
If you try to self-link a page within a template, it'll just bold the text instead of link it. So you did it right & I reverted the edit where you thought you did it wrong. --Kris

19:54, October 20, 2010 (UTC)
Oh, okay. I was wondering what the problem was. Didn't help that Wikia started having server trouble right then and there, so I quit messing with it. --Rooker75 20:59, October 20, 2010 (UTC)
Community content is available under
CC-BY-SA
unless otherwise noted.