Welcome to The Vault!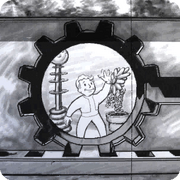 Hello, Richie9999, and welcome to The Vault, the Fallout wiki! Thank you for your contributions, and we hope you'll stay with us and make many more.
Some links you may find useful:
If you have questions, you can ask in our forums, join the live chat in our IRC channel or post a message on my talk page. We hope you enjoy editing here and look forward to working with you!
Unsigned/Untitled Threat #2
Vengeance is coming..... —Preceding unsigned comment added by HaloLegends86 (talk • contribs). Please sign your posts with ~~~~!
Brotherhood Outcasts and grammar
The anon isn't correct in that edit. The subject of the sentence is the group, which is singular. Saying 'the group are engaged in x activity' is incorrect, so the sentence should read "The Outcasts play a major role in Operation: Anchorage, in which a group of Outcasts in the Outcast Outpost under the command of Protector McGraw is trying to acquire advanced military tools..." Great Mara (talk) 03:53, February 13, 2015 (UTC)
Untitled declaration of enemyship
Dont talk to me ever again.Not even one word in chat. For now on we are enemies. If you want me to stay out out trouble the only way is that we dont talk to each other. Maby that will calm me done. Is that a deal? Are we clear? HaloLegends86 (talk) 04:57, February 15, 2015 (UTC)HaloLegends86
Talk Pages
Hey there, besides wanting to see that no-removal rule for myself, I would appreciate being able to delete irrelevant (off-this-wiki subject), insulting/harassing (e.g. "fuck(ing)", "dumbass", "bitch", and a generally nasty tone) posts on my talk page. That argument took place six years ago, involves a community that I left nearly four years ago, and when asked to elaborate on it by a member of this community I never received a reply. I've actually tried to hide the conversation using the Collapsible content template before blanking the page, but no luck there. My point is, this is a matter of appearances now. I don't need someone commenting on my talk page from now onward, only to be greeted by a loony screaming at them through the ages, lol. --NFSreloaded (talk) 18:36, February 17, 2015 (UTC)
Yes. Besides, this was a user request, which contains some conflict from something that should've been spoken elsewhere. ☢ Energy X ☣ 18:44, February 17, 2015 (UTC)
I appreciate your input, lads, and kudos for the revert and linking me to the relevant guideline, Richie. I've seen the no-removal rule applied in other communities I frequent and in most cases it was more of an unwritten convention. Good to see you keep an orderly house and thanks again. --NFSreloaded (talk) 21:05, February 17, 2015 (UTC)
Untitled
Actually the dev said yeah sorta when he was asked if it was a mix between the ar-15 and 10. He did not say it was. If you search up m16a1 you can see it looks exactly like the service rifle. —Preceding unsigned comment added by 70.65.42.171 (talk • contribs). Please sign your posts with ~~~~!
Stop Deleting my edits?
Could you stop deleting my edits? Thanks-HElBOi —Preceding unsigned comment added by HelBOi! (talk • contribs). Please sign your posts with ~~~~!
Marked for Deletion
Thank you sir! I need all the help I can get remembering all the ways of the wiki ;) -- Ghouly89 (Talk) 22:23, February 25, 2015 (UTC)