Welcome to The Vault!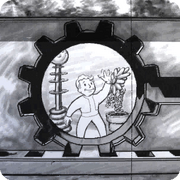 Hello, Paladinofawesome, and welcome to The Vault, the Fallout wiki! Thank you for your contributions, and we hope you'll stay with us and make many more.
Some links you may find useful:
If you have questions, you can ask in our forums, join the live chat in our IRC channel or post a message on my talk page. We hope you enjoy editing here and look forward to working with you!
I'm the one reverting it, so don't put it back in. As it's already confirmed that his name is based on something else, the word "Festus" meaning happy is totall irrelevant, and not notable. If you want it in there, take it up on the talkpage, and do not revert reverts. Scar: "Say 'ello to my little friend!" 14:04, September 4, 2011 (UTC)
Favorite weapon
Edit
My favorite weapon is A3-21's plasma rifle. But then again, I still haven't tried out all weapons in FNV. And don't worry, I still get enough sleep. Just work part-time, and spend most free time here. I know it's a bit over the top, but I'm really enjoying it. Jspoel

16:36, September 4, 2011 (UTC)
Community content is available under
CC-BY-SA
unless otherwise noted.