Re: Edit summary
I wanted to use something to associate with the problem of using regular Substantives as names (Vault Dweller isn't a name, but a title), to complain about it. I, however, take it back. --Breakin'Benny (talk) 18:36, November 3, 2014 (UTC)
Spam in the Chatroom
Pally, I banned Lord Winthrop for spamming the chat with nonsense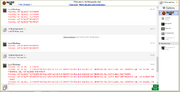 ------Cassie I can see you.✿ 06:31, November 6, 2014 (UTC)
Welcome, Competitor
Here is a list of all cards available to you through the use of a blue starter deck.
Just use the tournament blog as a reference should you wish to view each card and see what each does. The link is mostly a reference guide to use while building your deck after downloading the gameboard. Enjoy!

Some Assembly Required! 03:28, November 16, 2014 (UTC)
Dakota Wolf
I checked it, he had 2 other accounts. I chatbanned those. Jspoel

13:53, December 1, 2014 (UTC)
Caravaneer at Mojave Outpost
Looking at Caravaneer right now
possible glitch
but its a different person than last time
spawn glitch
—Preceding unsigned comment added by Playertank (talk • contribs). Please sign your posts with ~~~~!
Nukapedian of the Year
Congratulations! You are a qualified nominee for NotY 2014 and will be moving on to stage II. Please see this blog here for instructions on writing a little introduction for yourself in preparation for the polling stage. If you have any questions, please feel free to ask me on my talk page. --Skire (talk) (via the courier) 23:21, December 10, 2014 (UTC)
Hello! In order to ensure that the competition finishes in a timely manner (the winner is to be announced on New Years Day), it is important that the personal introductions are posted here as soon as possible. Accordingly, I must set a deadline, which will be by the end of the day on Monday, December 15. If you are unable to make the deadline, do not worry! You can still compete in the next stage. --Skire (talk) 23:15, December 12, 2014 (UTC)
Merry Christmas and a happy new year
I would like to use the Christmas-wishes-tradition to thank those around me who kept this wiki and daily life more fun for me during the past year. Everything just seems so normal and evident that we are here almost every day, yet it's very worthwhile to consider for a moment how wonderful it is to have all of you around me, making editing and being on chat a lot more enjoyable. I would also like to use this opportunity to wish a happy and healthy new year for you and everyone around you, with perseverance in tough times, but most of all, with wonderful moments among enjoyable friends and family. Merry Christmas, and a very happy new year in which all your wishes may come true! - Greets Peace'n Hugs (talk) (blog) 17:51, December 25, 2014 (UTC)
Christmas
Merry Christmas Pally. Here's to a RadioActive new year. Agent c (talk) 00:58, December 26, 2014 (UTC)
Board award
You have been given a Nukapedian of the Year board award.

Your efforts and diligence have not gone unnoticed, and you have been given a small token of appreciation.
Roughly one year late (but better late than never). Thanks for serving on the board! --Skire (talk) 02:56, December 30, 2014 (UTC)
I wasnt Its jsut that the name was wrong and wanted to change it. Death horseman94 (talk) 16:42, January 3, 2015 (UTC)
Removing content from talkpages
For your consideration, before you revert talkpage removals, check what they remove. The only thing that was removed was the welcome message, which is no problem for me anyway (as it is "forced" by us) and that one message from me was 3,5 years ago and sort of a friendly reminder. I would have allowed the removal (don't think it was really bad faith). Also, it may be a person who wants to give it another go and start editing. Then to immediately be backpegged is a bad welcome from our side and a turn off. Jspoel

16:48, January 3, 2015 (UTC)
RE- Moving My Page
Thanks, it's not a problem at all! Nothing to apologise for. Just looking for answers is all. Not exactly Wiki-knowledgeable. --Adventus Evander (talk) 00:01, January 6, 2015 (UTC)
Weapons and stuff
OK, so I looked at a bunch of weapons pages to see how we have dealt with this stuff in the past. Here's the problem: we've dealt with it inconsistently. In a nutshell, I see weapons fall into hierarchical categories based on design. To wit: Handguns are either revolvers, semi-automatic pistols (often called autopistols) or machine pistols. Long guns have much broader categories. Please see the list I've started on User:The Gunny/sandbox. Take for example the FAL. It's nomenclature hierarchy goes: Firearm > Long gun > Rifle > Battle rifle > FAL series rifles > FAL. When you look at some weapons, we have pages for their weapon type, e.g., Battle rifle, and some have pages for their series type, e.g., SIG-Sauer pistol. We are wholly inconsistent here. Content amount notwithstanding, I think we should standardize these kinds of pages. If we have a page for battle rifles, and assault rifles, we should have a page for autopistols, lever-action rifles, semi-auto shotguns and revolvers, too. Also, if we have pages that group a bunch of related weapons together like the Sig Sauer page, or worse, the 10mm pistol page, which has the Chinese pistol on it, then we should see if we have enough content to add any other series of related weapons pages.
Take a look at what's in my sandbox, and let me know your thoughts. The Weapons page is in dire need of help anyways, so we can make a little bit of a project out of improving it, it's related weapons type pages, and any weapons series pages we have/need. The Gunny  

00:37, January 11, 2015 (UTC)
Gauss Rifle Footnote
It's not a reference, it's a footnote. The footnote was used because I didnt want to clutter the characteristics section with such a detailed explanation when it could be referenced as a footnote for those readers to peruse who actually care to know the little details. The very point was to make it optional reading. Using a footnote seemed a workable way to accomplish this. —Preceding unsigned comment added by Malebiped (talk • contribs). Please sign your posts with ~~~~!
Alright, well, I didn't intend for that bit of information to be in the Characteristics section because it borders on off-topic. Its purpose is just to clarify a very technical point for those interested in such. It should be optional (in some kind of end note or similar) or not there at all. Since I don't know how to make an end note in a way that you approve of, we should just remove that bit altogether... or you could tell me how it's supposed to be done. --Malebiped (talk) 22:16, January 21, 2015 (UTC)
Community content is available under
CC-BY-SA
unless otherwise noted.