Welcome to the Fallout Wiki!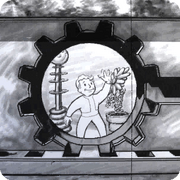 Hello, OnionRings, and welcome to the Fallout Wiki! Thank you for your contributions, and we hope you'll stay with us and make many more.
Some links you may find useful:
If you have questions, you can ask in our forums, join the live chat or post a message on my talk page. We hope you enjoy editing here and look forward to working with you!
Message.
Apprentice
My chat froze last night just after your comments, I'm sorry you were unhappy about some of the things that happened in the apprentice this year.
Just to address your "How did people know" thing, there was actually an apprentice teaser posted about a month earlier in the Nukapedia News Digest, which included the entire scenario. I was suprised to have people submit entries at this point.
Thats how they knew. Agent c (talk) 17:06, March 9, 2013 (UTC)
Chat
Not sure. It's up now, but the bot went offline at about 16:30 EDT this morning. The bot script borks all the time, though, so I don't know if chat went offline or just the bot. The Gunny  

19:37, June 24, 2013 (UTC)
Hi
Tough to give you a time...
But I'll be on tonight. Just ping me. If I don't answer ping me again later on.

Might I Say You're Looking Fit As a Fiddle! Talk to me! 22:13, October 8, 2013 (UTC)
Jesus Rigns, why is it so hard to find you in chat!?
I still haven't managed to run into you! Man, I'm sorry. I don't really know if/when I'll see you next. Maybe tonight but I don't know how long I'll be one for. Drop me a line.

Might I Say You're Looking Fit As a Fiddle! Talk to me! 22:33, October 12, 2013 (UTC)
Invitation to join the 2013 Nukapedian of the Year selection board
You are invited to join the 2013 Nukapedian of the Year board! This board will consist of seven members, who will deliberate and select two of the top five, as well as the final winner and runner-up of Nukapedian of the Year 2013. These two meetings will both take place at the Chinese Fallout Wiki's chat, and should usually take less than an hour of time for each. Dates of these meetings are TBD. Please ensure you can make the commitment before accepting this invitation, but note that if there is an unplanned absence, there will be alternates available to fill in. You can accept or decline this invitation by replying on my talk page here. I look forward to hearing from you. Skire courier (talk) 21:53, December 1, 2013 (UTC)
Hi there. Due to the lack of response, we've assumed that you do not want to accept at this time, which is perfectly fine. We have alternates that may be willing to take your place. Cheers! --Skire (talk) 21:05, December 5, 2013 (UTC)
help?
mind to check this out? my laptop i just got contsntly freezes and crashes, i'm thinking its hardware related. http://fallout.wikia.com/wiki/User_blog:Camalex97/help! thanks -Camalex97 (talk) 21:42, December 25, 2013 (UTC)
Re:Responding
It's no problem at all. Thanks for responding anyway =) --Skire (talk) 15:38, April 5, 2014 (UTC)
Weapon background
We don't need all these backgrounds on the variant pages of the Shelter weapons. It's just a spin-off without source texts. I'm even thinking of merging them to main variants. Jspoel

13:44, July 17, 2015 (UTC)
Did you read my message? We don't need this on all pages. Jspoel 13:56, July 17, 2015 (UTC)

I'm not really in favor of it. I don't see it belonging on these pages. Talk to Gunny about it (in chat?) If he really feels he's in his right, you can add it back. Though I should note that some new content has been placed there by now (which is more of a characteric though). Jspoel 23:54, July 19, 2015 (UTC)

I'll put this here so the conversation isn't split over multiple talk pages. We have articles up for these weapons. We have at the very least basic background and characteristic information that can be added to these pages. Certainly at least as much as for the pages on games like BOS and the canceled games. I see absolutely no reason to not want to add that info to the pages other than to keep them bare enough to justify merging them. Transposing sections may not be the best way to add this info, since so much of it is germane only to FO3. What I recommend we do is have any editors who desire to add the info add fresh prose. That way we won't have incongruous info in the pages. Is there any problem with that? The Gunny   01:52, July 20, 2015 (UTC)

Fixed. Don't know who made it a level 3 header. it's back to a level2. As for the actual header, the game doesn't make any distinction. We just divided them up, mostly, based on how other games are divided, since there's not governing skill. It could be called Big guns just as easily, but since Big Guns is a skill, heavy weapons is a bit more generic. The Gunny   00:41, July 23, 2015 (UTC)
Moonlight Sonata, 3rd movement
its so goddamn hardcore https://www.youtube.com/watch?v=WolqGAgiolM
Fallout 4 van
That's a nice image from the party van for Fallout 4. What do you say we replace the Point Lookout image from the news digest slider with your van? Jspoel

15:01, July 28, 2015 (UTC)
You picked those images, so you can choose another one, right? He'll be ok with it, I'm sure. That Point Lookout image is outdated anyway, it only showed up recently because I found one with a better resolution. Jspoel 15:16, July 28, 2015 (UTC)

Or do you have other plans with the images you just uploaded? Jspoel 15:18, July 28, 2015 (UTC)
(←)  We already have these images: [[File:CK4G-GAWoAAcA2N.jpg|50px]] [[File:CJZsSDFUMAA8anc.jpg|50px]]
You can find them on the Fallout 4 page, in the gallery. You can use those. Jspoel

15:42, July 28, 2015 (UTC)
Deathclaw image
I restored your
. Jspoel

17:29, August 1, 2015 (UTC)
FOS pages
My time is gonna continue to be spotty for a least a little while more. It's probably better to list what you need on the talk page and I'll get to it as I can, rather than wait until I have more than a few minutes in chat. The Gunny  

19:49, August 4, 2015 (UTC)
Issue
Hello OR,
I appreciate you and this other user have arguments, but as you probably know there is no way I can give you what you've requested, as no such functionality exists.
I can only suggest if the two of you have difficulty dealing with each other you both agree not to deal with each other at all.
I hope you wont let your issues with one user stop your participation here.

Agent c (talk) 22:56, August 9, 2015 (UTC)
Blocking Messages
Shining-Armor (talk) 23:18, August 9, 2015 (UTC)
Memorial Vote
I have reopened the memorial vote. I have removed all votes, and all comments due to the unpleasantness and questions over what the vote was for. I have reframed it around the intention of the vote, and would ask that all participants read through my comments about removing the previous comments. This isn't directed at anyone, this just a message I'm sending all participants. This is a recording. Agent c (talk) 18:17, August 11, 2015 (UTC)
Shelter images
Did you enlarge those images? They seem to be. You should upload them in original size, then I can cut them (though it doesn't seem that hard to me to do yourself). Also mind the use of caps in the description of the images on the pages they're placed on. Jspoel

22:13, August 14, 2015 (UTC)
Can you crop them all to 75% of the size, and remove the blue borders (so just the card)? Otherwise when you view the full image it gets too pixelated and doesn't meet quality standard anymore. Jspoel 17:30, August 15, 2015 (UTC)
Lag ban
Hey, you got banned for 2 hours since you kept lagging in and out of chat. If you want to get back in early, message me. Paladin117>>iff bored; 21:35, October 17, 2015 (UTC)
Community content is available under
CC-BY-SA
unless otherwise noted.