Welcome to The Vault!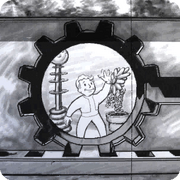 Hello, NateDan, and welcome to The Vault, the Fallout wiki! Thank you for your contributions, and we hope you'll stay with us and make many more.
Some links you may find useful:
If you have questions, you can ask in our forums, join the live chat in our IRC channel or post a message on my talk page. We hope you enjoy editing here and look forward to working with you!
Hi there!
Edit
Re-hello my friend ;)
Hehe but typo fixes are not minor edit, all edit are important, and also we lack of people like that, for edits of some editor and also for me, who I'm French and sometimes write in "Broken English" =)!
Good luck, have a nice evening and see you around my friend! Itachou [~talk~] 20:56, July 31, 2011 (UTC)
Child at Heart
Edit
Reversing Fallout 3 and perk didn't change the page much for the better I think. Jspoel

00:07, December 12, 2011 (UTC)
Hence, "minor edit". I honestly thought it read better that way. Oh well...can't win 'em all, I guess. Nate D. 03:15, December 12, 2011 (UTC)
Community content is available under
CC-BY-SA
unless otherwise noted.