Hi there!
Edit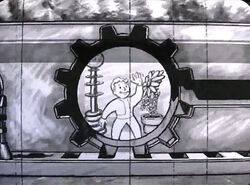 Welcome to our Fallout wiki and thank you for your contributions! I hope you'll stay with us and make many more improvements.
A little help to get you started:
I'm glad to have you here and look forward to working with you!
--
Gothemasticator
(
Talk
) 19:50, June 14, 2010
Well, you're right. I'll put it back.
At least I listened better than Telsa Cannon, he left out the whole 'shotgun shell' business. :P Nitty Tok. 16:42, June 16, 2010 (UTC)
Mama Dolce's "glitch"
Edit
Are you sure that it's a glitch and not a little joke Bethesda threw in? Or did someone happen to noclip their way through the walls to find something notable behind them? The fact that you have to drop down didn't really seem like a glitch to me, as there have been times where it was necessary before in order to reach stuff like a skill book (Duck and Cover) in one of the museums... George7777 23:52, September 3, 2010 (UTC)
Comments
Edit
Don't do the "first post" "second post" etc. thing in blog comments. Next time I'll delete your post instead of editing it. I already deleted a few other such posts from that blog comment thread. --Kris

01:27, September 4, 2010 (UTC)
Community content is available under
CC-BY-SA
unless otherwise noted.